Cheveldayoff doing a lot of listening on Ladd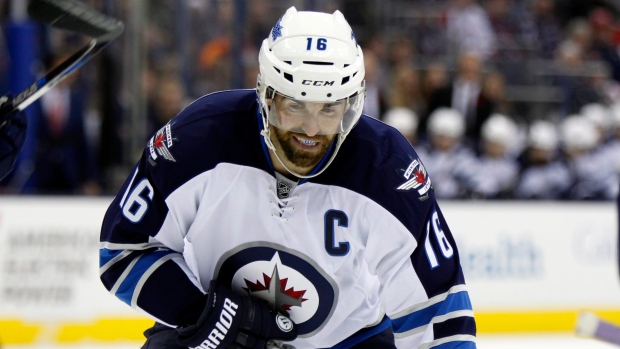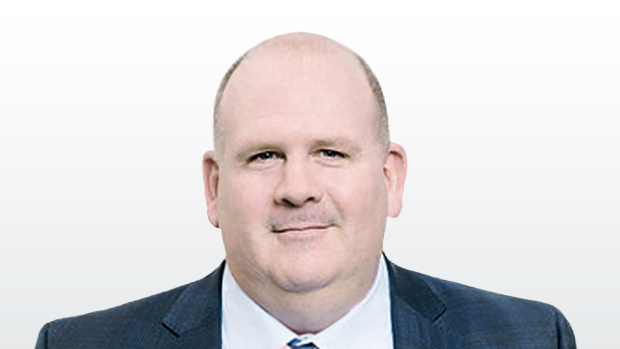 The Winnipeg Jets may not be shopping Andrew Ladd but we're into semantics at this point, as GM Kevin Cheveldayoff continues to get calls on the availability of his captain. Cheveldayoff may not be doing a lot of talking but he is doing a lot of listening.
Eight days before the deadline, it's believed at least one team has made an offer of a first-round pick plus a prospect and Cheveldayoff has a list of teams calling about the 30-year-old Ladd.
As many as six teams – Anaheim, Chicago, Florida, Los Angeles, Pittsburgh and Washington – are believed to have interest in him.
"You never know, with the interest this high, you might get more than a pick and a prospect. You might get a player too," an NHL executive told TSN on Sunday. "The trick now is to not get greedy. If someone offers your price or better, now is the time to take it. The market can work in your favour and get you a high price. But it can also collapse on you."
Cheveldayoff, either deliberately or as the result of indecision regarding the future of Ladd with his Jets, has slow-played the process.
Contenders in the Western Conference are now looking at the acquisition of Ladd by a competitor as having an impact on the competitive balance. Chicago and Anaheim don't want L.A. to get him, the Kings and the Ducks don't want the Hawks to get him, and so on and so on.
Ladd is among the most sought after rental pieces in the Western Conference and it has raised his trade value. So too has his recent resurgence, six goals in his last nine games upping his total to 16 on the season, making his slow start following off-season hernia surgery much easier to forget.
Boston's Loui Eriksson and Arizona's Mikkel Boedker are also considered to be near the top of the trade market.
First-round picks are worth an awful lot in today's NHL. One GM put it this way: "If you're looking to get pregnant, you don't deal your first. But if you're already a little pregnant and are hoping for twins, you're more likely to make the move. And if you're a team like the Hawks, dealing a first in order to have quadruplets [four Stanley Cups in seven seasons], you make the deal."
The Kings and the Hawks have passed the Stanley Cup back and forth the past four years. A win this year for Los Angeles and it pulls even with Chicago as the game's most dominant franchise. A win for the Hawks would put them further ahead of the rest of the pack. These two teams are playing with a different deck of cards than the rest of the NHL. The stakes are higher and the future is more of an afterthought. It's all about right now and Ladd can help. The cost isn't irrelevant but it's less important than the actual purchase.
For the elite teams in hockey, Ladd can provide a final cog in the pursuit of a Stanley Cup. He's scoring at a 20-goal pace for the sixth straight season and has two Stanley Cup rings. Ladd is a known commodity. He can score, will play the physical game and get move up and down the lineup. He's got a Western Conference game.
The Jets will be making a major departure if they ultimately elect to trade Ladd, and having had no substantial talks with his camp since well before Christmas, that appears to be the direction they're headed.
Cheveldayoff entered last off-season with both Ladd and defenceman Dustin Byfuglien entering the last years of their contracts. He spent most of his initial focus on reaching a deal with the left winger, but talks stalled with an offer of six seasons at an AAV of $6 million on the table.
Ladd's early season play was below par and, at some point, the Jets changed course and put their efforts into signing Byfuglien. Cheveldayoff announced a five-year extension for Byfuglien with an AAV of $7.6 million on Feb. 8, and the focus returned to Ladd.
Cheveldayoff currently has plenty of cap space to give Ladd a substantial raise and retain him. But he also has to keep an eye on the future, with centre Mark Scheifele, forward Adam Lowry and defenceman Jacob Trouba all coming out of their entry-level contracts.
It's often said a few tall trees must be sacrificed in order to let the smaller ones reach their potential height. It appears Ladd is that tall tree. The Jets have chose to chop him. Or shop him. Semantics aside, either verb works, in this case.