Competition for roster spots getting tighter as Leafs down Sabres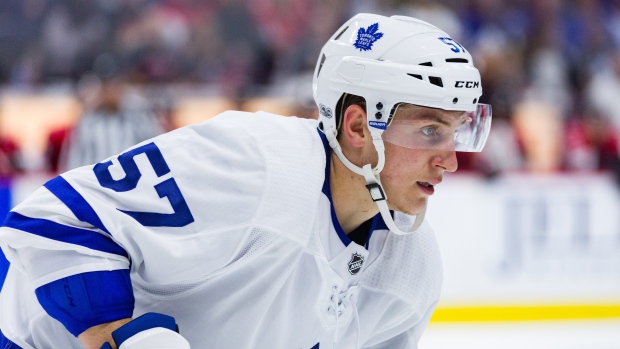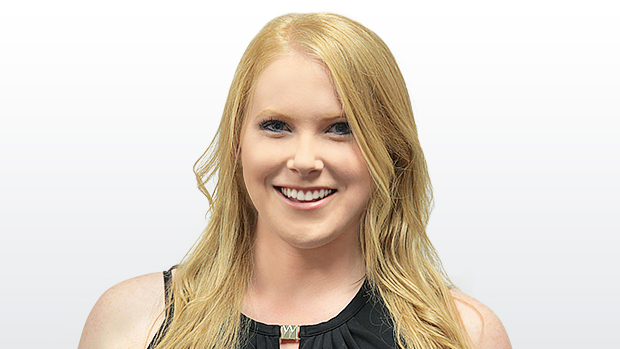 TORONTO – At the halfway point of the Maple Leafs preseason slate, time is quickly running out for players engaged in heated roster battles to make their mark.
Calle Rosen, Travis Dermott and Andreas Borgman are three of those players fighting for jobs, a trio of defencemen with no NHL regular season experience between them but plenty of promise. Toronto seemingly has one, maybe two spots, available for them, and while each has made an impact over two exhibition opportunities so far, there's no clear-cut front-runner.
"I don't have any answers for you, so that must mean it's pretty competitive," Mike Babcock said of the clash for a third-pairing spot. "It's a stressful time of year; it's an individual time of year. If you're in one of those spots where you're in a battle, you're doing the math every day and when you leave the rink you're still winding yourself into the ground, that's just the way it is."
Rosen was the only one of the three to play in Saturday's exhibition game, a 3-1 Toronto victory over the Buffalo Sabres. He registered one assist on Kasperi Kapanen's goal, and Babcock deemed his overall performance alongside Connor Carrick "real solid."
As the elder of the group at just 23, Rosen's more polished game may give him the early inside edge to stick in the NHL. He played a year longer than Borgman in the Swedish Hockey League and has been with Carrick, a projected Leafs' regular, for much of camp and the preseason.
"The NHL is what I'm aiming for," Rosen said. "It's up to every player to show [Babcock] that you want to play and that's what I'm here for every day. I want the puck more, to skate a little bit more, be more involved in the game. I'll play wherever the coach wants to put me."
"[Rosen] moves the puck well; he was really good today," added goaltender Frederik Andersen after Saturday's game. "We didn't spend much time in our own zone because of that. He skates well and isn't afraid to make plays out there."
With 49 players still under his watch in training camp, Babcock isn't always able to share a lot of specifics with each player on his individual game, an arrangement Dermott doesn't really mind. The 20-year-old had a strong first season with the Toronto Marlies last year, posting five goals and 19 assists in 59 games, and an even stronger off-season in the gym to prepare for this camp.
Dermott was singled out by Babcock with Rosen after their first preseason game as players the coach liked, and knows what's at stake going forward without being told.
"You want to be the guy [they're looking for], but you don't know, so you don't take any steps off and you're always going," Dermott said on Friday. "They give us an overall view of how we're doing, but they don't tell us too much if we're doing better than other guys. You always want to make sure they're thinking you're the guy so you're constantly going out and proving that."
That means using any tools available that might separate a player from the herd. For Borgman such a chance came early in Tuesday's preseason game, when he dropped the gloves with Ottawa Senators forward Michael Blunden for his first fight since junior hockey.
Borgman, 21, and Rosen both joined the Leafs this season on entry-level deals from the SHL, where fighting is prohibited. Rosen posted six goals and 13 assists with Vaxjo HC, while Borgman tallied five goals and 10 assists with HV71 Jonkoping. No matter where he's played, Borgman has always been physical, and uses that as he navigates playing on a smaller rink and learning a system that's "a lot of skating."​
Dermott and Borgman were paired together in Friday's preseason game, and Dermott remarked how easy the Swede was to play with as both a physical presence and a strong puck-moving defender.
"Borgman's a physical guy, he's a bigger man than most of our guys on the [backend]," Babcock said. "He's really evasive. Now we have to help him with understanding how we play and with [using] his stick a little bit. He does a lot of good things that we can teach easy, we can't teach [being] 227 [pounds] and he's strong as an Ox."
"I'm trying to play hard and play fair," Borgman added on Friday. "I don't want to be penalized. You're learning something new each day [in this system]. It's working out pretty good. It's going a little faster [than I expected] but I think I'm handling it pretty well."
Consistent ice time is paramount for a young player's development, and that will undoubtedly play a factor in the decision-making process for Babcock and his staff. Each defender should see action in at least two of the remaining four preseason games, with the importance of their performance only increasing as the regular season inches closer.
In the end, it may not even be a wide margin that separates a player who makes the Leafs from one who goes to the Marlies.
"I wouldn't say they're all drastically different players. It's almost like the Toronto Maple Leafs have a type," said Carrick. "They're mobile, good size, can skate, move the puck. That's where the game is at. If you can't do that as a defenceman, it's a pretty limited conversation in terms of what your potential is going to be in the NHL. They're all that [right] type of player, though. It's fun to have them around."​