Condon hopes to cross Boston start off his NHL bucket list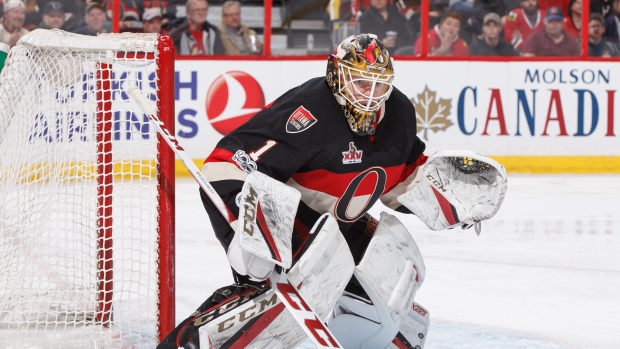 If you ask Mike Condon to name all the Boston Bruins goalies he watched growing up, he can quickly recite the list off the top of his head:
Hannu Toivonen
Manny Fernandez
Byron Dafoe
Steve Shields
And, of course, Tim Thomas.
The 26-year-old Condon lived and breathed Bruins hockey growing up in Massachusetts. "I watched the Bruins games on NESN every single night. I mean, they were the hometown team," Condon recently told TSN.ca.
Condon also attended his fair share of Bruins home games as a fan at TD Garden. One of his most memorable experiences inside that arena occurred on his 21st birthday on April 27, 2011. That was the night when Nathan Horton scored an overtime winner in Game 7 of the first round of the playoffs to eliminate the Montreal Canadiens.
But Condon didn't have a regular seat inside TD Garden for that epic moment in Bruins history.
"I was actually in the wheelchair section when Horton scored that overtime winner against the Habs," he said.
The day before that game, Condon underwent surgery to repair a bone spur on his hip – a condition that had been limiting his mobility as a sophomore goaltender at Princeton. Condon was feeling down about the procedure, so his brother Zach tried to lift his spirits by securing tickets to Game 7 for his birthday.
The Senators netminder says that the whole experience was rather surreal.
"I was on a lot of painkillers," laughs Condon. "I think I got up a little bit, but I don't recommend that the day after surgery. It was such a crazy game to watch and to experience."
A few weeks later, Condon was healthy enough to ditch the wheelchair and attend the Bruins Stanley Cup parade in the streets of Boston after a hard-fought series against the Vancouver Canucks. He chuckles at the fact that he's now a teammate of Alex Burrows – a player he despised during that series.
"I think Burrows actually got the Bruins off their game a couple of times. That's what he's good at," Condon said, looking over at Burrows on the other side of the Senators dressing room.
Strangely enough, despite being an NHL starter for long stretches in the past two seasons, Condon has never started a game at TD Garden in Boston. He was honoured to get the nod for the Winter Classic game at Gillette Stadium last year, backstopping the Habs to a 5-1 win over the Bruins in the outdoor game.
The opportunity for him to cross an item off his NHL bucket list comes on Tuesday night, as the Senators pay a visit to the Bruins in a critical Atlantic Division showdown. Since Craig Anderson just played consecutive games on the weekend, the door is open to the possibility of Condon getting the start in the arena where he's watched so many games as a fan.
"I've got a lot of memories in that building. College hockey, Beanpot tourney, Bruins games. It's a place I've been to so many times," Condon said. "I've got a lot of friends and family in the area, so I think it would be pretty wild in that atmosphere. If I get the chance, I'm going to relish it. If not, I'll wait for the next one and hope I get one before I'm all washed up."
Even if Condon doesn't get the call to be a starter on Tuesday night, he does have one more chance to play at the TD Garden this season as the Senators pay another visit to Boston on April 6.