Confidence at the root of Valanciunas' strong preseason
Toronto Raptors centre shrugs off trade rumours to focus on thriving in team's revamped offence, Josh Lewenberg writes.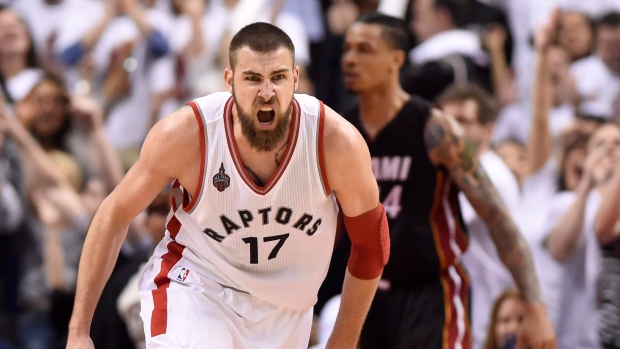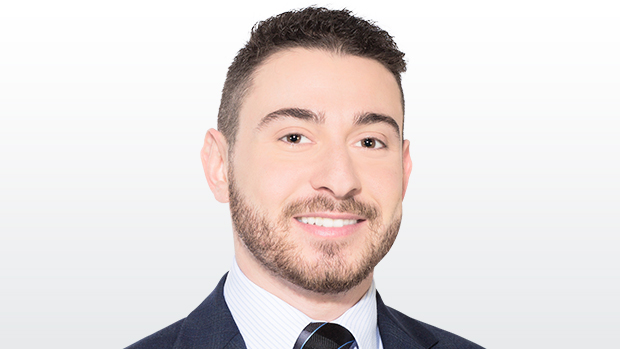 In his early years as an NBA player, writing a story on Jonas Valanciunas would test your journalistic creativity.
It's not that the subject was uninteresting; on the contrary, Valanciunas has always been a fascinating case study. Between his initial transition from Lithuania to the pros, his ongoing development in a league that has trended away from his skill set and his hotly debated usage late in games, there's never been a shortage of topics to discuss.
The problem was you couldn't count on a contribution from the big man himself. It wasn't for a lack of cooperation. Valanciunas is one of the most affable, down-to-earth athletes you'll find, especially off the record, where his personality and unique sense of humour generally come through.
But once the cameras started rolling or the recorders were flipped on he would become more guarded. It's the same for most young players; and remember that he was just 20 when he debuted for the Raptors in 2012, a young man living in a different country and learning a new language.
You couldn't fault him for it. If you were looking for a quote on Valanciunas, it was best to ask one of his veteran backups – Aaron Gray and Chuck Hayes were usually insightful – or coaches.
However, the great thing about experience is that it breeds confidence. Now, as he gets set to begin his sixth NBA season, Valanciunas is brimming with confidence both on and off the court.
"I cannot say I'm a different Jonas, but I'm a better version of Jonas," the suddenly chatty seven-footer told TSN in an extensive interview on Wednesday.
In many ways, this summer was a rebirth for Valanciunas. It couldn't have come at a better time for the player or for his team.
Let's rewind to last fall. People were expecting big things from Valanciunas following his inspired performance in the 2016 playoffs – the best stretch of his career and one that was ultimately cut short thanks to an ill-timed ankle injury. He spent the first chunk of that off-season rehabbing before rushing back to suit up for Lithuania in the Rio Olympics and taking a month off to rest ahead of training camp.
By the time he was able to shake the rust off and get into game shape the season was already underway and Valanciunas was forced to play catch-up from there. He never quite looked like himself and the result was an underwhelming campaign.
"He was a little down last year when he left," head coach Dwane Casey recalls, and that's not hard to believe – Valanciunas has always been his toughest critic.
This past summer was a different story. First and foremost, he was healthy. His wife gave birth to the couple's second child. He spent a month working primarily on his footwork to get quicker and made a conscious effort to turn body fat into muscle. He committed to getting himself in the best shape of his life, physically and mentally, and he's reaping the benefits in the preseason, where he's been one of the team's most impressive players.
That he's fully bought into his new role in the Raptors' revamped offence also doesn't hurt.
"I feel confident," Valanciunas said. "First of all, I like what we do. I enjoy it. I give myself to it. It was a great summer. I worked a lot on a lot of things, different areas. I'm coming back in a good mood. [The Lithuanian national team] didn't win, but at least we played good at [FIBA EuroBasket]. So now I'm coming back ready to play, mentally in good shape, physically in good shape."
"I think he's doing a great job," said Casey, who has raved about his centre throughout camp. "This is the best I've seen Jonas play. Not only numbers, but just his awareness, his alertness, his ball handling. He has done an excellent job of reading and that's what we're doing a little bit different, there's a lot of read and react, very few [play] calls and he's done an excellent job of adjusting and handling the basketball at the top [of the key]."
On the surface, it's an unlikely fit – a throwback big man in the modernized version of Toronto's offence, which is predicated on pushing the pace, shooting threes and moving the ball. None of those skills are considered to be strengths of Valanciunas, but he's not only adapting, he's thriving.
Like a lot of his teammates not named Kyle Lowry or DeMar DeRozan, Valanciunas would often feel ignored in the old offence. Generally, if they weren't dumping the ball down to him for a called post-up he wouldn't be involved. The new system is designed to be more inclusive. That may not mean more shots for Valanciunas and it should actually lead to fewer post-ups – the goal is to keep the ball moving, not to stop it – but, to Casey's point, they want him to be a decision maker on every possession, quarterbacking from the top of the key.
"I worked on it this summer, just better basketball understanding, better reading so I think that's the next step I've got to take on offence," said Valanciunas, who even got some advice from countryman Arvydas Sabonis, one of the best passing big men in the history of the sport. "It's not just about scoring, right? It's about making the right play, being on the right spot, right timing, seeing the open cutters. You cannot be selfish if you want to win."
"I'm just comfortable with it. …You get a chance to decide what you're going to do with the ball, what the whole team is going to do. I think that brings a lot of confidence and just feeling trust in yourself."
Maintaining that self-belief has been crucial, especially over the last 12 months. Like the rest of us, he's seen his name pop up in trade rumours. He's heard people speculate about his position becoming obsolete in the ever-evolving NBA.
Has it motivated him?
"That is not motivating me at all," he insisted. "I know what is motivating me – my family, I've got my teammates motivating me, the front office who are [telling me] what they want to do motivates me. I understand people got to talk, people are meant to talk, it's never going to be different these days with social media and all that stuff, I see some [expletive] things but I just don't give a [expletive]. I know what I've got to do, I know what my role is on this team and the team is the most important thing."
That's one thing that hasn't changed about Valanciunas: through the peaks and valleys of his NBA career, he's always been a loyal solider. Is this the season he finally breaks out? The 25-year-old chuckled at the very mention of the word.
"Breakout? What does that even mean, breakout?" he asked rhetorically.
Valanciunas knows he's not DeRozan or Lowry. He's not going to lead Toronto in scoring. He's probably not going to be an all-star. On some nights his contributions will go overlooked, but he's fine with that. A breakout season, for him, would mean becoming an even bigger, more essential piece of an even better Raptors team.
"Big men can still do a lot of good things," Valanciunas said. "Rebounding is one of the biggest areas of the game and that's never going to change. A guard cannot out-rebound a big guy, right? So that part is never going to change. Somebody's going to need to protect the rim. We've got to finish defence with a rebound; it's always going to be like that. I think those people who are saying that, that big men are going to be out of the league… Not."