Could Leafs woo Tavares with one-year max contract?
In all likelihood, New York Islanders captain John Tavares will use his unrestricted free agency to secure a long-term deal. But TSN Senior Hockey Reporter Frank Seravalli wonders if Tavares's hometown Toronto Maple Leafs could present the 27-year-old centre an unconventional offer to obtain his services.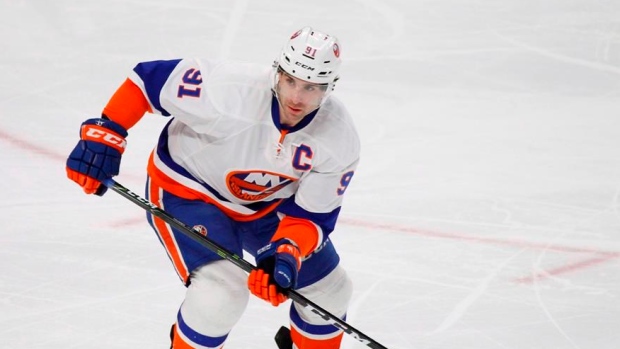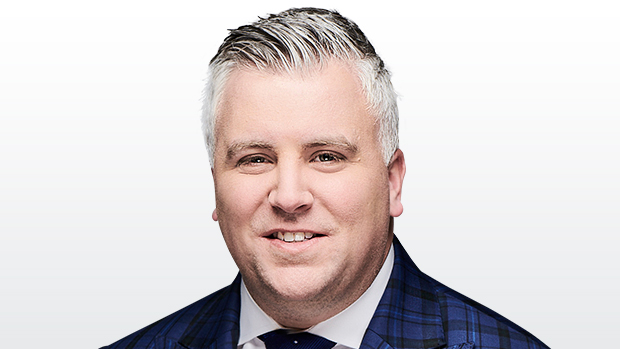 The Toronto Maple Leafs are expected to be among the five teams selected to roll out the red carpet for John Tavares during the interview period this week.
The Tavares camp hopes to have the full list nailed down on Sunday, with meetings not to begin before Monday in Los Angeles.
Aside from intrigue about the presentation and the hoopla to woo the most impactful free agent to potentially hit the market in hockey history - will the Leafs' jersey with Tavares' name on it have a 'C' on the front? - one critical question remains:
How could the Maple Leafs make the money work?
Toronto currently has just a shade under $25 million in salary cap space for next season with a deal still to come for restricted free agent William Nylander.
But this year was never going to be a problem. The true cap conundrum is two seasons away in 2019-20, when Auston Matthews and Mitch Marner will need to be paid.
That is why many are wondering whether the Maple Leafs will experiment with the idea of a one-year deal at the new maximum salary of $15.9 million.
No player in the NHL's salary cap era has ever pinged the max salary, which is 20 per cent of next season's $79.5 million limit.
There is no question it is an intriguing option for the Maple Leafs. A one-year deal is a low-risk, high-reward option that allows Toronto take a legitimate run at the Stanley Cup without the burden of an expensive long-term commitment. He would replace all of James van Riemsdyk's 36 goals, and then some, in addition to driving play down the middle.
That type of contract is not without total consequence, though, as it would mean that extensions for Matthews and Marner would have to wait until next summer because of tagging constraints. The idea of "tagging space" is complex, but explained simply, teams cannot exceed this season's current salary cap of $79.5 million in cap commitments for the season beyond (2019-20).
Maple Leafs general manager Kyle Dubas has already stressed patience on the Matthews and Marner front, signalling those deals could take longer than fans and even the players might hope.
The more difficult part is in trying to reason why Tavares would be interested in that type of contract structure.
Like anyone else, professional athletes crave security. Tavares could be leaving as much as $72 or more million on the table, if a recent report about the Islanders' ballpark offer of eight years, $88 million is accurate.
Insurance is a possibility, but it is expensive. There is no way to insure all of that $70-plus million, and Tavares already paid for insurance last year in the final year of his deal in New York.
The upside is that a $15-million signing bonus could be wired into Tavares' account on Canada Day. He would be paid half as much in one year as he earned in his last six seasons with the Islanders, when he was a two-time Hart Trophy finalist.
Plus, Tavares would finally get that chance to lace up for one of the eight or ten plausible Stanley Cup hopefuls. That he could use the season as a test case - to see if playing in his hometown is really as overwhelming as players say - with the chance to walk and cash in again next summer could be pretty appealing.
If Tavares ends up being as strong a fit as the Leafs think he may be, he could sign a seven-year extension, then, as early as Jan. 1, 2019 - to match the same eight-year term able to be offered now only by the Islanders. That new extension, which would come into play in 2019-20 when new deals kick in for Matthews and Marner, could creatively "account" for the max money paid in Year 1 - and push the salary cap hit down to make it more manageable for Toronto when it matters most. Teams would cry foul with cap circumvention, but it's perfectly legal so long as those parameters were not agreed to if/when an original one-year deal was signed.
Either way, a one-year deal is likely a looooooong shot. The smart money remains on Tavares re-upping with the Islanders.
If Tavares does choose the Maple Leafs, Dubas is confident they will be able to make the money work, even over a seven-year deal.
"We have the best cap people in the league, I hope, so we will try to figure that out if the opportunity presents itself," Dubas said Saturday. "We're confident right now with our cap situation that we can do really whatever we want to do at this point. Nothing is going to stop us and hold us back."
---
Here are the latest Top 60 players available ahead of July 1's Free Agent Frenzy:

THE TOP 60
| RK | Player | Team | Pos | Age | GP | G | PTS | 17-18 |
| --- | --- | --- | --- | --- | --- | --- | --- | --- |
| 1 | John Tavares | NYI | C | 27 | 82 | 37 | 84 | $5.5M |
| 2 | John Carlson | WSH | RD | 28 | 82 | 15 | 68 | $3.96M |
| 3 | James van Riemsdyk | TOR | LW | 29 | 81 | 36 | 54 | $4.25M |
| 4 | Paul Stastny | WPG | C | 32 | 82 | 16 | 53 | $7M |
| 5 | James Neal | VGK | LW | 30 | 71 | 25 | 44 | $5M |
| 6 | Mike Green | DET | RD | 32 | 66 | 8 | 33 | $6M |
| 7 | Tyler Bozak | TOR | C | 32 | 81 | 11 | 43 | $4.2M |
| 8 | Rick Nash | BOS | LW | 33 | 71 | 21 | 34 | $7.8M |
| 9 | David Perron | VGK | RW | 30 | 70 | 16 | 66 | $3.75M |
| 10 | Jack Johnson | CBJ | LD | 31 | 77 | 3 | 11 | $4.36M |
| 11 | Carter Hutton | STL | G | 32 | 32 | 2.09 | .931 | $1.13M |
| 12 | John Moore | NJD | LD | 27 | 81 | 7 | 18 | $1.67M |
| 13 | Thomas Vanek | CBJ | LW | 34 | 80 | 24 | 56 | $2M |
| 14 | Patrick Maroon | NJD | LW | 30 | 74 | 17 | 43 | $2M |
| 15 | Michal Kempny | WSH | LD | 27 | 53 | 3 | 10 | $900K |
| 16 | Jonathan Bernier | COL | G | 29 | 37 | 2.85 | .913 | $2.75M |
| 17 | Riley Nash | BOS | C | 29 | 76 | 15 | 41 | $900K |
| 18 | Derek Ryan | CAR | C | 31 | 80 | 15 | 38 | $1.43M |
| 19 | Brooks Orpik | COL | LD | 37 | 81 | 0 | 10 | $5.5M |
| 20 | Anton Khudobin | BOS | G | 32 | 31 | 2.56 | .913 | $1.2M |
| 21 | Ian Cole | CBJ | LD | 29 | 67 | 5 | 20 | $2.1M |
| 22 | Michael Grabner | NJD | RW | 30 | 70 | 27 | 36 | $1.65M |
| 23 | Leo Komarov | TOR | LW | 31 | 74 | 7 | 19 | $2.95M |
| 24 | Thomas Hickey | NYI | LD | 29 | 69 | 5 | 25 | $2.2M |
| 25 | Kyle Brodziak | STL | C | 34 | 81 | 10 | 33 | $950K |
| 26 | Valtteri Filppula | PHI | C | 34 | 80 | 11 | 33 | $5M |
| 27 | Matt Calvert | CBJ | LW | 28 | 69 | 9 | 24 | $2.8M |
| 28 | Tomas Plekanec | TOR | C | 35 | 77 | 6 | 26 | $6M |
| 29 | Dan Hamhuis | DAL | LD | 35 | 80 | 3 | 24 | $3.75M |
| 30 | Blake Comeau | COL | RW | 32 | 79 | 13 | 34 | $2.4M |
| 31 | Calvin De Haan | NYI | LD | 27 | 33 | 1 | 12 | $3.3M |
| 32 | Jay Beagle | WSH | C | 32 | 79 | 7 | 22 | $1.75M |
| 33 | Chris Kunitz | TBL | LW | 38 | 82 | 13 | 29 | $2M |
| 34 | Mark Letestu | CBJ | C | 33 | 80 | 9 | 23 | $1.8M |
| 35 | Greg Pateryn | DAL | RD | 27 | 73 | 1 | 13 | $800K |
| 36 | Scott Hartnell | NSH | LW | 36 | 62 | 13 | 24 | $1M |
| 37 | Ryan Reaves | VGK | RW | 31 | 79 | 4 | 10 | $1.13M |
| 38 | Kevin Connauton | ARI | LD | 28 | 73 | 11 | 21 | $1M |
| 39 | Brian Gibbons | NJD | C | 30 | 59 | 12 | 26 | $650K |
| 40 | Tim Schaller | BOS | LW/C | 27 | 82 | 12 | 22 | $775K |
| 41 | Luca Sbisa | VGK | RD | 28 | 30 | 2 | 14 | $3.6M |
| 42 | Nick Holden | BOS | RD | 31 | 73 | 4 | 17 | $1.65M |
| 43 | Brandon Manning | PHI | LD | 27 | 65 | 7 | 19 | $975K |
| 44 | Christian Folin | LAK | RD | 27 | 65 | 3 | 13 | $850K |
| 45 | Antoine Vermette | ANA | C | 35 | 64 | 8 | 16 | $1.75M |
| 46 | Antoine Roussel | DAL | LW | 28 | 73 | 5 | 17 | $2M |
| 47 | Derek Grant | ANA | C | 28 | 66 | 12 | 24 | $650K |
| 48 | Jaroslav Halak | NYI | G | 33 | 54 | 3.19 | .908 | $4.5M |
| 49 | Ondrej Pavelec | NYR | G | 30 | 19 | 3.05 | .910 | $1.3M |
| 50 | Alexei Emelin | NSH | LD | 32 | 75 | 1 | 9 | $4M |
| 51 | Michael Hutchinson | WPG | G | 28 | 3 | 3.26 | .907 | $1.15M |
| 52 | Toby Enstrom | WPG | LD | 33 | 43 | 1 | 6 | $5.75M |
| 53 | Matt Read | PHI | RW | 31 | 33 | 7 | 16 | $3.63M |
| 54 | Roman Polak | TOR | RD | 32 | 53 | 2 | 12 | $1.1M |
| 55 | Daniel Winnik | MIN | LW/C | 33 | 81 | 6 | 23 | $660K |
| 56 | Cam Ward | CAR | G | 34 | 43 | 2.73 | .906 | $3.3M |
| 57 | Scottie Upshall | STL | LW | 34 | 63 | 7 | 19 | $800K |
| 58 | Luke Schenn | ARI | RD | 28 | 64 | 1 | 7 | $1.25M |
| 59 | Chris Wagner | NYI | C | 27 | 79 | 7 | 16 | $637K |
| 60 | Tommy Wingels | BOS | RW | 30 | 75 | 9 | 17 | $750K |