Crosby: Melnyk 'likes to hear himself talk'
Two days after Eugene Melnyk called him "a whiner beyond belief," Sidney Crosby threw a subtle jab at the Ottawa Senators' owner, but refused to engage in a war of words. Frank Seravalli has more.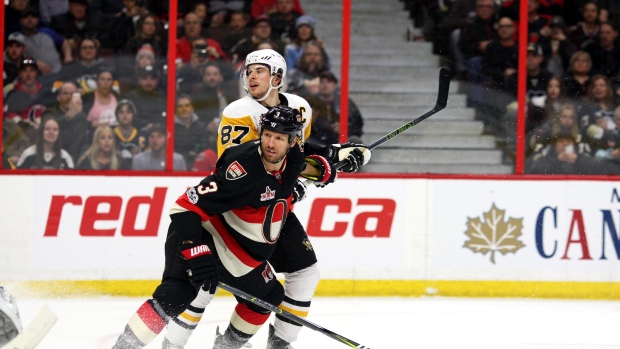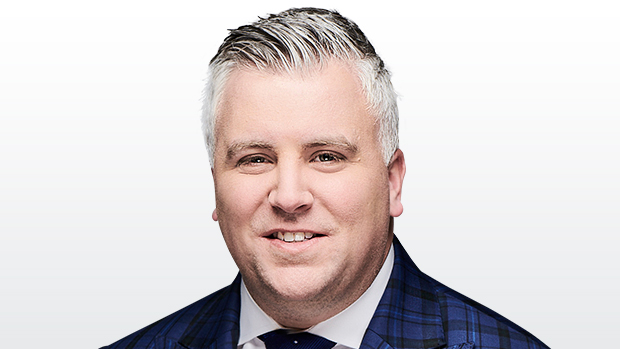 Two days after Eugene Melnyk called him "a whiner beyond belief," Sidney Crosby threw a subtle jab at the Ottawa Senators' owner, but refused to engage in a war of words.
"I'm just going to leave it," Crosby told reporters Sunday morning in Pittsburgh. "He likes to hear himself talk, so let's leave it."
Melnyk was irate after Crosby's unpenalized slash to the hand of Senators defenceman Marc Methot on Thursday night fractured a finger, forcing Methot out of the lineup for a period of weeks as the Sens chase their first division title in 11 years. The tip of Methot's finger essentially exploded, leaving a gory mess in his glove.
Melnyk called for a 10-game ban for Crosby - or any player who causes significant injury.
"We all know who he is, the guy is just a whiner belief," Melnyk said on TSN 1200. "You do this kind of stuff, I don't care who you are in the league - I don't care if you're the number one player in the league - you should sit out for a long time for this kind of crap."
Senators GM Pierre Dorion politely declined to comment on Crosby's slash, other than to say that the NHL "has good people in place who review all incidents."
The NHL's Department of Player Safety did not issue any supplemental discipline for Crosby's slash. Crosby, who says he is often the victim of those types of whacks, said he would love to see them more stringently policed.
"I'd love to see them crack down on it," Crosby told reporters Sunday. "It's something that happens a lot, but you don't want to see guys get hurt. Obviously he's an example where if you get it in the wrong spot, it can hurt. Hopefully he's back out there soon."
For whatever reason, those types of slashes - also termed as "chops" or "taps" in hockey parlance - are not consistently whistled as penalties. They occur dozens of times almost every night in the NHL. Crosby's slash on Methot was not unlike the hack from Eric Staal in November that sidelined Calgary's Johnny Gaudreau for 10 games with a fracture in his hand.
Flames GM Brad Treliving admitted then it's a nuanced - if not outright difficult - discussion to have. Where is the line drawn between a slash on the hands and a "tap?"
"When you chop a guy in the hand, there's a rule that says: You can't do that," Treliving said on Nov. 17. "But this is difficult. These aren't baseball swings. It's … hard. And we get it. But it's also hard losing a good player for a long time."
That was the frustration Melnyk expressed on Friday. He is the same owner who also reportedly launched a forensic investigation into whether Matt Cooke attempted to deliberately sever Erik Karlsson's Achilles tendon in 2013.
Melnyk's pointed words, even though he never specifically used Crosby's name but was clearly referring to him, drew the ire of Crosby's representation.
Crosby's agent, Pat Brisson of CAA Sports, released a statement to TSN's Darren Dreger on Friday.
"In my opinion, a team owner who makes a negative comment about a player outside of his organization should be fined for such action," Brisson said. "It's worse than tampering and against the culture of our game."
Crosby was in the crosshairs for his stickwork most of the week. On Tuesday night in Buffalo, cameras captured Crosby slashing Sabres forward Ryan O'Reilly in the groin area with his stick from behind. That play also went unpenalized.
According to Yahoo! Sports, it was at least the seventh time in Crosby's career he was caught slashing an opponent in the groin.
Crosby contacted O'Reilly to apologize, saying he didn't mean to hit him in "a terrible spot." It is unknown whether Crosby apologized to Methot.
"It looks terrible," Crosby said. "It's funny for you guys, but for him not so much. I know him, I've played with him on different teams. There's no history there. I wasn't trying to do anything. I tried to put my stick kind of near him and got him in a terrible spot. I told him that, he probably doesn't believe me … It doesn't help that that happened the day before the Ottawa incident."
--
Contact Frank Seravalli on Twitter: @frank_seravalli