Data drives Lightning's need for quality defenceman in Drouin deal
The numbers show Tampa Bay need a defenceman to play behind their top pairing of Victor Hedman and Anton Stralman, Travis Yost writes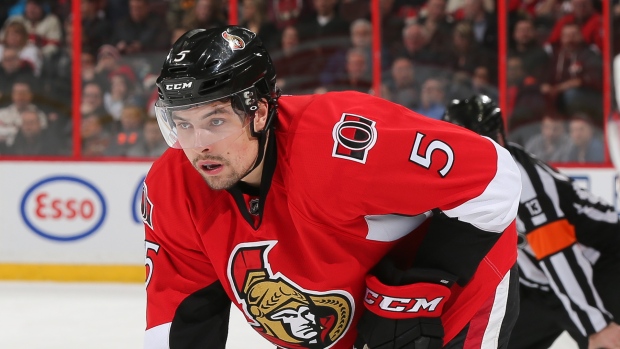 A few weeks ago, TSN's Pierre LeBrun reported that the Tampa Bay Lightning is looking for a defenceman (preferably a right shot) in a theoretical Jonathan Drouin trade.
Since then, we have heard buzz about a number of potential Drouin deals, perhaps the most prominent concerning Tampa Bay's targeting of Cody Ceci and/or Thomas Chabot from the Ottawa Senators.
In essentially every potential trade scenario, the proposed deal has Tampa Bay acquiring some type of defender in exchange for their former third-overall pick. To me, that's just as interesting as the reality that a player with such great potential is on the trade block, his future with the Lightning organization as dead as a doornail.
Tampa Bay is in a tough spot here. Trading a blue-chip prospect at such a young point in his career presents the danger of a pennies-on-the-dollar kind of return. It's an even bigger risk since the Lightning is an organization that should realistically be competing for a Stanley Cup right now. Only Washington has emerged as a serious threat in the Eastern Conference, so that window is wide open.
The way they are so actively targeting defenders in potential trades indicates that the front office has identified the team's biggest operational need – a defenceman to play behind their vaunted top pairing of Victor Hedman and Anton Stralman.
It's an interesting development, and one that seems to be data-driven. You can apportion at least some of Tampa Bay's relatively slow start to the season to their second and third pairings not performing up to par. What's more troublesome – at least if you are general manager Steve Yzerman or head coach Jon Cooper – is that the bottom four's bad performance has been somewhat pervasive, regardless of who is on the ice with them.
Where Hedman and Stralman elevate the performance of Tampa Bay's impressive forward group, the rest of the blueline seems to artificially suppress performance. Playing with the second and/or third pairing often means spending more time in the defensive zone, and, consequently, fewer chances to have an impact in the offensive zone.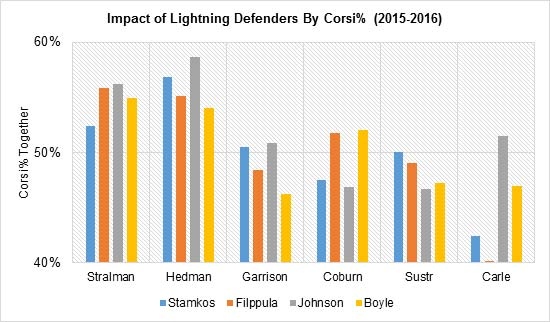 It doesn't matter if the first line or the fourth line is out with Tampa Bay's top pairing — they're going to spend a significant portion of shifts in the offensive zone. This pairing has become something of an analytics darling, so there's no need to re-hash what's already been said time and time again. Simply put: they have an incredible impact on their team's play regardless of whom else in on the ice with them. That's indicative of very real, very measurable talent.
On the other hand, Tampa Bay defenders three through six have really struggled from a possession standpoint. It's amazing to me that none of these defenders can do little more than break-even (at best) when playing with a generational talent like Steven Stamkos, or the vaunted Triplets Line that has chewed up competition since being assembled a couple of seasons ago.
I do wonder if Tampa Bay thinks this is a two-pronged issue – the first being that talent on the second and third pairings hasn't played up to expectations, the second being that 'handedness' is contributing to some of the defence's struggles.
Three of the four regulars (four of five if you count Nikita Nesterov) are left-handed shots, meaning at least one pairing is lefty with lefty. That means the other pairing features the lone right-handed shot in Andrej Sustr, a player who hasn't developed as quickly as Tampa Bay anticipated. Acquiring a talented right-shot defender would hypothetically solve both of these issues.
It's a theory, but one worth considering in light of the trade buzz.
The Takeaway
If Tampa Bay was just a team looking to inch into the playoff race and hope for a May miracle, we likely wouldn't be so concerned with how their blueline depth has performed. But Yzerman and company have pegged this team as a Stanley Cup hopeful. Knowing that the future of Stamkos is up in the air, I'd hazard to guess that the pressure is on to win now. To that end, it's also understandable why the front office wants a defensive upgrade. After Hedman and Stralman, they just haven't been good enough.