Day needs to deliver for Internationals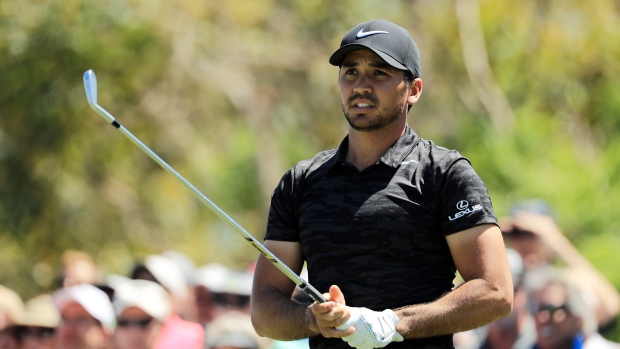 If the International Team is going to snap the losing streak at the Presidents Cup, its best players have to be its best players. Last time out, the top golfer on the squad simply wasn't that.
Jason Day was ranked No. 2 in the world when the International team played in Korea in 2015, battling the U.S. before eventually losing by a single point. Captain Nick Price was counting on him to lead the way, to be a point-grabbing machine.
Instead, Day only managed just a half-point, that coming when he partnered with Adam Scott to tie Phil Mickelson and Zach Johnson.
A half-point simply won't cut it this time and Day knows that.
"I let the team down two years ago in Korea," he acknowledged. "I didn't have a good Presidents Cup and it was close. If I actually played well, we probably would have had a good shot at winning. Unfortunately I take the blame for that. I didn't play good. I was ranked No. 1 on the team for a reason, and I didn't show up."
Part of the reason could have been the frenetic pace Day was on leading into that event. He won four tournaments over a six-week period (including the RBC Canadian Open) and admitted to being burnt out.
The Presidents Cup simply wasn't a priority for him as he struggled to keep his energy level up.
That's not the case this time. Day's ranking has slipped since the last Presidents Cup. He comes into this week as No. 7 in the world, still the second-highest among the International team players. His season has been mediocre by his lofty standards as he dealt with a recurring back ailment.
Still, he seemed to be hitting his stride late in the year with his last five finishes all inside the top 25.
Once again, he'll be expected to deliver a few points for the International team but this time, he's ready and motivated even if the odds seem to favour another American win.
"I don't think we've got a lot of pressure because I think a lot of people are kind of writing us off already and we're all solid players," Day stated. "On our weeks, we can beat anyone, and that goes throughout the whole team here."
There are eight players returning from the 2015 team that lost by just a single point, which should give Price's squad some encouragement. The close finish seemed to energize a team that had become tired of getting hammered time and again.
"I guess we know that we have a shot at winning if we play well," said Day. "[The result in] 2015 was a huge indication of that, and I think we come into this week feeling a lot better about ourselves knowing that we do have an opportunity to beat the American side, even though they have pretty much – it's been one sided throughout the years."
Day said that the atmosphere in the team room is different this time. It's less like pigs going to a slaughterhouse and more like a team that just needs a few more points to break the long dry spell. There is optimism, hope and the understanding that they have the talent to win the Presidents Cup for the first time since 1998.
Of course, how Day plays will go a long way in determining the outcome of these matches. He knows the role he must play and how his teammates are counting on him.
"I'm hoping that I can redeem myself this week," he said, punctuating the remark with a chuckle. "It would be nice to be able to get more than the points that I got back in 2015."
A half-point isn't going to cut it this time.