DeLaet's run gives him a shot on Sunday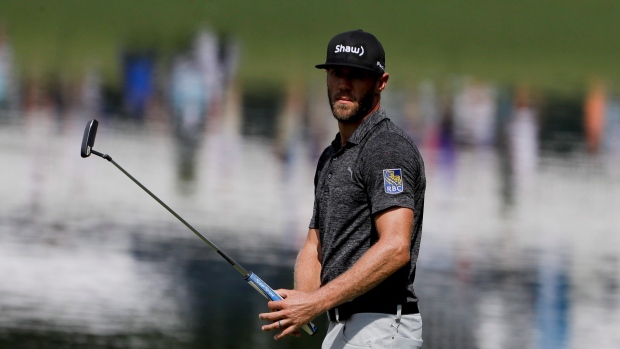 CHARLOTTE, N.C. – On Thursday, Graham DeLaet, just two holes into the PGA Championship, thought seriously about withdrawing. Despite having gone birdie-birdie to open, he tweaked his back and wasn't sure he could continue.
On Saturday, after one of the craziest runs of golf seen in a long time, he has a shot at winning a major championship.
On a four-hole stretch from the 13th to the 16th, DeLaet went birdie, eagle, eagle, birdie, to go from four over to two under. It was a stunning display of marksmanship that even the shooter couldn't explain.
"I don't even know," he said shaking his head. "After that four-hole stretch was over, I was like 'Man what just happened.'"
The run helped him to a third-round 68 and left DeLaet tied for seventh spot, five shots off the lead. That's a lot of ground to make up and will require a special round on Sunday if he's to lift the Wannamaker Trophy. But after what happened over a four-hole stretch on Saturday, nothing seems impossible.
The run seemed to come out of nowhere on a day when Quail Hollow wasn't giving up much. The Weyburn, Sask., product made a double-bogey on the 11th hole and appeared to be fading. That's when his caddie, Julien Trudeau, stepped in for a kick start.
"Jules told me 'Come on, let's finish strong,'" said DeLaet. "I told him 'I'll do my best buddy.'"
After a par on the 12th, DeLaet stepped up onto the par-3 13th tee and hit his shot that never left the flag. When it stopped, the ShotLink computers showed it at an inch away but that's only because there's no way to record anything less. The ball was hanging over the edge and a well-timed tremor or passing elephant would have caused it to tumble in.
Birdie.
On the driveable par 4 14th, DeLaet took dead aim and his three-wood shot was a laser at the pin. It landed, bounced and then clanged off the pin, stopping eight feet away. It easily could have been just the second ace on a par 4 in PGA Tour history. Instead, DeLaet dropped his putt for a deuce.
Eagle.
"That's where I turned to Jules and said, 'Man, I could have just gone 1, 1, but going 2, 2 is pretty good on those holes too," said DeLaet.
But he was far from finished. On the par-5 15th, a driver and three-iron left him nine feet from the cup and he buried the putt.
Eagle.
On the 16th hole his second shot flew up to within a few feet of the pin, but spun back down a slope and left him 30 feet to navigate. He calmly rolled that one in to keep the streak alive.
Birdie.
"I've never gone on a run like that," DeLaet stated. "I made five birdies in a row at Greenbrier one year but to go six-under par on a four-hole stretch is pretty neat."
The other part of the remarkable string of red numbers is that it came with DeLaet battling a bad back, which plagued him the first two days.
"It was much better today," he said. "I was feeling a little bit of pain. I felt it at impact on every shot but it wasn't affecting my golf shots for the first time this week. It was nice. I mean I was popping Tylenols like they were Tic-Tacs so that probably helped a little bit and the heat was good, I'm going to go get a little more work done and hopefully it will hold up for one more day."
DeLaet will need a lot to go right for him to have a chance on Sunday. He'll need his back to hold up and he'll need some more brilliant shot-making, not just for four holes, but all 18. Yup, it's a long shot, but those have happened before at the PGA.
Keegan Bradley made up five shots on the last three holes to win the 2011 title in a playoff. And Steve Elkington came from six shots back on Sunday to beat Ernie Els in a playoff in 1995.
"If you have a special day," DeLaet said, "you never know."
Or maybe in his case, after an amazing performance, it should be a second special day.