DeLaet taking cautious approach to return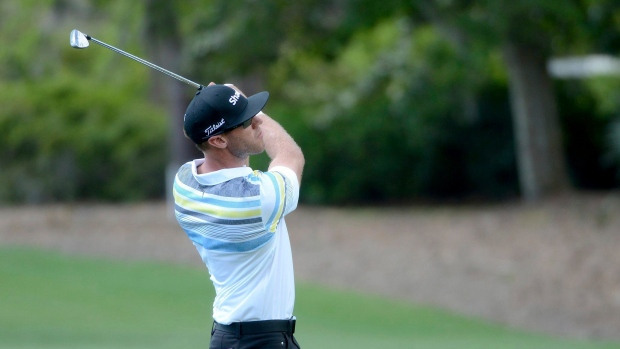 For almost every round of his career, Graham DeLaet has been a warrior.
Like the hockey player he grew up as, he's played hurt but somehow found a way to get around the course.
Sometimes the pain was so bad it hurt just to walk. Each swing could be like sticking a knife into his back. At its worst, he couldn't practice or bend over to pick up the ball out of the hole without agony.
At last year's PGA Championship, even with a chance to win heading to Sunday's final round, he wasn't sure he'd be able to hit his opening tee shot.
But now he's hoping the worst of those days are behind him. He's hoping that for the first time since he joined the PGA Tour, he may actually be able to swing without feeling as if there's a red-hot poker being shoved into his spine.
That's why you haven't seen him since last October. Fed up with playing in pain, DeLaet decided to try a somewhat extreme measure and have a stem cell injection in his back. It's a new procedure, especially so in North America, but the results were good enough to convince the Saskatchewan golfer to give it a try.
And for the first time in a while, he's feeling closer to pain-free, even if it's been a long, but steady recovery.
"I am getting better, that's for sure," stated DeLaet, who has always been regarded as one of the game's best ball-strikers. "It's been longer than we anticipated and originally thought. This is my ninth year now and we're looking at [the layoff] as just a blip on my career. If we take an extra month or two, it's not that big of a deal and if that can do my body that much better then that's beneficial."
In addition to the stem cell injections, which work to repair and regenerate the damaged disc, DeLaet has been undergoing an intensive program of what he described as "new age" treatments. He does cryotherapy three times a week and also goes into a sensory deprivation tank once a week. That's in addition to regular physiotherapy and massage treatments. If it can all work to get him back on the course, then it's worth it.
"I've played hurt basically my entire career and it's gets old pretty fast and you stop enjoying it," DeLaet admitted. "It's no fun going from the gym to the golf course right back on the table at the end of the round and there's no time for practice. The enjoyment wasn't really there that much because I was always hurt."
The other part of the back ailments had nothing to do with golf but just regular living. DeLaet was restricted in activities he could do with his wife, Ruby, and twins, Roscoe and Layla. There was definitely no horseplay or physical fun of any kind and the thought of a long family road trip sitting in the car was a non-starter. But now, with his back improving, not only is he enjoying his family time, he's also getting the itch to get back to playing.
Still, he refuses to rush back, preferring to pass on some of his favourite Tour stops – including this week at the Valspar Championship – in favour of a full recovery. DeLaet has swung a golf club just once since he withdrew from the CJ Cup at Nine Bridges in South Korea last October. He's not sure when the next time will be.
"I could be playing right now," he said. "I'm in a lot better shape right now than I have been in the past when I've been playing golf tournaments. But hopefully in another month or two, I'm even that much better and I can avoid playing hurt."
When asked when he might play again, he mentions the RBC Heritage and his love of Harbour Town Golf Links, although he admits the early April date might be too soon. The Players in May could be more realistic. But there's no target yet. It will be day by day, week by week.
Despite the lack of play, sponsors have not shied away from the 36-year-old golfer. While he's been off, he's signed deals with MGM Resorts, which will appear on the front of his cap, and Saskatchewan potash giant Mosaic.
"I was joking with my agent that he's been busier than I have over the last few months," DeLaet quipped.
He's also staying busy with his beer company, which produces Prairie Baard, hoping to get it into Ontario markets before too long.
"I'm a golfer," he said when asked why he's going through all this rather than perhaps retire. "That's all that I've really ever done and all that I know."
If he can do it pain-free, then it might be very interesting to see just how far his talent can take him.