Dominating blueline driving Sharks' surge in the Pacific
Erik Karlsson and Brent Burns have been brilliant this season, turning San Jose into a buzz saw that every other Western Conference contender will have to deal with, Travis Yost writes.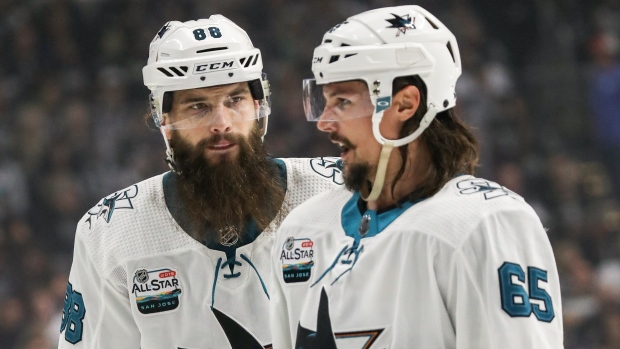 With the San Jose Sharks beginning a four-game Canadian road trip, two of Canada's best teams and Stanley Cup hopefuls will get a big pre-playoff test.
Winnipeg and Calgary are virtual mathematical locks to reach the postseason, so right now it's more about playoff seeding than anything else. Both teams are not only vying for first place in their respective divisions, but also competing against one another for first overall in the Western Conference.
The Sharks aren't far behind. Remember all of the hand-wringing about their slow start to the 2018-19 season? It seems like decades ago now. Peter DeBoer's team has been a buzz saw for most of the season now – the type of team we expected to see the minute they made the blockbuster Erik Karlsson trade.
This is an issue that the Jets, Flames, and really every other Western Conference contender have to deal with. There are no more questions about integration issues or playing styles. The Sharks have four quality lines and two Norris Trophy-calibre defencemen playing on separate pairings.
The latter part is what separates the Sharks from your generic playoff team. There just aren't many examples of teams having two elite – in every sense of the word – play drivers. Brent Burns would be the No. 1 defenceman on just about every team in the league, but in San Jose he shares that role with Karlsson.
If we look at expected goal rates (shot volume, adjusted for the quality of each shot) around the league and isolate on each team's two most utilized defencemen, San Jose is unsurprisingly at the top of the list. With one of Karlsson or Burns on the ice, San Jose is getting an expected goal rate around 59 per cent. (Their actual goal rate is at 54 per cent, which is still fantastic!)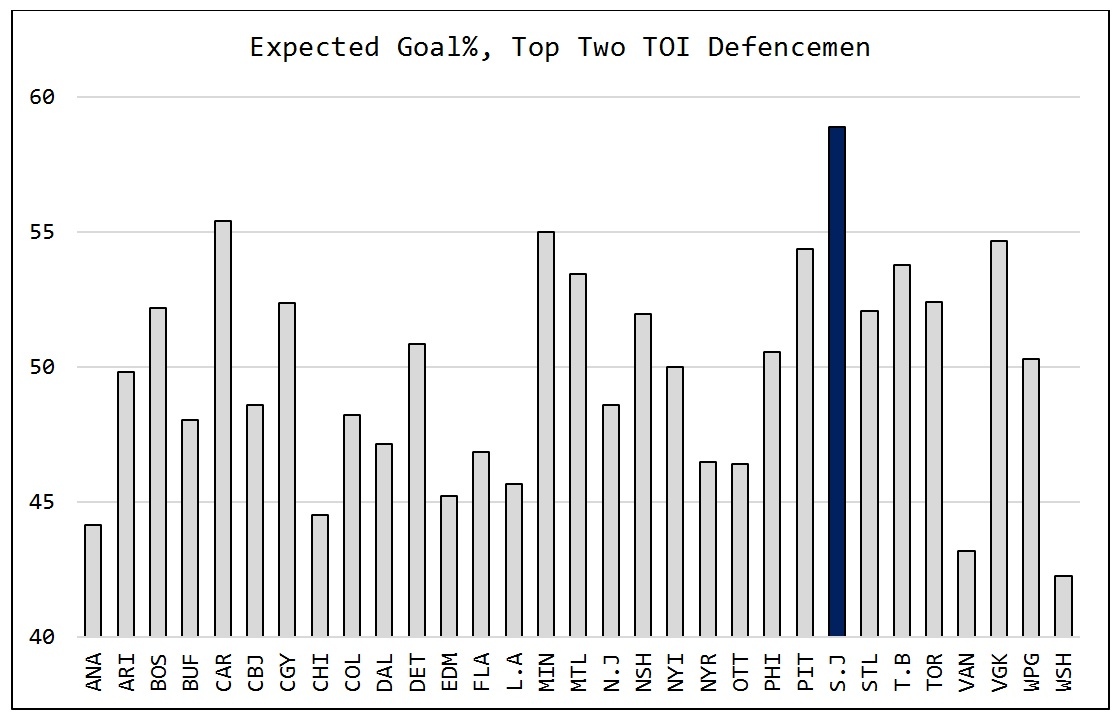 The key differentiator between San Jose and other similarly strong teams is that Burns and Karlsson rarely play with each other. Consider a couple of other teams that appear strong by this measure. Minnesota sees great performance from the likes of Jared Spurgeon and Ryan Suter, who have played 530 minutes together. Pittsburgh sees strong results from Kris Letang and Brian Dumoulin, who have played 745 minutes together. St. Louis? That's Colton Parayko and Jay Bouwmeester, who have played 330 minutes with one another.
You can see the dominance at a more micro level on a game-by-game basis. Look at the five-game average expected goal rates for the likes of Karlsson, Burns and the San Jose team generally. You can see that, as their performance goes, so too does San Jose. That's not particularly surprising since one or both of these guys are on for about 70 per cent of all San Jose 5-on-5 ice time. But again, it's about the performance. San Jose plays in the offensive zone shift after shift, regardless of which of the two is out there. It's a big reason why the Sharks have surged in the Pacific: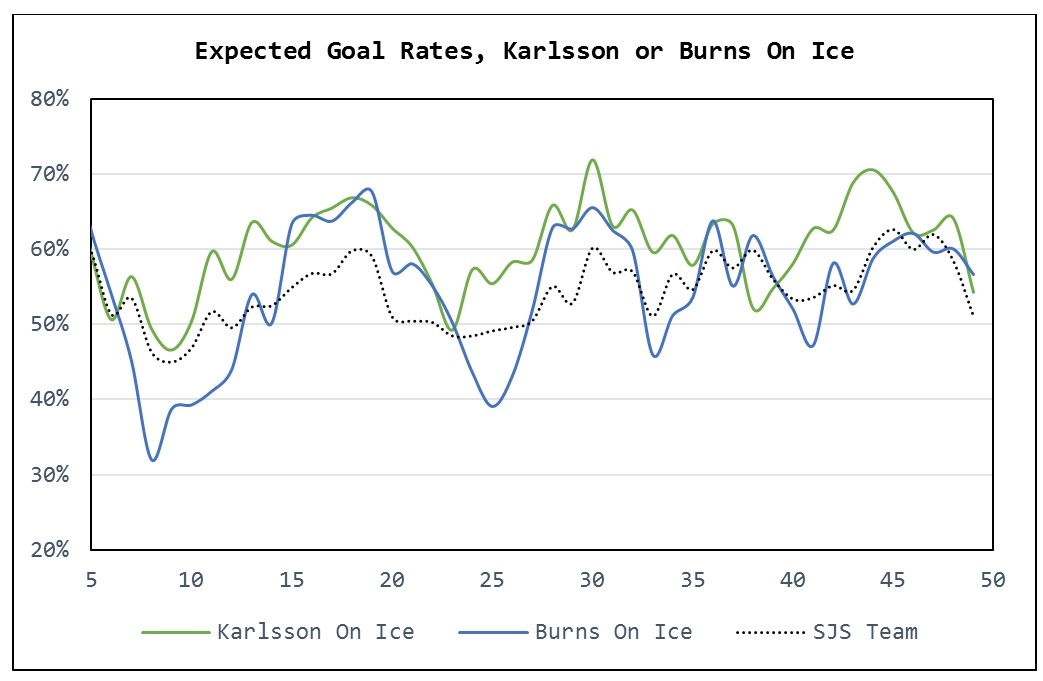 Think about this for a moment. Burns has played nearly 1,000 minutes to the tune of a 56 per cent expected goal rate (and 54 per cent actual goal rate). That's usually the type of performance that puts a guy in the middle of the Norris Trophy discussion. Karlsson has been even better at 5-on-5. His expected goal rate is above 60 per cent (actual goal rate at 54 per cent). How do you beat a team who should be getting about 60 per cent of the goals across 70 per cent of the minutes?
That is the million-dollar question and I don't know that there's a good answer. Karlsson and Burns have been brilliant all year, and the Sharks – despite the league's worst 5-on-5 goaltending – have all but penciled in their playoff spot with two months left in the regular season.
The Jets and Flames certainly have the talent to stand toe-to-toe with the Sharks, and there's a good chance at least one of these teams will see the Sharks come playoff time. So consider this week an official playoff appetizer.