Donaldson open to staying in Toronto for the long term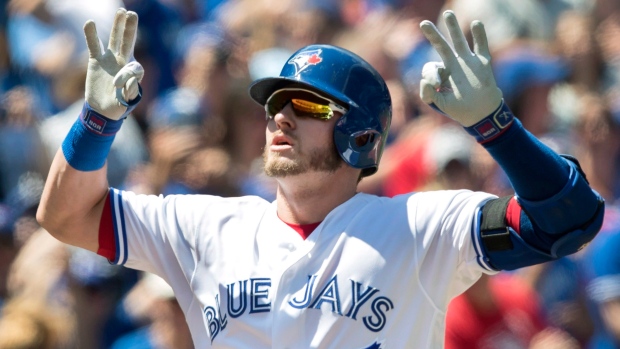 NEW YORK — Tickled pink is the phrase Josh Donaldson used to describe how he'd feel to stay in blue for the long term.
Only time will tell whether or not that actually happens, but the first domino in what is likely a series of them fell Sunday afternoon as the Blue Jays were getting ready to finish off the 2017 season with game No. 162 in the Bronx: Josh Donaldson is open to signing a long-term contract to stay in Toronto.
"I feel like I've proven what I need to prove on the field," Donaldson said. "I don't hope or wish for anything. I've made it known to our front office that I enjoy being a Toronto Blue Jay. That I enjoy my time here. If it's a possibility, I would definitely enjoy being a Blue Jay for a long time. I'm not going to sit here and try to force their hand and they're not going to sit here and force mine. If it's able to work out, I'd be tickled pink. But at the end of the day I don't make those decisions and I can't control that. The only thing I can control is going out there and trying to help my team win on a day-to-day basis and produce the way I know I can."
After earning $17 million this season, Donaldson is eligible for arbitration this winter for the final time, before potentially hitting the open market following the 2018 season.
The Blue Jays can't let that happen, which has led to speculation they could field offers for the former AL MVP, either this off-season or next summer at the trade deadline if a new contract is not in place.
While Jays president/CEO Mark Shapiro has already tried to shoot down any talk of them dealing Donaldson, saying it won't make them a better team in 2018, the front office also hasn't talked publicly of a mega-bucks extension.
"It's not fun being involved in trade rumours," Donaldson said. "I believe in this team. I believe in this organization and I enjoy my time here. That's definitely not something that I like to think about, but on the other side of it, I understand it. I feel like if you're to ask all 29 other teams, they'd probably say, yeah, they'd want to be pretty interested in me as well. That's my take on it."
Now that Donaldson's approached Shapiro and GM Ross Atkins with a desire to stick around and be the face of the Blue Jays as a wave of youth is on the verge of reaching the majors in the next couple of years, it leaves the ball in the court of the front office.
Do the Blue Jays feel Donaldson is worth the significant dollars, and more importantly term, that he will be able to command?
Donaldson will now wait to find that out.
"I think they were glad to hear where I stood," Donaldson said of his conversation. "I feel like my message was taken and they appreciated it. We'll see. I don't know."
The third baseman will turn 32 in December, and is coming off a season that saw him miss 48 games.
Prior to this year, however, Donaldson's name was written into the lineup in ink over the previous four seasons, playing 158, 158, 158 and 155 games from 2013 through 2016.
And then there's that MVP award to think about, in addition to a scorching finish to 2017 that's seen him slash .302/.406/.698 with 24 home runs and 49 RBI from July 27 on.
There's no doubt he's in line for another significant raise this off-season, potentially through arbitration.
"I think there's a business side, for sure, of the game," Donaldson said. "That's been proven; I've been to arbitration before. Is it something that you look forward to? I don't know. We'll see how negotiations go. I'm just happy to be here and play and finish the season in a good manner. But arbitration aside, I let my agents and stuff deal with that."
Over the course of his three seasons in Toronto, Donaldson has been one of the best players in baseball, producing 111 homers and a gaudy .946 OPS.
With Edwin Encarnacion long gone and Jose Bautista playing what's likely his last game in a Blue Jays uniform Sunday in New York, a transition that began last winter will be furthered even more this off-season.
A long-term deal would make Donaldson the franchise face of the next era, one that the Blue Jays hope includes prospects like Vladimir Guerrero Jr., Bo Bichette and Anthony Alford.
Donaldson would welcome that.
"I don't need to be the guy," Donaldson said. "I feel like I go out there and play. I try to be a leader in the clubhouse. I try to be a leader on the field by how I play the game. If they decide that they want me to be the guy by signing me to a long-term deal then I can take that role. I feel like I do that anyhow."