Dreger Report: Neil looks back at career fondly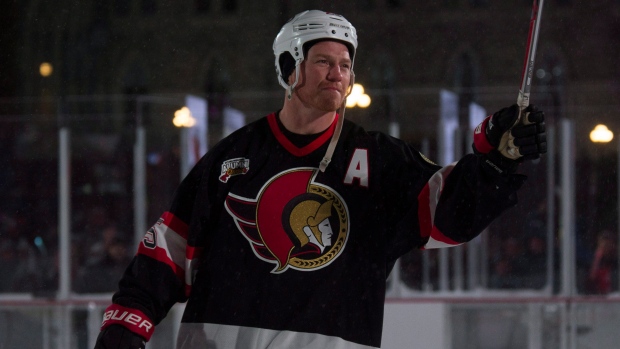 He played more than 1,000 NHL games, all with the Ottawa Senators, and amassed more than 2,500 penalty minutes.
His hands are battered from dropping the gloves close to 350 times. He has some arthritis, but other than that, Chris Neil feels like he's on top of the world.
He's one of Ottawa's most beloved and at 38-years-old, this husband and father of three knew it was time to call it quits.
"Probably a month and a half ago I made up my mind that I wasn't going to play and making the decision was tough, but at the end of the day, I've got no regrets. For my family as well, it was the right time and opportunity to do it."
Over his 15-year NHL career, Neil worked hard on his game on and off the ice. With rule changes he adapted by getting leaner and doing what he could to adjust to the increased speed the league demanded. However, Neil never changed his thinking on what his role with the Senators was. He never had to be told to step in to defend a teammate or when it was time to stir things up to spark the Sens' bench. He knew his job and performed to the best of his ability every night, so he leaves with no regrets.
"No, what you see with me is what you get. I think that's why I played for as long as I did. I have so much respect for all of the guys I went up against over the years. The question I get all the time is, 'who's the toughest guy?' They are all tough. At the end of the day, if you're not ready to go, anyone of those guys can knock you down, so you have to be at the top of your game every single night and I have a tremendous amount of respect for every guy in that role."
"The way the game has gone, you don't see too much of that anymore, but I'm still all for a good ole donneybrook out there. I enjoy watching it and I took pride in it, to lift my teammates up and to let them know that no one is going to take liberties on them. For me it was important to have my teammates' back every single night."
Neil, Ottawa's sixth round draft pick in the 1998 NHL Entry Draft, paid his dues in the minors, including an impressive 2000-2001 season with the AHL's Grand Rapids Griffins where he recorded 15 goals and 36 points with 354 penalty minutes. He was ready for the NHL and fondly remembers his rookie season and a group of guys that became life-long friends.
"When I came into the league in Ottawa my first year, it was a family, we were a tight group, it wasn't just one guy, everyone was together. Certain guys you keep in touch with more, but like Philly (Chris Phillips) Reds (Wade Redden), Fish (Mike Fisher), those are guys that took me under their wing. I lived with Mike and obviously we share the same beliefs and I think through that Mike and me became very close, but that's not taking away from the other guys because everyone was instrumental in helping me progress in my career."
Neil faced adversity through coaching and management changes over the years, but there's no hesitation when asked to define his proudest time as a Senator. Although it didn't end the way he and the Sens were hoping, the battles won and the experiences of making it to the 2007 Stanley Cup finals against the Anaheim Ducks top his list of accomplishments.
"The run in 2007 under Bryan Murray was unbelievable and everyone was willing to go through the wall for that guy. That says a lot about his makeup and character that he could get the most out of every guy in that locker room whether they played five minutes or played 22 minutes. He had a way of dealing with people...he was really good at that."
"He had your back every single night and whether you needed a wake-up call or if the team was flat he would find a way to get under the refs skin to get everyone riled up. If he was into the game...everyone had to get going. By far, he's one of the best coaches I've ever had.
Murray will always have a special place in Neil's heart, but Neil also wants to acknowledge another former Sens coach who had an impact on his career.
"I really enjoyed Paul Maclean as well. Paul is a tremendous person, a lot like Bryan and it was unfortunate what happened to Paul in Ottawa , but I speak very highly of Paul and respect him and what he stands for."
While Neil wasn't known for his offensive talent, he did score 112 goals and 250 points in the NHL. Three goals instantly come to mind when asked to describe his favourite goals...two of them are his and one belongs to his good pal, Daniel Alfredsson.
"In 07, scoring in the Stanley Cup Final right after my daughter was born that was a very proud moment and another one was scoring the overtime winner against the Rangers in Game 2 (2012 Eastern Conference Quarterfinals). Those are two special goals and one goal that I didn't score but was an unbelievable experience to be a part of was the goal Alfie scored to send us to the Stanley Cup Final. Coming back to Ottawa, there must have been 14,000 people at the airport. There was just a little tunnel for us to drive through and we were high-fiving fans...it was unbelievable, it truly was."
Neil isn't sure what the future will look like professionally. He's well connected in the Ottawa business community and is a partner in Central Bierhaus, a popular restaurant in Kanata. For now, he's more than happy spending time with his family, including helping coach his eight-year-old son's minor hockey team. Undoubtedly, he and his wife Caitlin will also continue their charitable work with Roger Neilson House.
Chris Neil is one of the game's good guys.