Dreger Report: Poor choices giving Gudas a dangerous rep (Oct. 2016)
As TSN Hockey Insider Darren Dreger writes, the Flyers defenceman knows he's crossed the line on certain hits, but doesn't dwell on it because it's part of the game.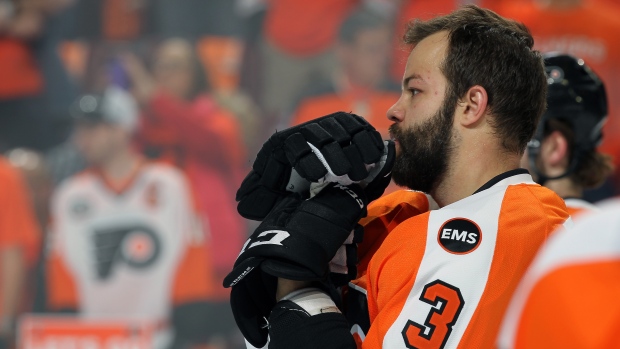 In less than one week of preseason hockey, Radko Gudas has placed himself at the front of the line for the dubious distinction of Predator of the Year.

He faces certain suspension after waiving his right to an in-person hearing for his hit Saturday night on Boston Bruins rookie Austin Czarnik. The hit was made late and while Czarnik's head wasn't the principle point of contact, there's enough head contact for the Department of Player Safety to consider a suspension that could be greater than five games.

In a preseason game against the New York Rangers last week, Gudas escaped suspension after tagging Rangers rookie Jimmy Vesey. Vesey turned just prior to contact and the league didn't think Gudas had enough to time to respond or minimize the hit. He was given a boarding major and a game misconduct, but the Department of Player Safety didn't have the evidence to suspend.
DPS reviews everything and every questionable hit is isolated and distributed throughout the department for input before a decision is made on whether the play warrants a hearing. It's believed Gudas has a lengthy rap sheet of hits or plays that have come perilously close to the line of supplemental discipline. However, he's only been suspended once - three games last season for a forearm shiver to the head of then-Ottawa Senators forward Mika Zibanejad.

High hits, low hits and unnecessary plays where Gudas appears reckless, predatory or out of control all contribute to his reputation of being a dangerous player.

I spoke with Gudas on Thursday after his hit on Vesey and before he lowered the boom on Czarnik. He seems like a likeable man, and he's highly regarded by those he's played with and played for in Tampa and Philadelphia. They believe his good traits far outweigh the bad. He's had more than one discussion with the National Hockey League about his aggressive style and while he knows he's crossed the line with certain hits, he also says he understands where the line is and refutes the notion his game is based on delivering a physical message.

"I think playing more of a defensive role is more of a focus," he explained to The Dreger Report. "It doesn't mean I have to plan on the line all of the time to look for those hits on the line all of the time.

"Obviously, I do have a lot of hits throughout the season, so if you have three or four questionable hits out of 250 or 300 hits per year, I think that's a pretty good number. Accidents happen and everything isn't always perfect, but I'm never targeting a guy to get him hurt or anything like that.
Hockey is a tough sport and accidents happen, if the guy has the puck he's available to get hit, so it's tough to choose sometimes where to hit or not."

To this point, it appears like Gudas is making poor choices. But when asked on Thursday if he had any intention of changing his game or adjusting his style of play, he says he feels he's done that.

"There are some hits from last season which I talked to the league about and I got suspended for the first time in my life last year...and we talked about it," he said." "Obviously, there were some concerns, but I think I've adjusted my game where they wanted me to and I thought I was pretty good for the rest of the season.
"Obviously, some people might see it differently."

Without question, Gudas has his critics, but he's not concerned with public opinion, media or what his opponents think. His reputation is a by-product of a playing style which to some degree, runs in the family.
"It's not the nicest thing to have, but I'm getting used to it and playing hard hockey and being physical, a lot of people aren't going to like it," he said. "I learned it from my father. He was a very similar player to what I am and I grew up watching him, so it was always fun to be on the ice and be physical, so I kind of grew up that way."
I also asked Gudas if there were any hits he regretted. He admitted at looking at a few that were sketchy, but can't dwell on it because it's part of the game.
"Not trying to hurt anybody, but as I said accidents happen and obviously others are not always happy about that," he said. "Calling me names and calling me out in the media as their way of trying to get me out of my game or get me off my game, so it's tough to say right now if I'm regretting anything I do."
And as Gudas prepares to face league discipline as a repeat offender, it's doubtful he feels the same as he did when we spoke just a few days ago.