Drogba giveth and taketh in equal measures
Not ever before has the old adage, 'less is more' actually counted in favour for the Montreal Impact. TSN Soccer Analyst Noel Butler has more on Didier Drogba and his decision to stay off turf to start the season.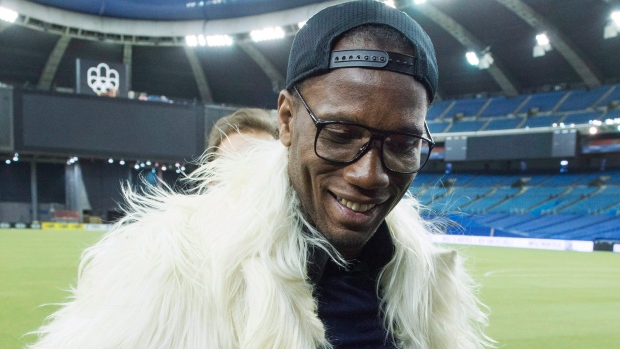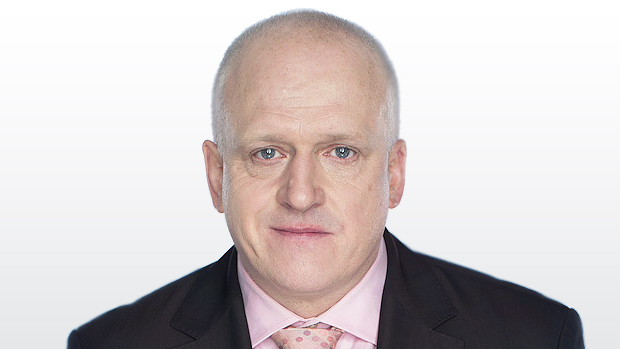 Not ever before has the old adage, 'less is more' actually counted in favour for the Montreal Impact.
Let alone for any other MLS club who has stumped up the significant investment funds in the designated player stakes since its introduction in time for 'His Beckhamness' to pull up sticks in LA back in summer 2007.
No creative agency on the planet could have better scripted how things played out Thursday lunch time at the drabbest looking and costliest Olympic Stadium in the entire history of the IOC movement when Didier Drogba took time out of his work day to finally speak with media since showing up in camp just over two weeks ago down in Tampa.
In the opening act, technical director Adam Braz informed the assembled throng that as a preventative measure Drogba would be held back from Sunday afternoon's season opener at BC Place plus the Impact's Olympic Stadium home opener March 12th.
All going according to script, the footballer who single handily moved the soccer platelets in Montreal last season, and by extension added significant layers of relevancy to MLS itself, would make his 2016 bow in Dallas a week later.
No different to a modern day pop star, this particular football rock star was hand picking his preferred venues, which in essence will be his retirement tour, and letting management sort the devil and the details.
Only difference here was these decisions were based on an absolute preference bordering on an allergic reaction to stay completely away from non-natural football surfaces. Added to that, was the empirical evidence gathered in New England late last season after playing at Foxboro.
A swollen knee for Drogba will make him far less a threat on an opponent's goal than that swashbuckling libertine who early last September made mincemeat out of a Chicago defence on his full debut and seemingly scored highlight reel goals just for fun each and every time he hit the pitch. Remind me again how many actually came on non-natural surfaces?
Thierry Henry might have had a provision in his contract stipulating it was entirely his choice to not play away matches on non-natural surfaces when he graced MLS with his considerable presence between summer 2010 and 2014. Drogba has taken that position a stage further. To best ensure of no adverse reactions he was not even willing to train at Montreal's Olympic Stadium.
As much as it's accepted that so termed 'plastic pitches' have come a long way from their origins when back in 1981 QPR became the English pioneers of laying a turf field at their west London stadium the fact of the matter is association football was always meant to be played on grass football pitches.
In recent times especially, technological advances have further helped. However when push comes to shove grass is always the clear winner with footballers, their associations and continental bodies alike across world football.
The only caveat to that is climate. It will always be the case, unless of course climatic shift and change of an intense order was to occur, certain soccer markets and regions across North America will always need man made products to trump Mother Nature.
It's why back in 2010 when the Impact were granted MLS status it was done so with the understanding that both Olympic Stadium and Saputo Stadium would be the club's joint homes. CONCACAF also endorsed Olympic Stadium for February 2009's Champions League Quarter Final. As we could be sure the CSA would if the Canadian Championship was ever moved to early in the season.
All these football organizations have every right to sanction matches on approved non-natural surfaces. As then does Drogba, in complete consultation and approval of his club, to sit those matches out.
You can't please everybody, all of the time. Impact supporters, even those of competing clubs, broadcasters and corporate partners whilst displeasing and disappointed in such a decision have to understand and accept it too.
As should, Major League Soccer. The more concerning thing to me is what Braz did not say Thursday lunch time. The Impact's technical director could not confirm when and where his star player and gilt edged attraction could pick up his pre-season training.
You don't need to be a rocket scientist to realize what Braz couldn't say is MLS has not approved their desired choice. RDS the first to report that this was at the new soccer home of a previous rock star footballer of theirs, Alessandro Nesta now over lording Miami FC of the NASL.
MLS is only coming of age this season and similar to any 21-year old kid doesn't get everything right, always. Just as in life things are learned along the way, its learning curve. Drogba's want, need and desire for a grass pitch for training and practising on is a new one to the league. Most likely, an unprecedented player request in league history.
When assessing all, the league might do themself a big favour by taking a page out of famous US Industrialist Jack Welch's way. One of the most successful individuals in the long and glorious history of US commerce believed so termed abrasive employees were an overall asset to the business. Challenging the stated order is not a bad thing for business.
When chatting with Whitecaps president Bobby Lenarduzzi he rightfully offered not one ounce of sympathy for the modern day footballer who dared complain about having to play on a turf field. Regaling TSN690 listeners as he recalled that bygone original NASL where everyone played, no one complained. That 'A' list of highest grade football talent back then included the likes of Pele, Best and Cruyff. Today's Messi, Ronaldo and AN Other.
However, we now live in very different footballing times. Rightly or wrongly players opinions do count, do matter. The power base has undoubtedly shifted from owners and entities towards those who entertain and disappoint in equal measure week in, week out.
Although in the short term Drogba's stated position is disruptive to his club's well-crafted plans designed by the very methodical and clever football mind of Mauro Biello's. The fact of the matter is the season is not a sprint. Instead is a gruelling nine month long marathon like nothing else in world football.
The key will be where the Impact are come late fall. By that defer all opinion and reassess Drogba's contribution to the overall cause until such time. In his particular case that involves on and off the football pitch.
We can count right now in terms of away from pitch.
As peculiar as this may sound even though it was stated Drogba would not feature in the Impact's home opener and it is not known certainly if he plays against the eastern conference champion Columbus Crew at Olympic Stadium April 9th you can be guaranteed the club has experienced a shift along the season ticket demand curve since Thursday's pronouncements.
Was it Mae West who coined the phrase, any publicity is good publicity? Drogba took every single question, right hook and left jab the media threw at him and pushed them back with responses in a manner even the legend of legend's Muhammad Ali would have been proud of. Some 48-hours since then IMFC was still trending on social media in Montreal.
A few days after Drogba arrived in camp, brushing off media who were lying in wait for their, prized prey the Impact announced over 20,000 tickets had been sold for Olympic Stadium, March 12th. Some ten days later the media finally received enough absorbing sound bites and images which they hadn't received in the entire time Drogba featured in an Impact shirt through 2015.
For their part, although I do not have any empirical evidence at my disposal, you can be guaranteed the Impact will have shifted over the last few days quite a few seats to March 12th's home opener. I would not be surprised come kick off a 40,000 plus crowd descends on a Drogba-less Olympic Stadium next Saturday afternoon.
As I have stated ad nauseam since well ahead of that now infamous January 24th Qatar tweet – even though a little part of Drogba will always reside at Stamford Bridge - his heart and mind right now will be on the immediate task at hand.
I am very fortunate to have witnessed so very much in football over land and sea since first attending my first match alongside my parents and two elder brothers as a snotty nosed urchin of a five-year old. One towards the top of that list is watching and observing Drogba since way before he became the global force he undoubtedly is today, and has been for a number of years.
It's not just his extraordinary soccer skill set and football pedigree that sets him apart from almost all others in this era. Add to that, Drogba's supernatural like physical and mental strength. All backed up with an immense focus, driven by unbridled ambition. Remember what the Impact's number 11 stated as reason why he came to Montreal when introduced at Saputo Stadium to a fawning support back in late July last year?
When on the publicity tour for his Autobiography last fall, in one interview Drogba aptly summed up his time in Montreal last season. "I'm just enjoying playing, running everywhere, defending, scoring goals, traveling, going to new cities, discovering new plans and a new way of life."
Fast forward to Thursday lunchtime and with all which was said and not said by either Drogba or Braz the single most relevant and meaningful sentence was uttered almost as a goading threat to all in the Eastern Conference towards the end. At quite likely one of the more surreal media gatherings in Olympic Stadium's four decade plus history by one of the best things to ever happen to MLS in its two decades.
"With my teammates, we will do what is needed to go as far as possible and do better than last year."
What Drogba didn't say is that if one of the legs of this season's Eastern Conference Final is in New England then do expect his 'Didierness' to suit and boot. Plus watch out Bobby Lenarduzzi and BC Place if you get to host the 21st running of MLS Cup.
Noel.Butler@BellMedia.ca
@TheSoccerNoel
Vancouver Whitecaps Vs Montreal Impact Live on TSN 690 Sunday, 6 March Kick Off 5:30pm et / 2:30pm. Pre-Game 4:00pm et / 1:00pm pt