Dubnyk tops TSN's Top 30 UFA list
From Vezina Trophy and Bill Masterton Trophy finalist to the free agent market - it could be a whirlwind week for goalie Devan Dubnyk when his contract with the Minnesota Wild expires next Tuesday. The netminder is also the top catch on TSN's Top 30 list of pending unrestricted free agents.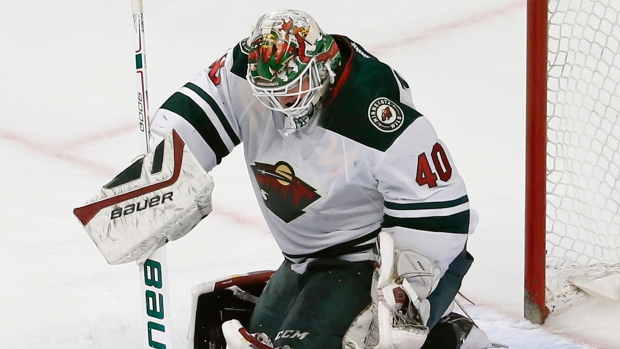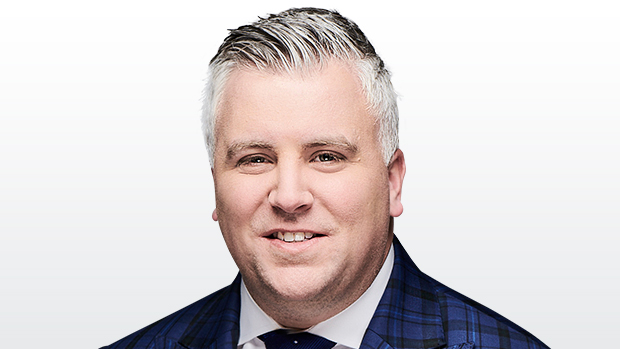 LAS VEGAS — One year ago, Devan Dubnyk escaped here for a trip with his buddies to soak up the pool scene and all that Sin City has to offer.
It was the week before the NHL Awards and his career was uncertain, if not in jeopardy. Dubnyk started the season in Edmonton, landed in Nashville for two games and ended the year mired in the minors.
"Every once in a while, we'd kind of get talking about where I might be, what the possibilities were and if I was going to play or what I was going to do," Dubnyk said Tuesday. "Now we're here. It's crazy. It feels a lot longer than a year ago. It's actually unbelievable that it is only a year."
His trip to Las Vegas this June - as a Vezina Trophy and Bill Masterton Trophy finalist - is a bit more subdued, but still unsettling. Dubnyk has an NHL future, but no permanent address. His contract with the Minnesota Wild expires on June 30. The only thing he's guaranteed is to make a lot more than $800,000 he earned last season.
Dubnyk, 29, sits atop TSN's Top 30 unrestricted free agent list ahead of the start of free agency July 1. Minnesota was in 12th place when Chuck Fletcher acquired Dubnyk from Arizona Coyotes on Jan. 14. He went on to will the Wild to the Stanley Cup playoffs, starting 38 consecutive games and finishing second in the league in both save percentage (.929) and goals-against average (2.07).
So far, little progress has been made between the Wild and Dubnyk's agent, Mike Liut, on keeping him in Minnesota. Dubnyk met with Fletcher briefly here on Tuesday morning, but numbers were not discussed. Dubnyk reiterated his interest in remaining with the Wild.
Liut and Fletcher are expected to meet again on Wednesday in South Florida to negotiate. The NHL and NHLPA announced next season's hard salary cap ceiling of $71.4 million on Tuesday, at least providing some form of clarity on Fletcher's flexibility.
According to GeneralFanager.com, Minnesota has approximately $12 million in salary cap space, with more than $4.6 million committed to goaltenders Niklas Backstrom and Darcy Kuemper.
Dubnyk is reportedly seeking a long-term deal with an average annual value north of $5 million per season.
It is a complicated negotiation. Dubnyk knows perhaps better than anyone - based on what he experienced last season - the volatility of the goaltending position. He wants to maximize his earnings in a limited window, but is also comfortable in Minnesota. There are only three or four other teams looking for a starting goaltender, limiting his leverage.
"It's difficult because it becomes the business side of it," Dubnyk said. "I had the most fun playing hockey I ever had in my career. The fans are great, the city's great, the guys are great. Everything was awesome.
"I almost had it completely go away last year. You weigh both sides. You're standing in a good situation - as long as it's fair. It has to be fair."
Fletcher wants Dubnyk to return, but he also has to fill out the rest of his roster. He needs to find cap space for restricted free agents Mikael Granlund and Christian Folin. There are also questions about Dubnyk's ability to sustain last season's play for a larger sample size of games.
He has played six full seasons in the NHL. The other five were played at mostly below average NHL numbers, even though the majority of that time was spent in net for a struggling Oilers squad. At north of $5 million, he could creep into the Top 10 in the league in cap hit among goaltenders. Can Dubnyk repeat his performance?
"It's something that seems to come up my entire career," Dubnyk said. "Someone always seems to say, 'Well, I don't know. I'm not sure.' For me, the most important thing was that there was nothing [last season] that I was doing that was spectacular, or out of the ordinary.
"I didn't change anything. I was being myself. There wasn't anything that I was doing that I can't continue to do."
That's why Dubnyk was so comfortable surrounded by a gaggle of reporters this time around in Las Vegas, standing across the room from Carey Price, who rewrote Montreal's record books last season.
Now, he will be paid like an elite goaltender. It just may not be in Minnesota. He can begin to be courted by other teams starting on Thursday - though he doesn't seem like the flirting type.
"It's a strange situation, just with the way the year went," Dubnyk said. "For the longest time, I never thought about anything else [other than Minnesota]. If it gets to that time and you've got to move on, that's what you do. For now, it's not there yet."
Frank Seravalli joins TSN.ca this week from the Philadelphia Daily News, where he covered the Flyers for six seasons. Follow him on Twitter @ @frank_seravalli
TSN's Top 30 Unrestricted Free Agents
| PLAYER | TEAM | POS | AGE | GP | G | PTS |
| --- | --- | --- | --- | --- | --- | --- |
| Devan Dubnyk | MIN | G | 29 | 58 | 2.07 | .929 |
| Mike Reilly | U-MIN | D | 21 | 39 | 6 | 42 |
| Mike Green | WAS | D | 29 | 72 | 10 | 45 |
| Cody Franson | NSH | D | 27 | 78 | 7 | 36 |
| Carl Soderberg | BOS | C | 29 | 82 | 13 | 44 |
| Matt Beleskey | ANA | LW | 27 | 65 | 22 | 32 |
| Mike Ribeiro | NSH | C | 35 | 82 | 15 | 62 |
| Michael Frolik | WPG | LW | 27 | 82 | 19 | 42 |
| Andrej Sekera | LA | D | 29 | 73 | 3 | 23 |
| Antoine Vermette | CHI | C | 32 | 82 | 13 | 38 |
| Justin Williams | LA | RW | 33 | 81 | 18 | 41 |
| Mike Fisher | NSH | C | 35 | 59 | 19 | 39 |
| Antti Niemi | SJ | G | 31 | 61 | 2.59 | .914 |
| Adam McQuaid | BOS | D | 28 | 63 | 1 | 7 |
| Francois Beauchemin | ANA | D | 35 | 64 | 11 | 23 |
| Johnny Oduya | CHI | D | 33 | 76 | 2 | 10 |
| Drew Stafford | WPG | RW | 29 | 76 | 18 | 43 |
| Karri Ramo | CGY | G | 28 | 34 | 2.6 | .912 |
| Joel Ward | WAS | RW | 34 | 82 | 19 | 34 |
| Christian Ehrhoff | PIT | D | 32 | 49 | 3 | 14 |
| Martin St. Louis | NYR | RW | 40 | 74 | 21 | 52 |
| Eric Fehr | WAS | C | 29 | 75 | 19 | 33 |
| Brad Richards | CHI | C | 35 | 76 | 12 | 37 |
| Chris Stewart | MIN | RW | 27 | 81 | 14 | 36 |
| Paul Martin | PIT | D | 34 | 74 | 3 | 20 |
| Shawn Matthias | VAN | C | 27 | 78 | 18 | 27 |
| Zbynek Michalek | STL | D | 32 | 68 | 4 | 12 |
| Daniel Winnik | PIT | C/LW | 30 | 79 | 9 | 34 |
| Curtis Glencross | WAS | C | 32 | 71 | 13 | 35 |
| Mike Santorelli | NSH | C | 30 | 79 | 12 | 33 |