Ducharme waits to name starter vs. USA
TSN's Mark Masters is with Team Canada and has the latest as the group plays in the world junior championship. Team Canada practised at the MasterCard Centre while Team USA skated at the Air Canada Centre on Friday.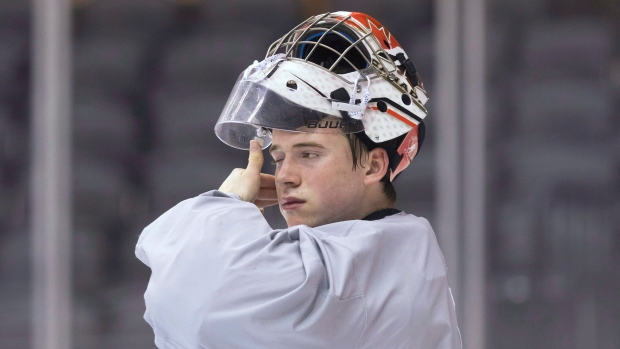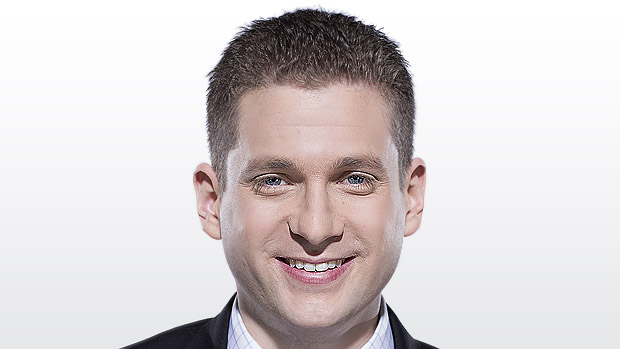 TSN's Mark Masters is with Team Canada and has the latest as the group plays in the world junior championship. Team Canada practised at the MasterCard Centre while Team USA skated at the Air Canada Centre on Friday.
* Carter Hart or Connor Ingram? The internal debate continues among Team Canada's staff, but head coach Dominque Ducharme insists the final call on who starts against the United States will not be a gut decision. "We need to discuss it even more," Ducharme said noting that goalie consultant Fred Brathwaite will be heavily involved. "We discuss it as a group." The goalies will be informed of the plan on Friday evening. Ducharme pointed out that the goalie who starts on New Year's Eve won't necessarily be the goalie who plays in Monday's quarterfinal. "It all depends how the guys are playing and who we're playing. Sometimes it depends on the team (we're playing) and different styles." Team USA head coach Bob Motzko also refused to say who he will start in net.
* Mitchell Stephens (ankle) skated with the team on Friday, but it is unclear whether the winger will dress for Saturday's game. "The most important thing is having him 100% when we get to Montreal so if we think playing tomorrow will affect that then he won't be in," Ducharme said. Stephens was the 13th forward at practice with Michael McLeod remaining with Dylan Strome and Pierre-Luc Dubois.
Strome, who required stitches after taking a stick to the face against Latvia, practiced, but did not speak to the media as his mouth was swollen.
* Tyson Jost was Canada's captain at the under-18 championship in April when the Americans beat his group 10-3 in the bronze-medal game. Jost has wanted revenge ever since and on Saturday he gets his chance. "I had this game marked down ever since they beat us, took it to us in that bronze-medal game," Jost said. "That stung a lot and still does sting. I've had this game marked down and whenever I play those (American players) in college I still have that bad taste in my mouth so I'm really looking forward to this. This is redemption and I think McLeod would say the same thing." McLeod and Dante Fabbro are the other Canadians who played at the under-18 event and are now at the World Juniors. Six American players from that under-18 team are on the USA roster in Toronto. "We're very familiar with these guys and we've developed a hatred over the last few years," said Jost, who is attending the University of North Dakota. "It's something that gets your blood boiling a little bit and I know they feel the same way about us."
* The last time Canada and the USA faced off on New Year's Eve was two years ago in Montreal and it was also to determine the group winner. Canada won that game and earned a favourable draw including a quarterfinal against Denmark and a semifinal against Slovakia. Meanwhile, the Americans lost in the quarterfinals against Russia. On Saturday, first place is once again on the line, but there's so much more than seeding on the minds of the players. For guys on both sides, this is an intensely personal rivalry. "I've watched it every year since I've been seven years old," said Senators prospect Colin White. "It gives me the chills thinking about it." Every player seems to have a favourite story about the Canada-USA rivalry. For Luke Kunin it was John Carlson scoring in overtime to win gold at the 2010 World Juniors. "I remember rushing home from practice to watch that game," said the Team USA captain. "My coach came over and it was me, him and my dad in our basement watching the golden goal." Mathew Barzal said his favourite moment in the rivalry was the Sidney Crosby golden goal in 2010, a game he watched with Fabbro, who is a close family friend. "It's a rivalry that goes back a long time," Strome said on Thursday night. "World juniors, you think of Canada-US, you think of New Year's Eve so the story's there, we got to write it."
* A capacity crowd is expected at the Air Canada Centre and Canada is hoping to ride a wave of emotion to victory. "It's going to be electric," Jost said. "How could it not be? I mean, you watch this game every year: Canada versus the US and all of Canada gets up to watch this game." The Americans are more than happy to embrace the villain role. "Whenever you get a hostile crowd yelling at you and cheering for the other team, I think, all of us, that gets us going even more, so we're ready for it," Kunin said with a smile.
Some American players, however, acknowledged there's a level of uncertainty about just what the atmosphere will be like. "It's going to be something where you're going to have to sit back before the game starts, look around and be like, 'Wow, I can't believe I'm here,'" said Kieffer Bellows. While playing in the OHL, Jeremy Bracco said the top hostile environments he deals with are in Erie and London. The Leafs prospect expects Saturday afternoon will be a whole new level. "It's going to be awesome," Bracco said. "It will be my first time playing in front a crowd that big that is pulling against you. It will be a special night."
* Boston University's Fabbro will see a lot of familiar faces on the Team USA bench on Saturday as five of his Terriers teammates (Charlie McAvoy, Patrick Harper, Jordan Greenway, Clayton Keller and Bellows) are expected to be in the lineup. "It's like he's facing half his team," Barzal cracked. Fabbro said Canadian players have been approaching him and asking for a scouting report on some of his NCAA teammates. "We're enemies now and that's kind of the bottom line," Fabbro said. "Obviously, it's going to be weird having them on the other side of the red line there, but it's going to be a fun battle and something I've been looking forward to." Fabbro has maintained radio silence with the Team USA Terriers since the tournament started. "I was very happy to see him make Team Canada," said McAvoy, "but now he's on the other side. He's a friend and a teammate but, at the same time, this next game, we're going out against each other and we're going to want to come out on top."
* Bellows is the son of former NHLer Brian Bellows who has been attending the games at the ACC this week. "He remembers me growing up and saying, 'I want to play in this tournament when I get older,' and I saw him after the game yesterday and he said, 'Just enjoy it and have fun,'" said Bellows, an Islanders prospect. Brian Bellows will be in the stands on Saturday alongside a big contingent of family from St. Catharines, Ont. "It's going to be a special moment for him and me," Kieffer said. "He tells me he's more nervous watching than he was playing. He says he's in the stands and he's feeling everything I'm feeling, but he can't do anything about it."
* Lines at Friday's practice:
Dubois-Strome-McLeod
Joseph-Barzal-Raddysh
Jost-Roy-Gauthier
Dube-Cirelli-Speers
Stephens
Chabot-Myers
Bean-Juulsen
Clague-Fabbro
Lauzon
Hart, Ingram