Eberle has rebounded in a big way with Islanders
Former Oilers winger has slid seamlessly into the Islanders lineup and provided them with some serious offensive punch, Travis Yost writes.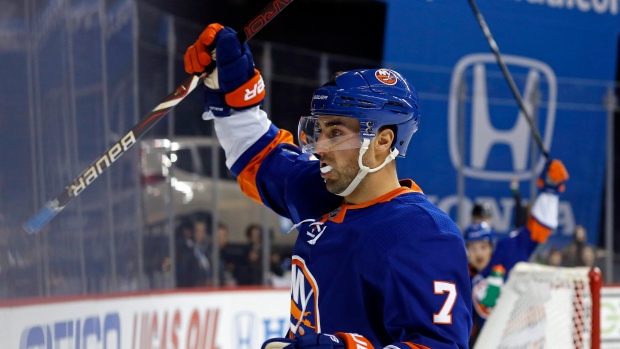 Sometimes, all you need is a change of scenery.
Jordan Eberle was a solid performer in Edmonton. His first seven years as a professional hockey player were spent with the Oilers, and despite his team's struggles in the standings, Eberle was a staple of consistency and productivity. From 2010 to 2016, Eberle scored 165 goals – 24th best in the NHL, ahead of names like Marian Hossa, Daniel Sedin, Patrice Bergeron and Blake Wheeler.
But Eberle's offensive productivity came at a price. Over the same interval, the Oilers were notoriously dreadful in the goals against department – their 1,615 goals against (2.87 goals against per 60 minutes) was dead last in the NHL. It was usually a combination of poorly assembled personnel and often shaky goaltending.
Eberle has never been known as a defensive stalwart. Questions about his game away from the puck have followed him since the beginning of his career. To Eberle's credit, his offensive production has always been so strong that any defensive concerns are usually well worth the trade-off.
Eberle's final season in Edmonton was a down year. He managed 20 goals – well off his historical pace – and was blanked in 13 games in the playoffs. The Oilers didn't waste any time in the summer, trading him to the New York Islanders in exchange for Ryan Strome. Edmonton did realize savings against the cap in the one-for-one swap, but they also opened themselves up to some risk. What if Eberle's relatively quiet 2016-17 season was a brief blip, and he rebounded in another environment the following year?
The Islanders were willing to bet on precisely that. The Islanders knew one of their core strengths was a talented crop of top-six forwards, which gave them flexibility in deploying Eberle. They could put him in a true sniper role next to superstar centre John Tavares. They could put him with an up-and-coming playmaker in Matt Barzal. And they could put him with a play-driver and reasonably similar scorer in Andrew Ladd.
Eberle's production has rebounded in a big way in Brooklyn. More than halfway through the season, he ranks as the league's eighth-most productive 5-on-5 scorer in the league. Again, he's keeping impressive company on this front – he's a decimal point behind Nikita Kucherov, who may be in the MVP race, and is ahead of superstars like Connor McDavid and Auston Matthews.
It's worth emphasizing here that Eberle is one of the big reasons why the Islanders are very much in the playoff mix in a competitive Metro Division. Right now, the Islanders are on pace for about 90 points, which puts them about one win behind the pace needed for a potential wild-card berth.
The Islanders have received little from their depth players and even less out of their goaltending. Their 89.7 per cent save percentage in all situations is close to dead last in the league, and the only comparable teams – Edmonton, Arizona and Carolina – all look like postseason outsiders.
One of the ways they've been able to stay in the hunt is the steady scoring of their top-six forwards. The Islanders boast the league's second most productive offence and, as you might have guessed, Eberle's played a critical role here.
One way to show how a player is impacting his team is to compare his key performance numbers against other regular forwards around the league. If you take all league's forwards and compare them against one another, you start to see where any player slots in (by any measurement) against his peers.
That's what I've done below. I have taken 12 different player impact measures – four individual numbers, four numbers relative to his own team's performance and four on-ice numbers – to see how Eberle is favourably impacting his team.
The way to think about this is that a first-line forward will generally sit above the 75 per cent mark, a second-line forward between the 50 and 75 per cent marks, a third-line forward between the 25 and 50 per cent marks, and a true depth forward between the 0 and 25 per cent marks.
As you can see, Eberle has been electric: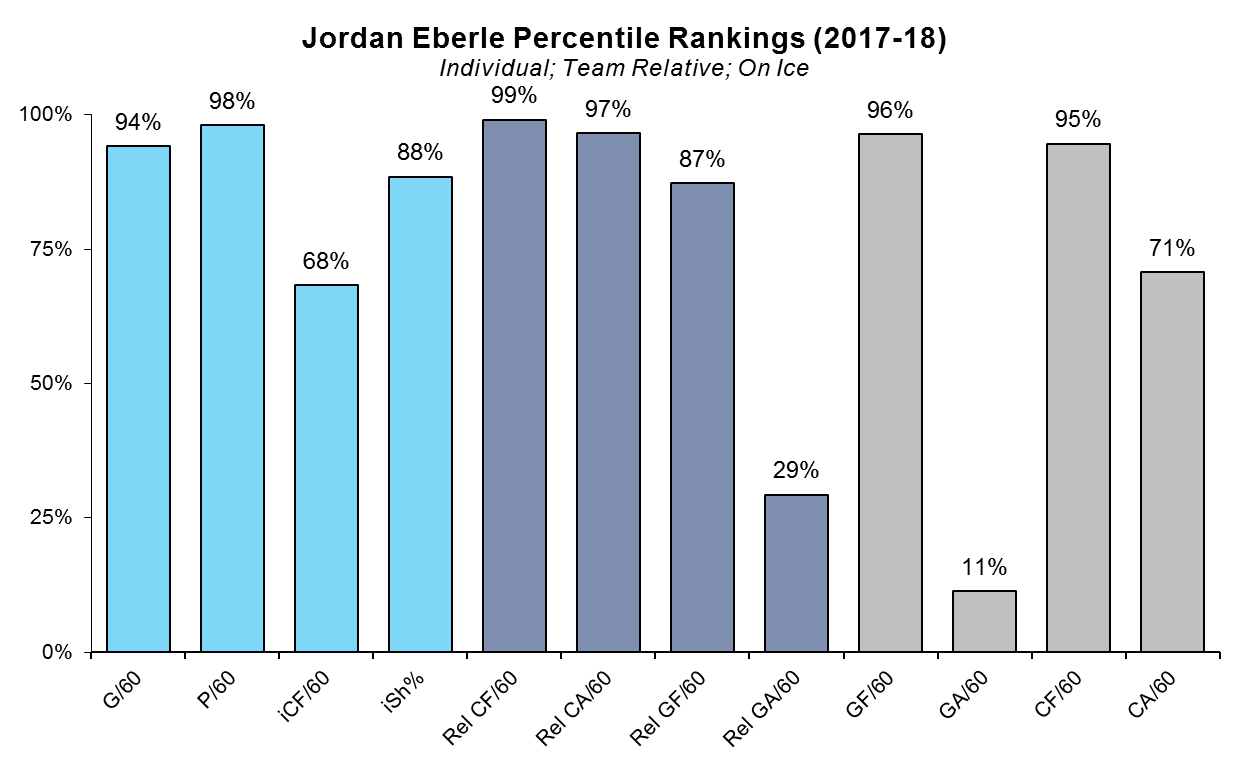 Offensively, Eberle has been a monster. He's scoring better than 95 per cent of his peers individually and his line – he's been most commonly fixed with the aforementioned Ladd and Barzal – is out-producing the vast majority of units around the league. His team relative numbers, both from a shot and goal-based analysis, are also hugely favourable. This not only emphasizes how dominant Eberle and company have been, but also how poor the Islanders depth options have been when their better attacking groups are on the bench.
There are only two measures where Eberle really doesn't grade out well and they pertain to his goals-against numbers. This isn't particularly surprising considering that it's never been his strength (or the fact that his most common linemate is a rookie). But it's also hampered quite a bit by the heinous goaltending the Islanders have received. If you look at how Eberle has suppressed shots (CA/60), he's graded out better than 71 per cent of forwards. But the goals-against numbers are much lower.
But, it's important to note that Eberle's ridiculous offensive production has way out-paced whatever defensive issues still exist on Long Island. Look at how shots and goals have moved with Eberle on the ice this year. Then, look at how they have moved with him off of the ice.

The Islanders are nine percentage points better in shot advantage and just under five percentage points better in goal advantage with Eberle on the ice. So even if Eberle has contributed adversely in any way to the Islanders goals- against issues, the fact is that New York is materially better than their opponents whenever he is on the ice.
We will have to wait and see if the Islanders can grab one of the Metro's playoff spots. But, we don't need to wait any longer to declare this trade a victory for the Islanders. Eberle has slid seamlessly into their lineup and provided them with some serious offensive punch – perhaps just enough offensive punch to drive this team into a postseason berth.