Expect Estrada to be on the move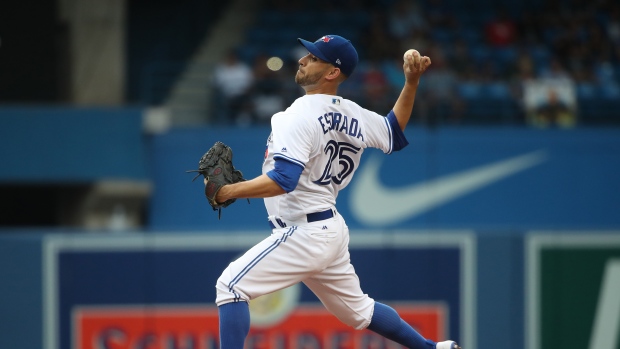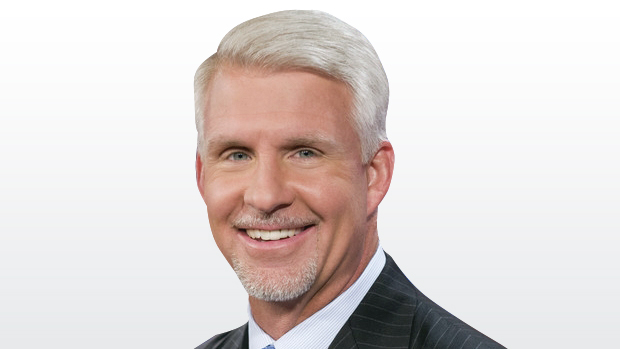 With his third straight outstanding performance, Toronto Blue Jays fans should say their goodbyes to Marco Estrada.
General manager Ross Atkins' phone will be ringing after Estrada threw seven shutout innings against the New York Yankees in a 4-0 win on Thursday night. Estrada has regained his confidence, along with the command of his fastball and changeup.
The Houston Astros, Seattle Mariners, and Kansas City Royals could all benefit from adding the veteran right hander. Don't be surprised if the New York Yankees, Los Angeles Angels and Boston Red Sox inquire as well. The Blue Jays can get a pretty decent prospect for him now.
After a horrible June (9.11 ERA) and July (6.48 ERA), he has a 1.92 ERA in August. Estrada has rebuilt his confidence and has 1.71 ERA over his last three starts. Clubs with interest will be drawn to his playoff numbers as well. Over the last two postseasons, Estrada has a 3-3 record with a combined 2.11 ERA.
The Astros players have complained that they didn't make any moves other than Francisco Liriano at the deadline. Estrada would immediately become their No. 2 starter and possibly their ace if Dallas Keuchel doesn't step it up. Estrada would also be the ace of the Angels' starting staff.
The Mariners have Felix Hernandez on the DL and young ace James Paxton joined him late on Friday with a pectoral strain. They could use Estrada even with those two guys healthy. The Royals have lost five in a row as their starters have struggled. Estrada's fly-ball approach fits Kansas City's Kaufman Stadium quite well.
With CC Sabathia placed on the DL with right knee inflammation, the Yankees may need to add to their depth. The fact that Estrada just shut down the Yankees may inspire them to consider adding the Jays righty.
The Red Sox have Chris Sale but he can't pitch every day. Drew Pomeranz has been their next best starter. David Price is working back after another issue with his elbow. Rick Porcello has been below average this year, as has Eduardo Rodriguez since his return from a knee injury. Estrada would give the Sox depth and balance as their three best pitchers are all lefties.
There is a lot of demand for Estrada, so the Jays should do better than you would think for a starting pitcher who is 5-7 with a 4.85 ERA.
--
The Ballad of Joey Bats
Jose Bautista has had an amazing career so far. He went from being a journeyman role player to an absolute superstar in Toronto and one of the most feared hitters in the majors.
The 36-year-old slugger has crushed more than 325 home runs, including 54 in 2010. However, he's been in decline over the past three seasons and it seems pretty clear that the Blue Jays will not exercise their part of the mutual option at the end of the season, making Bautista a free agent.
The aging outfielder had a tough time finding work this past off-season. Once Toronto presented him with the qualifying offer in January, attaching compensation to him, his value to other clubs became nil. There were plenty of teams who were interested in Bautista, but not if it meant losing a draft pick if they signed him. The Jays were his soft landing spot on a one-year deal with two mutual options.
After this season ends, the Jays can't offer Bautista the qualifying offer, as per the new collective bargaining agreement. He will be able to explore other opportunities without being tethered to a draft pick as compensation. In other words, he will be a true free agent.
Some have speculated that the former All-Star will have a tough time finding work next year. He may have to accept a minor-league deal with a spring training invite, or possibly wait until after the season begins for a club to get desperate, others have said.
I don't see it that way at all. Bautista can still play. He's evolving into more of a designated hitter than an everyday outfielder at this stage, but if utilized properly he still has value. He won't get a deal anywhere near what he made this season, but he will find a home in the bigs if he wants it.
When the Jays re-signed Bautista, I thought he had a chance to bounce back a bit this season. But I also expected they would protect his aging body. He didn't get a game off this year until July 31. With all of the Jays' injuries, from Josh Donaldson to Darwin Barney to Steve Pearce to Ezequiel Carrera, it's understandable that John Gibbons didn't feel like he could rest him. But it was unfair and set Bautista up to fail.
I can see the veteran outfielder on a playoff contender or a small-market, young, rebuilding team as a semi-regular player next season. He needs to get 450 at-bats, not 650. He may have the same overall production with more rest and fewer at-bats.
--
West gets himself suspended
Major League Baseball suspended its most veteran umpire, Joe West, this week for three games for comments made to USA Today regarding Texas Rangers third baseman Adrian Beltre.
West said that Beltre was the game's "biggest complainer." He went on to say, "Every pitch you call that's a strike, he says, 'Whoa! Whoa! Whoa!' I had a game with him recently and the pitch was right down the middle. He tells me, 'That ball is outside,'" West was quoted as saying.
"I told him, 'You may be a great ballplayer, but you're the worst umpire in the league. You stink,'" West also was quoted as saying.
Baseball suspended West because the comments gave the impression of bias, since he verbalized a negative personal opinion of Beltre. Players and teams can't be in a position to question an umpire's motives during games. West gave the Rangers and Beltre reason to doubt.
Any player or manager who publicly criticizes an umpire is fined or suspended. That's why Jays pitcher Marcus Stroman refused to comment on his ejection earlier this year when he disagreed with the strike zone from umpire Will Little. Surely, he had plenty he could have said and wanted to say, but he didn't because it would have been wrong. Instead, Stroman said he wanted to make his next start, so he was not going to answer any questions about the umpiring.
What's fair for the players is fair for the umpires.
West and the umpires' union have said that he was just joking. They said this kind of ribbing is common in baseball. We all know someone who pokes fun with zingers. They act like they're just being funny, but there is intent in their jibes. There is no doubt that West meant to call Beltre a whiner. He just meant it in the best way possible.
It does strike me, however, that after all of the incidents and altercations involving West over the years, this is why MLB suspended him. It does feel a bit like notorious gangster Al Capone going to jail for tax evasion.
--
The Mets make a move
The New York Mets and Cleveland Indians made a waiver deal on Wednesday, sending Jay Bruce to the Indians for 2017 30th-round draft pick Ryder Ryan.
Reports indicate that Ryan has only a slight chance of making it to the majors, but the Mets were able to get out from under the remainder of Bruce's $13-million contract. Bruce will help the Indians, particularly because outfielders Lonnie Chisenhall and Michael Brantley are injured and on the DL.
Bruce was acquired last year at the deadline by the Mets from the Cincinnati Reds. New York exercised his $13-million option last fall with the hopes of trading him and recouping prospects, but found lukewarm interest and no takers. The Blue Jays kicked the tires on Bruce as well last winter, but opted not to make a deal.
The left-hand hitting outfielder, who hit .258 with 29 homers and 75 RBIs this year with the Mets, can be a very streaky hitter. He has recently been in a bit of a slump, hitting just .221/.272/.453 since the All-Star break. But Bruce certainly adds a presence and a threat to the Indians lineup in the absence of Brantley and Chisenhall. He is a good fit.
The Mets have a few other players who could still help teams down the stretch, including outfielder Curtis Granderson, second baseman Neil Walker and infielder Asdrubal Cabrera.
The interesting twist to this year's trade market is how few competitive teams needed position players. The only major offensive piece to move before the deadline was J.D. Martinez, who went from the Tigers to the Diamondbacks.
In the waiver period, we've seen Bruce move, along with first baseman Yonder Alonzo, who went from the A's to the Mariners. There are rumours that the Brewers have revisited trading for Ian Kinsler from the Tigers. Walker or Cabrera could be a Plan B to Kinsler.
There was speculation that Milwaukee had some minor interest in Curtis Granderson as well. As it stands now, the Mets are holding insurance policies for other clubs. If they lose a player to injury, the Mets will get calls.
Spitting Seeds
- One guy the Blue Jays won't be saying hello or goodbye to is Troy Tulowitzki. Tulo's season is over after he injured ligaments in his right ankle at the end of July. It ends what has been a disappointing season for the veteran shortstop, who was hitting only .249/.300/.378 before the injury. His range and defence were also compromised this year. Certainly some part of it was playing while enduring hamstring and groin injuries.
In fact, the deal to bring Tulowitzki to Toronto has not had nearly the impact that former Jays GM Alex Anthopoulos anticipated when he made it. Tulo doesn't have the same mobility or range that he once had, nor does he have the quick twitch elasticity in his body like he had in his National League days. He is due $20 million in both 2018 and 2019 and $14 million in 2020.
The Jays have to do everything they can to get Tulo going next year. As much as he has slowed down, I don't see a position change in his future. He takes extraordinary pride in his defensive ability and his all-time best fielding percentage at shortstop. He has zero interest in playing any other position.
Plus, I don't know where else he would play. He can't move to third as it is manned by Josh Donaldson, plus Tulowitzki's offence doesn't profile as a corner infielder or outfielder. The Jays traded for Tulowitzki to get out from under Jose Reyes's contract and deteriorating skills. Now they may look for a way out from under Tulowitzki's deal.
- The Astros have had the best record in the AL most of the season. They are 7.5 games ahead of the second-best team prior to action Friday. Yet, I would prefer to play against them in an October series over just about every other AL team in playoff spots right now. It's all about the starting pitching in a short series. I would take the Red Sox, Yankees and Indians starting pitching over the Astros' pitchers. The only team I wouldn't take is the Mariners, but that may change as James Paxton continues to emerge as one of the best lefties in baseball.
- Houston ace Dallas Keuchel has a 10.50 ERA in his three starts since coming off the DL. He has walked more hitters than he has struck out and isn't the same guy we saw in the first half. Lance McCullers Jr, their No. 2 starter, is also on the DL.
The Astros have issues that aren't a complete surprise, yet they chose not to add a starting pitcher at the deadline. There is speculation that they have discussed Justin Verlander with the Detroit Tigers, but the more than $6 million remaining on the deal is overwhelming to a club like Houston, not to mention the $22 million vesting option in 2020.
Verlander had a 4.73 ERA prior to the All-Star break, but he has a 2.01 ERA since then. His velocity spiked to 97 mph in the eighth inning of his last start against the Pirates. He looks like the Verlander who came in second in the Cy Young voting last season. The better he throws, the more likely it is that he gets moved.
He would make a world of difference to the Astros, but they seem reluctant to meet the Tigers' asking price.
- There is supposed drama in New York between the Yankees and Mets. The Yankees had interest in second baseman Neil Walker, but backed off once they saw his medical reports. The Mets supposedly believed the Yankees backed away from Walker, not because of the medicals but because they made the Sonny Gray deal. What difference does it make? The Yanks decided against the trade.
The Yankees also had interest in Jay Bruce, but wanted the Mets to eat some part of his remaining salary to get a decent prospect in return. The Mets decided to trade their right fielder for a low-level prospect to the Indians, and picked up all of the remaining salary. Some are trying to make something out of this, suggesting that two large-market teams were battling over a couple of million dollars for no reason.
I'm not sure why there would be animosity between the clubs. Whenever a trade is being discussed, it is understood that neither club is under obligation to make the deal. The Yankees have every right to ask the Mets to pick up some part of the salary and the Mets have the right to say no.
I find it hard to believe that Mets GM Sandy Alderson and Yankees GM Brian Cashman are holding on to any resentment over the fact the Mets went in a different direction.
--
Steve Phillips was general manager of the New York Mets from 1997 through 2003, helping lead the club to a National League championship in 2000 and its first World Series appearance since 1986. His analysis appears each week on TSN.ca, TSN Radio and SportsCentre.
Follow Steve Phillips on Twitter @StevePhillipsGM