Expectations rising for du Toit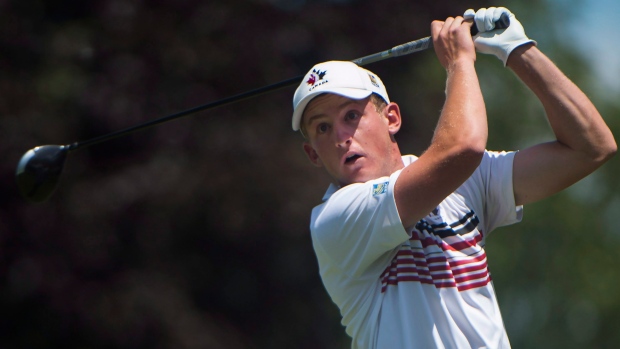 Jared du Toit has already garnered a lot of attention in his brief career.
After making it to the final group on Sunday of the 2016 RBC Canadian Open, and then earning top Canadian honours this past season on the Mackenzie Tour-PGA Tour Canada, he has established himself as a player to watch.
His 26-under-par performance at the first stage of the Web.com Tour qualifying two weeks ago only added to the expectations being placed on the 22-year-old.
It's not just golf fans who are looking for big things from the Kimberley, B.C., resident. This week, du Toit joined the ranks of players sponsored by RBC. With that, he becomes part of the bank's ambassador team that includes fellow Canadians Brooke Henderson, Adam Hadwin and Graham DeLaet, as well as Matt Kuchar, Brandt Snedeker and Graeme McDowell.
The news is interesting in that it's the first time RBC has put its support behind a fledgling player such as du Toit. He's only been a pro since June.
"They've been such a huge part of golf in Canada for so long," said du Toit of RBC. "They have so many good players and great guys, so to be among those guys is pretty cool for me."
If there is one significant difference between the previously mentioned players and du Toit, it's that he can really use the funds. Embarking on a professional career is hard financially.
The costs are high and the rewards low. Travel, hotels, caddies, coaching and day-to-day expenses add up when you're in golf's minor leagues and that's where du Toit is at the moment.
"This is big," he stated. "A lot of my peers are having to talk to family and friends [about financial support], and to find money other ways to keep their dream alive. So to have this and having it come from such a great company is very cool."
For players at du Toit's level, cutting costs is a way of life. That means looking for the cheapest flights available, doing laundry in the sink and doubling or even tripling up in hotel rooms.
This frugality can spill over onto the golf course too. Every stroke can affect the size of a cheque and it's tough to stand over a five-footer to make the cut and not think about what's at stake in terms of the bank account.
Last season, du Toit played 11 events in Canada and made the cut in all of them. He was given the Dan Halldorson Memorial trophy as the circuit's top Canadian. It was definitely a growing experience for the Arizona State University grad.
"I learned a lot about travelling, about keeping my body fresh," he said. "You have to make your good weeks great. You can't take a week, a day or a swing off."
For du Toit, the ultimate goal is to reach the Web.com Tour for 2018. He'll play the second stage of the qualifying school starting Oct. 31 in Murrieta, Calif., and, if successful, move to the final stage Dec 7-10 in Chandler, Ariz.