Flames' Tkachuk unconcerned about growing reputation
Calgary rookie winger shrugs at perception around the league that he's a dirty player, writes TSN Senior Hockey Reporter Frank Seravalli.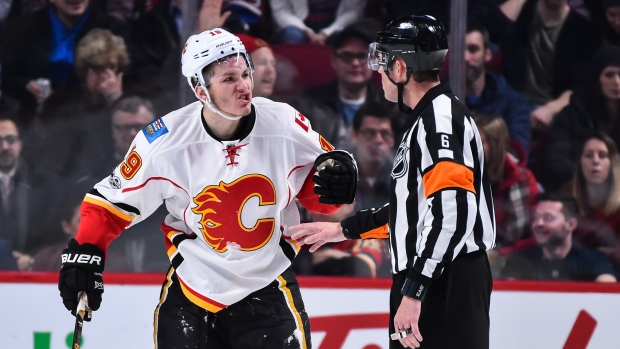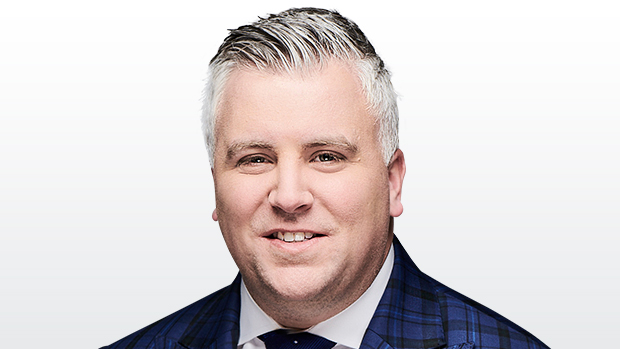 PITTSBURGH — In any normal season, Matthew Tkachuk might be in the conversation for the Calder Trophy as rookie of the year.
The Calgary winger has collected 34 points (10 goals, 24 assists) - one fewer than teammates Johnny Gaudreau and Sean Monahan - but ranks fifth in a stacked rookie class behind Mitch Marner, Auston Matthews, Patrik Laine and William Nylander.
Instead, the conversation surrounding the 19-year-old Tkachuk centres on his growing reputation around the league as a dirty player.
Five months into his career, Tkachuk is already a reviled figure in Edmonton - not the first Flame to be held in that regard - but he is beginning to be mentioned in the same breath as Brad Marchand in other markets.
That chatter seems to roll off Tkachuk like water on a duck's back.
"That doesn't matter," Tkachuk said Tuesday in Pittsburgh. "I don't know, I think I'm fine. I've had a decent year so far. I don't think that has anything to really do with the team or anything like that. For me in particular, I know people get on me about taking a little bit too many penalties, but I try to even that out by drawing more."
Tkachuk leads the NHL with 30 minor penalties taken, four more than any other player in the Western Conference. He has drawn 26 minors, according to Corsica Hockey, leaving the Flames with a net negative of four minor penalties - not nothing with the razor-thin margin of games today. By comparison, teammate Gaudreau has taken one minor penalty and drawn 24.
Only Dallas winger Antoine Roussel has more overall penalty minutes (111) than the 92 Tkachuk has been whistled for this season.
More importantly, Tkachuk has only narrowly skirted suspension. A member of the Department of Player Safety has phoned Flames GM Brad Treliving more than once as a courtesy to let him know they were clipping and reviewing Tkachuk's close calls.
"We all talk to him about it," Flames coach Glen Gulutzan said. "Everyone does. I think for most young kids in the league who play as hard as he does, it's a learning curve."
Tkachuk cost Oilers defenceman Brandon Davidson some 30 games on the injury list when his shoulder was driven into the ice as a result of an apparent slewfoot from Tkachuk in his first NHL game.
Davidson was still sour about the exchange last month.
"It was a dirty play," Davidson told reporters. "The whistle blew, we skated three seconds to behind the net and it was a slewfoot, you can clearly see from the video. Nothing was done … I was miserable about that for a long time. It put a damper on things and put me behind the eight ball."
Maple Leafs defenceman Martin Marincin escaped harm in January after getting tangled up with Tkachuk in the final seconds of a three-goal game. The incident looked like another slewfoot attempt.
But Gulutzan believes he has seen an improvement from Tkachuk recently in toeing the line between aggressive play and the other side.
"Early I think he crossed it a couple times," Gulutzan said. "I think the last little while he's really adjusted. I thought finding his zone and not crossing that line has been a lot better the last few games."
Not all father-son combinations play the game the same way, but it's clear that Matthew Tkachuk doesn't fall far from his father, Keith.
Keith averaged 220 penalty minutes in each of his first five NHL seasons before mellowing out. He finished with 51 career fights. Tkachuk has answered the bell twice so far this season.
Tkachuk views fighting through the chatter as a rite of passage toward establishing himself as a power forward with a reputation for making life difficult on the opposition's defence every night.
"It's just how I play the game," Tkachuk said. "My dad was telling me he'd rather see me play hard and I might get forced into something rather than playing soft and not being around the puck. I just try and be around the puck as much as possible and be in the game as much as I can."
Contact Frank Seravalli on Twitter: @frank_seravalli