Gardiner feels Leafs lifted Bruins curse with Game 5 win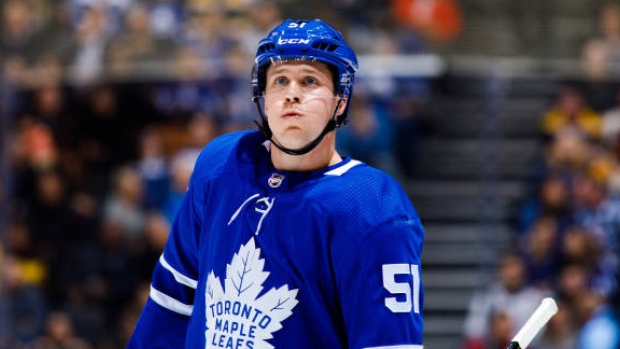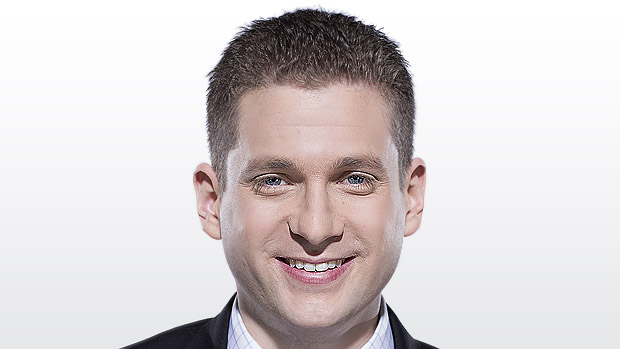 Jake Gardiner insisted that during Saturday's rollercoaster Game 5 win his mind didn't wander back to the 2013 series against Boston. Not even when Toronto's 4-1 lead started to evaporate much like it did in that painful Game 7 loss.
But after the dust had settled, the Maple Leafs defenceman, one of five Toronto players left from the lockout-shortened season that ended in heartbreak, couldn't help but make the connection.
"They were flying at the end there," Gardiner said. "We had a lead similar to the one we had five years ago."
Gardiner, the last Leaf to touch the puck before Patrice Bergeron scored the overtime winner to seal the collapse, then broke into a smile.
"I'm glad we got over that curse," he said to chuckles from the assembled media. "So, that's out of our minds now."
The Bruins dominated the third period on Saturday night, firing 20 shots on Frederik Andersen, but Gardiner didn't have the same sense of panic as in 2013.
"During that series it was pretty tense on the bench, especially when they scored to make it 4-3, it was a lot tighter," the 27-year-old recalled. "Last night we tried to relax, stay calm and keep playing."
Not every Leaf was flashing back to the meltdown in Beantown, though.
"Not really," Nazem Kadri said on Saturday night. "I mean, that's in the past and I think it's about time we just turn the page on that one."
But many Leafs fans haven't quite been able to move on from the worst blown third period lead in the history of NHL Game 7s, even though so much has changed in and around the franchise. And head coach Mike Babcock can sense the fan base isn't quite ready to trust again despite his team setting a franchise record for points in a season.
"That looks like fun," Babcock said when asked about the fans who gather at Maple Leaf Square to watch the games. "I'd like to go there myself. Go down there, have a few beers, enjoy the people. It looks unbelievable. They're so fired up about their Leafs. They're proud of their Leafs, but they don't know if they're quite good enough yet. They don't. So, we've got to prove we are. That's what we're here for.
"We've got a new opportunity (Monday); they've got a new opportunity (Monday). They want to end the series, we want to go back to Boston. We like clam chowder."
—-
The Leafs won Game 5 despite being short-handed on six occasions while the Bruins were a man down just once. All the penalty kill time meant top offensive players like Auston Matthews (15:25), Mitch Marner (15:05) and William Nylander (12:31) didn't see the ice as much as usual.
"You sit there and freeze to death," Babcock said. "I don't know if you've ever been out there in a snow storm or been out Ski-Dooing, your Ski-Doo runs out of gas and you've got to sit there and wait for someone to bring you gas and you just sit there, but you're not allowed to walk around because you might stay warm if you do that. You're not involved in the game. What you've done is you take your team out of it, you've got no rhythm and now you get on your heels. We've got to do a better job of staying out of the box."
So, what did Babcock think of the officiating?
"That's a real nice question," he said. "You should ask me in the summer."
Some of the calls on the Leafs by referees Francis Charron and Brad Watson were obvious, but there was at least one head scratcher. That would be a roughing call on Gardiner, who had tried to separate David Backes from Zach Hyman during a scrum. Bruins captain Zdeno Chara came over and punched Gardiner in the face during the interaction, but didn't get called.
"I guess I was the third guy in," Gardiner mused, "and then I hit Chara's fist with my face so (smiles) that might've been the penalty. I'm not sure … but I understand, I was pulling on Backes so it happens."
For the most part, the Leafs players took the high road when it came to the officiating in Game 5.
"When you look at the penalties, you know, there are certain ones you have to call," said defenceman Morgan Rielly, "like when you slash and you break a stick. It's not what you're trying to do, but when that happens you have to call it. They did a good job."
"Credit to them," Connor Brown told reporters, including LeafsTV, on Saturday night. "They were making calls when they saw penalties. They had the guts to make the calls. It's harder to call penalties with all the intensity; it's easier to let them go in the playoffs when it could mean so much."
The message from Babcock ahead of Game 6 is simple.
"Stay out of the penalty box," the coach said. "The game was going perfect and then there was a parade to the box. Stay out of the penalty box."
—-
While Toronto's young stars were watching on the bench, veteran Ron Hainsey logged more than eight minutes shorthanded. Hainsey was on the ice for almost all the shorthanded shifts and ended up with more than 26 minutes for the game.
Hainsey led the NHL in shorthanded ice time in the season although during the regular campaign he was averaging four minutes on the penalty kill per outing.
"Who did you want out instead?" Babcock said, bristling when questioned about the workload.
Considering Hainsey, who also gets the toughest matchup at even strength, has looked fatigued at times, why does Babcock continually lean on the 37-year-old?
"The 41-year-old (Chara) wasn't bad and the 38-year-old (Patrick Marleau), who has been one of our best players up front, isn't bad. So, age has nothing to do with it. Are you physically fit or not? I'd ask you again, who did you want out there instead? So, to me, he's that good so he's going out there.
"We'll give him a day off today," Babcock added.
—-
The Leafs have been very careful not to get in a war of words with Brad Marchand during the series even though the Bruins pest has done his best to agitate.
"To tell you the truth, I haven't noticed that myself at all," Babcock insisted. "I notice he's a good player, I haven't noticed that part. I just saw we went to the box too much last night and that's my evaluation of that. Period."
"You know, I don't think he's been too offsides," Gardiner said.
Earlier in the series, Rielly even went out of his way to laud Marchand's skill and minimize the extra-circular stuff.
Mitch Marner has been a favourite target of Marchand. At one point in Game 4, Marchand grabbed the diminutive winger by the back of the helmet and pushed him to the ice. In Game 5, he knocked Marner in the back of the head after the winger had fallen to the ice. No penalty call was called on either play.
Marner laughed when asked about the most recent incident.
"Yeah, he's pretty funny out there," Marner said. "I mean, obviously, we know that he's a guy that likes to draw people into stuff. He plays the game hard, he plays the game with a lot of passion so you have to respect that. Everything else, I mean, it's pretty funny. I don't really care too much. Nothing really bothers me too much, I think everybody kind of notices that. It's a playoff series, it's a war out there, people are trying to do stuff to get people off their game."
But why is Marchand able to get away with these post-whistle shenanigans?
"He's very good at being sneaky with it," Marner said. "I think the refs, also, respect him. I think they give him a little space."
According to the website NaturalStatTrick, Marner has been hit 11 times through the five games in the playoffs (2.2 per game) while in the regular season he was getting hit on average 1.1 times per game. The usually elusive winger has taken some big checks in the series earning praise from Bruins coach Bruce Cassidy for continuing to keep playing hard despite the extra attention.
"I go into every game with a positive attitude," Marner said. "I don't get frustrated. That's the thing that I really learned over the past year is you can't frustrated on the ice. You just have to stay calm."
—-
Babcock confirmed he's sticking with the same personnel for Game 6 although he may tweak his lines.
"I haven't decided for sure just because with last change at home, it might make that different. I don't know for sure."
Kadri usually takes on the tough matchup at home, but Tomas Plekanec earned positive reviews in that role in Games 3 and 4 in Toronto. Kadri also looked good on a line with youngsters Andreas Johnsson and William Nylander in Game 5.
"Naz made a huge impact," Babcock said. "He ran over people, he was mean, he made good plays, he sent Willie in home free, he sent [Johnsson] in home free and another two-on-one where he chose to shoot. I thought Naz was real good in the game."
—-
Johnsson scored his first career NHL playoff goal on Saturday night thanks to a great pass from Kadri. It was funny to hear the differing perspectives on the goal from the rookie winger and the veteran centre.
"I just tried to find a lane, make a quick move at the blue line to give Johnny some time and I knew he was going back door the whole time so just tried to float one in there for him," Kadri explained.
For Johnsson, the play wasn't quite as simple.
"I tried to yell at him to drop it first, at the beginning," Johnsson said with a smile. "But really good job by him to drag both Ds to him. I skated to the net and thought he would shoot first, but he made a really nice pass to me."
Johnsson had another great chance later in the game, but passed instead of going for goal.
"I asked him today, 'Why wouldn't you shoot the puck?' I asked him that already," Babcock said. "I went to him like this (shooting motion). I don't know if you remember, it was a couple days ago or a few games ago, he had a two-on-one with Matthews and he made a heck of a shot and I loved it because he didn't pass to Matty. Last night, Matty was driving through and he tried to slide it to him, on another one he went back to Willie. I don't know the answer to that. I just know with more confidence, he's been a goal-scorer for a long time and he can shoot the puck a ton. I think he'll shoot."
Johnsson, who had 26 goals in 54 games with the AHL's Marlies this season, admits he thought he'd only get a limited NHL audition down the stretch. But the Swede has more than held his own in the playoffs.
"I'm still here and it's kind of gone fast," said Johnsson of his whirlwind rise up the Leafs depth chart. "I'm just trying to take in the moments."
—-
Babcock clarified the status of Leo Komarov, who has been out since sustaining a lower-body injury in Game 2. On Saturday morning, the gritty winger told a group of reporters that he felt ready to return to game action.
"When he talked to our guys yesterday, he was at 85 per cent," Babcock revealed. "Eighty-five per cent doesn't cut it at playoff time. So, when you're ready to play, you've got a chance to get in. In my opinion, I haven't been told at all that he's available. That's how it is."
Komarov was among the handful of players on the ice for an optional practice on Sunday.