Gardiner's confidence continues to grow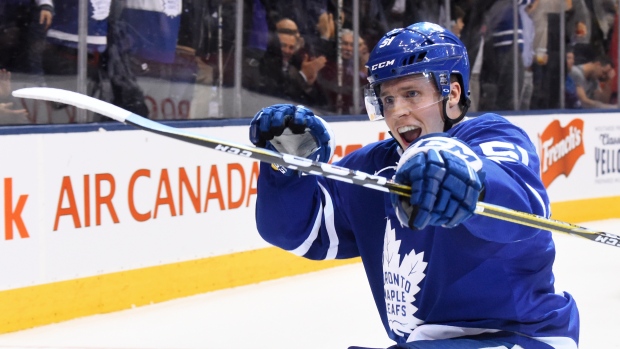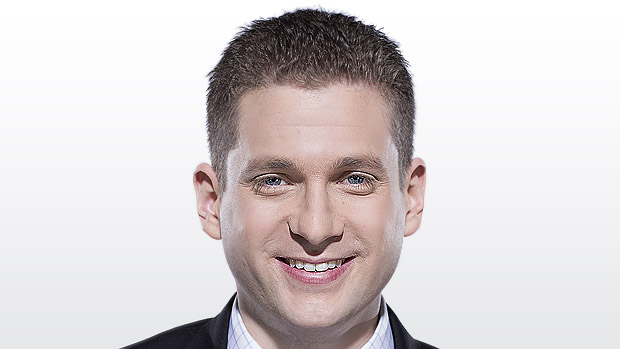 TSN Toronto reporter Mark Masters checks in daily with news and notes from Maple Leafs practices and game-day skates. The Maple Leafs practised at the MasterCard Centre on Tuesday.
- It was during an early preseason game against Ottawa that Jake Gardiner took the puck behind the Leafs net and started skating backwards toward the blueline. It was a four-on-four shift and there was plenty of open ice. Gardiner built speed and shifted forward in the neutral zone before easily gaining the offensive zone.
"I figure it's a good way to be deceptive," Gardiner explained, "the guy doesn't really know what you're going to do and that's a big part of the game. Anything you can do to screw up the opponent gives you an edge."
It was another example of Gardiner's growing confidence.
"There's been no bigger change in any player on the team than him," coach Mike Babcock said early in training camp. "He's gone from a guy who didn't have confidence to maybe our best D with and without the puck. I know people don't like to think of him like that, but he's that good ... he's got elite hockey sense."
On Tuesday, Babcock explained specifically where he's seen improvement.
"What I like about him is he's gotten​ way better defensively so he has the puck way more and plays way more offence," Babcock noted. "He can play against anybody. He's really smart. He's confident."
A whipping boy in the Randy Carlyle era, Gardiner is among the players who have benefitted the most from Toronto's change behind the bench.
"I mean, a lot of it was confidence, but the systems we play make it pretty easy, everyone's on the same page all the time," Gardiner said of his evolution.
Morgan Rielly, Gardiner's friend and one-time roommate, believes the 27-year-old became stronger thanks to the bumps early in his Leafs career.
"That's just part of the business," Rielly noted. "Jake's one of those guys who had to deal with that [criticism] and he's always taken it well and always used it as a motivating [tool] and you can tell in his play he's more confident and comfortable now."
- While the defensive group is often considered a possible Achilles' heel for Toronto, there is definitely a healthy swagger that has filtered throughout the blueline brigade in training camp.
"Just experience," said Rielly when asked why the D corps will be better this season. "I think we're still a young group, but we have a lot of confidence in ourselves. We can move the puck, we can move our feet and to add [Ron] Hainsey after a big playoff run last year ... we've gained experience and we're more comfortable."
Babcock also highlighted the Hainsey signing when asked why Toronto's blueline may take a step forward.
"Bringing Hainsey in is real good for us," the coach said. "He's a calm, veteran guy, who feels good about the game and his game is at a high level ... just what he's going to be able to pass along to Rielly alone is immense."
- Babcock was also pleased with the competitive battle at the back end at training camp. Andreas Borgman, last year's rookie of the year in the Swedish Hockey League, ultimately won the open job on the third pairing. That was confirmed on Tuesday afternoon when the Leafs assigned fellow Swede Calle Rosen to the AHL.
With Roman Polak no longer in the mix, the 6-foot, 212-pound Borgman brings a physical dimension to the Leafs blueline.
"My buddy's a fireman and always tells me, 'If you drive a big vehicle, no matter how many airbags are in the little vehicle, the big vehicle wins every time.' Well, when you're 230 [pounds] and you're bumping into 190, the bigger guy always wins," Babcock said. "When you run into him, people fall over. His edges are elite as well so he can make the good breakout pass."
- Mitch Marner and Patrick Marleau practised on the penalty kill instead of with their power-play units on Tuesday. In between reps the pair huddled with assistant coach D.J. Smith in an attempt to learn the intricacies of the system.
"We lost a couple PKers over the Summer time so I contacted D.J. since being back here about getting reps and if one of the [forward] penalty killers gets a penalty, we only have three of them right now, so that means we'll be down a guy," Marner explained. "It's playing against the other team's best players while a man down so it's a pretty cool to experience."
Marner often killed penalties in London during his junior career and stressed he's comfortable in that spot.
- Babcock said the Leafs will have the same alternate captains as last season, which means Rielly, Tyler Bozak and Leo Komarov will wear a letter for the team.
* Lines at Leafs practice:
Hyman-Matthews-Nylander
Marleau-Kadri-Komarov
van Riemsdyk-Bozak-Marner
Martin-Fehr-Brown
Leivo, Moore
Rielly-Hainsey
Gardiner-Zaitsev
Borgman-Carrick
Rosen-Marincin
Andersen
McElhinney