GM meetings open with think tank on hockey's future
NHL's 31 general managers share ideas on what the league might look like five or 10 years down the road, Frank Seravalli writes.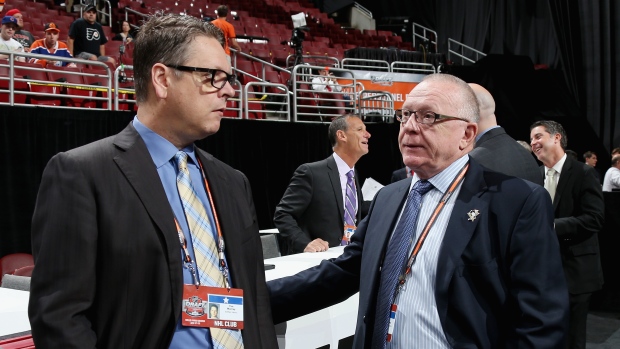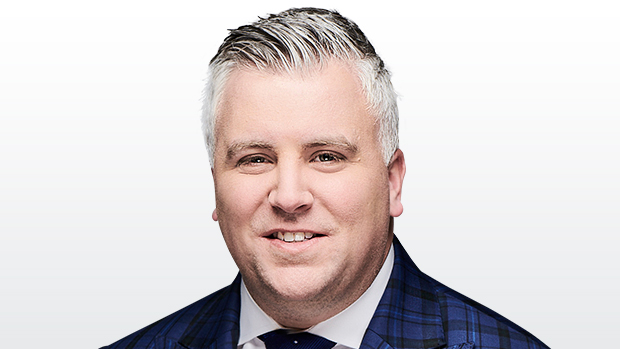 BOCA RATON, Fla. — George McPhee called it a day for the NHL to "blue sky" a few ideas, and no one would argue with that given the swanky oceanside resort setting for the league's annual general manager meetings.
The NHL's 31 managers - with McPhee now officially seated at the round table for the Vegas Golden Knights - were broken into four separate groups on Monday to take a 10,000-foot view of the game.
For a few hours at least, the purpose was not today's gripe du jour, to engage in nerdy technical offside debate or deliberate over video review or goaltending equipment.
Instead, the 31 stewards of the sport were asked by commissioner Gary Bettman in November to come armed with ideas to throw against the wall about what the NHL might look like three, five or 10 years down the road.
It was a Harvard-level think tank for hockey.
"More futuristic stuff," McPhee said.
Chatter did not include talk of robotic players or some crazy technology, although it seems like a puck with an infrared chip in it to detect whether it's crossed the goal line has been in the works forever. But pretty much everything else was on the table.
The only rule in the rooms was that no idea was too far-fetched to talk about.
"Let's throw some stuff up there," said Flames GM Brad Treliving, who used to have the same brainstorming sessions while running the Western Professional Hockey League. "It gets the mind going."
Treliving was in perhaps the most free-thinking group along with Ken Holland, Stan Bowman, Joe Sakic, Ray Shero, Ron Hextall, Jim Rutherford and Kevin Cheveldayoff. He said what got his mind racing was the idea of eliminating the two faceoff dots in each end zone in favour of one central circle in front of the net.
The thought process was that rather than faceoffs spurring board play or corner battles, a loose puck in the middle of the ice would theoretically create more scoring chances.
"We spent a lot of time on it," Treliving said. "I thought it was a really cool idea."
That idea would drastically change the look of the game we've known for 100 years by fundamentally altering every rink diagram ever doodled by a bored kid in class.
The traditionalists in the room railed against that notion.
"Oh yeah, we all said that," Treliving said. "And then we said 'Okay, no, this is the exercise, to do it [anyway].' I thought it was a real neat idea."
One GM brought up the idea of a wild card play-in game. Someone else talked about increasing the size of the offensive zone. Another discussed the idea of making dump-ins illegal.
Then there were some of the other, more mainstream debates, such as making the nets bigger.
"That always comes up," Rangers GM Jeff Gorton said.
What was old was also new again. The idea of forcing players to have both skates on the ice to block a shot, a brainchild of former Canadiens GM Bob Gainey back in 2008, was also brought up – all in the name of increasing scoring.
It almost always circles back to more offence.
"We looked at everything from congestion around the net, forcing people to forecheck, being more proactive versus a chess match, creating more chaos on the ice, Treliving said. "We talked about shot-blocking, all sorts of different things. At the end of the day, is there a way to take some tools out of [the coaches'] toolbox defensively.''
Maple Leafs GM Lou Lamoriello also brought up the NHL's current point format, saying he wants to go back to the old system of two points for a win, one for a tie and zero for a loss – rather than changing to an oft-discussed three, two, one setup.
"I'm not in favour of getting a point if you don't win," Lamoriello said. "I'd rather see the game just be two and zero, or end up in a tie one and one. I'd rather see it that way than you just extend the number of points."
Others seem to be fine with the status quo, which has created faux parity, better ticket sales and maybe a little more job security. With today's standings, teams are less competitive than they may appear.
In the end, few if any of these changes will be implemented. But the NHL spent Monday afternoon rounding up the best ideas to be discussed further on Tuesday with more specificity. Treliving said it's the old adage of "if it ain't broken, you're not looking hard enough, so let's keep banging away."
"I think it's always important in any walk of life to sort of step outside of your own skin a little bit," Treliving said. "Instead of finding reasons why things won't work, I think it's a real good conversation to have. It's a good way to challenge each other."
But not everyone agrees.
"I think I'm on the side of less change is better," Gorton said. "I like the NHL game. I like the way the game is going. I love the speed of the game, the young players in it. I'm not for too many changes."
For one morning, it was a chance to dream. It's easy to forget that, decades ago, few would have envisioned three-on-three overtime or even two referees on the ice.
"Nothing is completely crazy," Sabres GM Tim Murray said. "Because if you look at the history of the game, there has been huge changes that probably people didn't foresee coming at the time."
--
Contact Frank Seravalli on Twitter: @frank_seravalli