Growing Up Exceptional: Connor McDavid and the Chosen Few Navigate the Great Canadian Torture Test
On the occasion of Connor McDavid's first NHL regular season game in Toronto against the Maple Leafs, TSN Hockey Insider Bob McKenzie looks back at the journey he took as an 'exceptional' Canadian hockey player.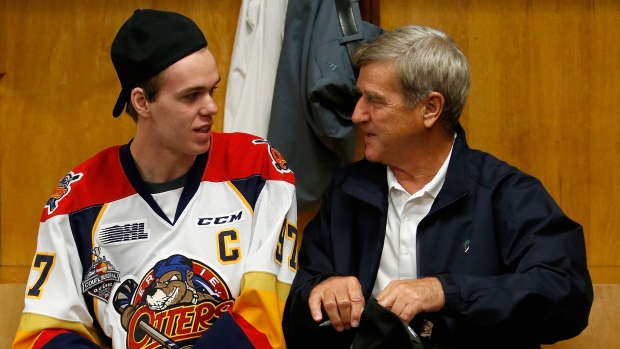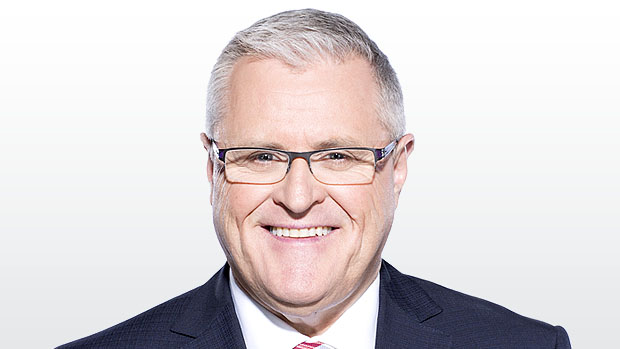 On the occasion of Connor McDavid's first NHL regular season game in Toronto against the Maple Leafs -- the team he grew up cheering for in nearby Newmarket, Ont., -- I thought it would be interesting to take a look back.
Back, as in the journey not only Connor McDavid has taken but the experience of any young Canadian player who has lived with the double-edge sword of being deemed "exceptional."
The following (long read warning) is actually an excerpt from my book Hockey Confidential: Inside Stories From People Inside The Game (first published in the fall of 2014 by Harper Collins, and reprinted here with permission).
It not only chronicles McDavid's life as a minor and junior hockey phenom -- the interview with the McDavids was conducted in November of 2013, partway through Connor's second of three OHL seasons -- but provides an overview of what it's like to be "exceptional" and that whole process.
Obviously, since the book has been published, some things have changed.
McDavid has made good on his exceptionalism, being taking first overall in the 2015 NHL draft by Edmonton and exceeding even the most unrealistic expectations in the NHL thus far.
Since this book chapter was published, the first "exceptional" player status outside of the Ontario League was granted, in 2015, to Joe Veleno from Quebec, who is in his second season with the Saint John Sea Dogs. Veleno is currently projected to be one of the top picks, if not No. 1, in the 2018 NHL draft.
McDavid's story, though, remains timeless and as he steps on to the Air Canada Centre ice for his first NHL game there, it's instructive to see what it took to get there.
--
The cub reporter for the Toronto Star was sent to cover a peewee hockey tournament in 1978. The headline on the story read: Sudbury peewee one-man band: Pierre Dupuis baffles Wexford to lead team to championship.
The first paragraph of the story was as follows:
"Hockey coaches will tell you that there is no such thing as a one-man team, but 12-year-old Pierre Dupuis comes close to refuting that theory."
It went on to chronicle the exploits of the five-foot-four, 140- pound Dupuis, who scored five of his team's six goals en route to a prestigious minor hockey tournament victory, and how no one could quite believe how exceptional the Sudbury player was compared to the other elite-level kids his own age.
"He's a coach's dream," Sudbury coach Dan Heaphy said. "He's a born leader, an unbelievable hockey player, an A student at school and a wonderful kid."
"We don't have anybody on our team who can even keep up with that kid, so what use was there in shadowing him," Wexford coach Gerald Payne said. "If it wasn't for him, I think we would have won 3–1. Our club is as good as theirs, but they've got Dupuis."
Another minor hockey coach and hockey school operator of some note, Frank Miller, called Dupuis the best 12-year-old hockey player he'd ever seen: "I've never seen a kid skate so well and he showed me he is the complete hockey player. He passes the puck, backchecks, he does it all and very well."
The cub reporter, who was still in his final year of journalism school, was pleased with the story. He got paid for it, which was nice; a byline in the Star would look good in his story file and on his resumé; all that for watching a phenomenal 12-year-old kid put on a hockey clinic at St. Michael's College School Arena.
Not a bad day's work, he mused; it doesn't get any better than that.
Note to self, he thought after writing the story: remember the name Pierre Dupuis. That kid is going places.
• • •
If there's a rule, there's always an exception. It's a universal truth, isn't it? So when Hockey Canada, in 2005, was instituting and approving what it called the Canadian Development Model (CDM), the systematic blueprint of rules and regulations governing how young players would proceed on a year-by-year basis through the Canadian minor hockey system to the junior level, there was indeed a clause dealing with "exceptional" 15-year-olds.
What's amusing about this, truth be told, is that the exception to the rule actually preceded the rule itself.
The CDM became reality on May 23, 2005, when it was approved by Hockey Canada's board of directors in Saint John, New Brunswick.
Eighteen days earlier, though, the Ontario Hockey League declared soon-to-be 15-year-old John Tavares an "exceptional" player.
"The CDM was being put in place because there were large numbers of 15-year-olds playing Junior A, B and C hockey," Ontario Hockey League commissioner David Branch said. "It made sense to slow down that progression and keep kids in minor hockey longer and the [CDM] was Hockey Canada's way to do that."
The OHL hadn't had a 15-year-old in the league since 1998, when Jason Spezza played one season for his hometown Brampton Battalion, thanks to an old rule permitting 15-year-olds to play in the league only if it was in their hometown, with the player remaining eligible for the OHL draft in the off-season after his first year in the league.
During the 2004–05 season, Hockey Canada was formulating the CDM with an eye towards not allowing any 15-year-olds to play any brand of junior hockey. But Branch was made aware that season of the existence of Tavares.
As he recalled it, Branch was talking to his son Barclay, the assistant general manager of the Belleville Bulls.
"The very clear reason for [having an 'exceptional' clause] was John Tavares," Branch said. "I was talking to Barclay and he told me, 'Not only is John Tavares good enough to play [in the OHL] as a 15-yearold, if he were eligible in our draft, he would be the No. 1 selection.'"
That got Branch to thinking on two levels. First, he called Hockey Canada president Bob Nicholson, advised him of the potential Tavares scenario and asked whether the still-in-the-works CDM might allow for an "exceptional" provision for the Canadian Hockey League. (Ultimately, it did.)
Next, Branch went about the business of defining "exceptional" and determining what process and criteria the OHL could use to ensure the integrity of the "exception." He had no appetite for an exception becoming the rule if the player in question wasn't truly "exceptional."
Branch put together what he described as an arm's-length committee comprising four expert individuals: Frank Bonello, the head of the NHL's Central Scouting Bureau, who could speak to Tavares's on-ice ability as a hockey player; Paul Dennis, a noted Toronto-based sports psychologist with an NHL and OHL coaching background, who could, after meeting extensively with Tavares and his family, work up a full psychological and sociological profile to determine the player's maturity to deal with both on- and off-ice challenges while playing and interacting with 16-to-20-year-olds; Kevin Burkett, a lawyer and renowned arbitrator with both a strong legal, educational and hockey background (Burkett was a longtime Junior A hockey coach and his son, Michael, played college hockey at Michigan State); Doug Gilmour, the retired NHL star who played for the Cornwall Royals in the OHL and knew firsthand the physical, mental and emotional skill sets required to play at that level.
"The mandate was very clear," Branch said. "We had to develop a process that was beyond reproach, something with a real focus on whether the player was mature enough to handle the on-ice challenges, any off-ice issues pertaining to school, social settings and whether this individual had the support system in terms of family and friends, to say nothing of whether the individual had the skills and ability to play against players who were four or five years older than him. It had to be done right, because there was lots of speculation we were doing something that was going to open the floodgates."
And all this at a time when the Canadian Development Model was being put in place to keep 15-year-olds playing minor hockey.
• • •
Brian and Kelly McDavid knew their son Connor was anything but "normal" when it came to hockey -- his interest in it, his passion for it, how he watched it, how he played it, how he basically lived it. It didn't take them long to know it, either.
"Almost from the word go," Brian McDavid said. "He was maybe two and a half years old, he definitely wasn't three, and I got him Rollerblades, the little plastic ones. He put them on and he just took off, he started skating around the basement."
By age three, he had graduated to taking shots on his Nana (Kelly's mom), who was a fine play-against-a-toddler-in-the-basement goaltender.
"Connor would be downstairs for hours on his Rollerblades," Kelly said. "He would take all his stuffed animals from his bedroom down to the basement. They were the fans watching him play. He'd be yelling play-by-play up the stairs, he would so get into those games. 'So-and-so just scored the winning goal in Stanley Cup.' He'd do that for hours at a time."
Kelly also remembered having to play him in air hockey games, and having to let him win because she simply wasn't prepared for the consequences.
"If he lost, it was horrible," she said. "I'd let him win, I knew I was just enabling him, that he needed to learn to lose, but . . ."
When Connor was all of four years old, he tormented his parents to sign him up to play hockey in his hometown of Newmarket, Ontario. Brian fudged Connor's age when he was four, allowing him to play against the five-year-olds. And when he was five, he played against the six-year-olds. Playing against older kids would become a recurring theme for him.
Connor McDavid couldn't get enough hockey. His brother Cameron, four years older, was playing atom AA for Newmarket. Five-year-old Connor wanted to be just like Cam. When Cam would get dressed up in the minor hockey uniform of shirt and tie to go to the games, Connor also wanted to wear a shirt and tie.
So off he would go, wearing an oversized team jacket, team hat, shirt and tie, dressing the part of a rep hockey player. Brian McDavid, along with Hockey Hall of Famer Steve Shutt's brother Dana, were assistant coaches on the team. Connor would help the trainer fill the water bottles before the game. He would get to sit in on the pre-game chalk talks, and when the coaches would ask the players on Cameron's team where they should be on the ice in a certain situation, Connor would put up his hand and answer.
When Cameron's game would begin, Connor sat in the stands with Kelly and the other mothers.
"We had no idea what was going on a lot of the time," Kelly said. "A play would happen and we would be saying, 'What happened there?' and Connor would, in great detail, explain exactly what had happened. All the other little brothers and sisters were running around the rink, but not Connor. He would just sit there and watch."
When Brian took little Connor to a St. Michael's Majors OHL game at St. Mike's Arena, it was the same thing. He would never take his eyes off the play, focused intently on the puck and every move being made.
"It was like he was studying it," Brian said. "He was processing it on some other level you wouldn't expect from a five-year-old. . . . It was the same thing when he played. Every kid on the ice would be in a scrum to get the puck, and Connor would stand back a few feet from the pile, on the defensive side of it, just waiting for the puck to squirt out. He would take it and go. How did he know to do that?"
By the time he was six, it was obvious he was too good to play house league against kids his own age, so the McDavids tried to move him up a year, to play against seven-year-olds in more competitive select hockey. But the minor hockey association in Newmarket put up a roadblock. Rules were rules, they said, and six-year-olds weren't allowed to play seven-year-old select. Brian McDavid protested, appealed the decision, but was denied. So the McDavids signed Connor up to play house league hockey in neighbouring Aurora. Against kids as old as nine.
"If a student in school is advanced, they'll promote them, move them up," Brian said, "but they didn't want to hear it."
Even then, playing against older kids, Connor was frustrated playing house league. He craved higher competition, desperately wanting to play AAA rep hockey, so much so that his mother devised a visual way to track that goal, drawing a set of stairs on a piece of paper, each one representing a single house league game to the end of his six-year-old season.
Each week, after he played a game, Connor would cross off one of the stairs and see clearly that he was one step closer to his goal of playing at the most competitive level of minor hockey. At the end of that season, Connor tried out for the York-Simcoe Express AAA novice (eight-year-old) team and was the last player chosen, because the team wasn't sure until the last minute whether they wanted to carry an underage player.
After that first year of novice AAA, Brian became York-Simcoe's head coach. Connor's game flourished and so, too, did the team. The Express won four consecutive Ontario Minor Hockey Association (OMHA) titles, an Ontario Hockey Federation (OHF) provincial championship in peewee, and were finalists in the prestigious Quebec International Peewee tournament. Connor enjoyed great success playing for his dad and alongside another incredibly gifted player, Sam Bennett, who went on to star for the OHL Kingston Frontenacs and was selected fourth overall by the Calgary Flames in the 2014 NHL Entry Draft.
Through it all, Connor continued to demonstrate an insatiable desire to win, to be successful. He was absolutely driven. In minor atom, during a game on the bench, he heard two teammates talking about playing a video game. He told his dad afterwards, "If other kids aren't on board, we have to do something about it."
In London, at the atom OHF tourney, a season in which the team went 33–0, York-Simcoe lost 6–5 in a shootout in the semifinal. When the team came back into the dressing room, Connor, in tears, ripped the participant medal from his neck and threw it in the garbage. It was retrieved by Brian, who gave it back to Connor on the long ride home.
"We were driving home from London and I'd given the speech that we had a good year and you can't win every time," Brian said, "and Connor is in tears in the car and he says to me, 'Promise me, you have to promise me that you will do everything you can to make this team better next year.' That's Connor. . . . I've known for a long time he has that 'something.' It's his passion. I've always felt that he's had that, that it's hard to find someone who feels about the game the way Connor feels about it."
Coaching his son, and his son being such a phenomenal player, was at times a double-edged sword for Brian. The McDavids spent a tremendous amount of quality time together, sharing their perfectionist's mentality and a lot of really good family times.
"When I coached, there was a lot of routine for the team," Brian said. "We'd have a warmup stretch, a whole team meeting, separate meetings for the defence and forwards, but Connor and I would have our own routine, too, where we would do this little stickhandling ritual. Connor is superstitious. We'd have to pass the ball the same number of times. He'd flip it up and bounce it, but if we dropped it, we had to start over again."
But there also were the usual minor hockey politics, talk of alleged favouritism from a father coaching his son, and both conceded it was, at times, uncomfortable and difficult.
"Every year, the kids on the team would vote Connor as the captain, and every year I would give it to someone else," Brian McDavid said. "People would say Connor was only good because his dad was the coach. I was so offended by that, because he deserved better. Another coach would have played him more; another coach would have made him the captain. Whatever Connor got, he earned it."
"I liked [having his dad as coach] but it was hard sometimes," Connor said. "A lot of stuff would be said, but in peewee, for example, I wasn't even an assistant captain, so I'm not sure how anyone could talk about favouritism. All I know is that my dad taught me everything I know about hockey. Every kid wants to play in the NHL, and that's something I became focused on. The best advice I ever got was from my dad. He told me, 'If you want to do something in life, you have to do something every day to help make it happen.'"
Connor took that advice to heart with passion and zeal. Every day. Literally.
"Every day, he would come home from school, and his routine would be the same," Brian McDavid said. "He would do his homework, and then he would get on his Rollerblades in the driveway, shoot his pucks, set up obstacle courses, skate around paint cans, time himself. He did that every day for years."
Connor created a virtual hockey Camp McDavid in the driveway of the family home. Both garage doors would be opened up. Whatever he could find in the garage was likely to find its way onto the obstacle course. The routine was more or less the same each day, though he would refine his drills by adding an extra twist or deleting a turn.
"I would always shoot pucks, at least 100 pucks, that was always part of it," Connor said. "Then I would set up the pucks all over the driveway and stickhandle through them, like Patrick Kane did in that video. I would do some footwork. I took old paint cans out of the garage and set them up, one here [pointing], one here [pointing to a different spot] and one here [pointing to a third spot]. Then I would skate through them, weave around them, stickhandle through them. I had one stupid drill where I would have two paint cans set up beside each other and I would lay a stick across the top of them. After I would weave through the first cans, I would then flick the ball over the stick or under the stick and jump over it."
Sometimes he would work his skateboard into the routine, making it the final obstacle, passing the puck or ball to himself under the skateboard before shooting it into the net. McDavid didn't just do this every day. He timed himself doing it. Or sometimes he would call for his mom to do the timing for him. In the summer, when he had more free time, he would do this routine two hours a day.
"Two hours would be the minimum," he said. "On a school day, I'd only be able to get an hour in."
Brian and Kelly would marvel at Connor's dedication, but they became a little self-conscious about it, too.
"People would see him out there every day," Kelly said, "and they would think or say we forced Connor to do it."
"And by 'we,' they meant 'me,'" Brian said, shaking his head.
"I used to want him to come in," Kelly said. "Sometimes he was too tired, but he would say to me, 'I won't be happy with myself if I don't do it.' Some days he would come home from school and say he was tired, and I would say, 'You don't have to go out there. We don't care. You don't have to do this. Listen to your body.' But he would always say, 'I'm going to be mad at myself if I don't do it.' So he would go out and do it. After the fact, we found out people thought Brian was making him do it."
The look on Connor's face as he heard that said it all. He took it as a personal affront, an insult, for anyone to even consider he was being pushed by someone other than himself or something other than his natural passion for the game. Mind you, he comes by his competitive streak honestly. All the McDavid men, when it comes to hockey, have demonstrated a desire to play for keeps.
"Me and my brother would play in the driveway, one on one, and there's not a lot of space in our driveway, and it would get intense," Connor said. "I was four years younger than him, and if I beat him, he would get so mad. He high-sticked me a couple of times, and I had to get stitches. He'd go after my eyes."
But nothing rivals the intensity of three McDavids -- Brian, Cameron and Connor -- putting on the Rollerblades in the summer and a playing a cutthroat game of one-against-two hockey in the library parking lot near their cottage in Thornbury, Ontario.
"One ball, whoever has it is against the other two," Brian said. "Connor would almost always win, but it's really intense. There are usually some pretty serious injuries."
"One time I was sure I broke my wrist," Connor said, "but the worst was my dad."
"Oh, man, I got some gravel under my wheels and I went down hard," Brian said. "The gravel was embedded in my leg. We had to go home, and Kelly said, 'Why are you guys home?' Then she saw my leg. It was a mess. It was for weeks, with road rash."
Connor laughed at the memory. "It was," he said, "the worst road rash I've ever seen. When we play hockey, it gets pretty heated."
• • •
That cub reporter from 1978 went on to become editor-in-chief of The Hockey News in 1982. In all the comings and goings of the hockey world, from the NHL on down to the low minors and junior hockey -- What was that old hockey saying? "We'll send you so far away, not even The Hockey News will be able to find you." -- the editor-in-chief did make good on his vow to remember Pierre Dupuis's name.
But a funny thing happened on the way to future stardom, on that road to "going places." Pierre Dupuis never got there. Not really.
His entire hockey resumé on the HockeyDB website shows four games in 1981–82 as a 15-year-old with his hometown Sudbury Wolves, followed by 64 games the next season with the Windsor Spitfires (13 goals and 26 points), plus only eight more OHL games (one more goal and three more points) over the next two seasons, split between Windsor and Belleville.
By the time he turned 19, in 1985, Pierre Dupuis had, for all intents and purposes, dropped off the face of the hockey earth.
The editor-in-chief didn't attempt to reconcile it, or investigate the specific whys and wherefores, as much as he just duly noted it, tucked it away as a future reference point and hopefully some sage hockey context: as in, "Be careful, all things are not always as they appear, especially with precocious puck talents"; as in, "Beware: if a 12-year-old kid who was that good in minor hockey couldn't even make it as an everyday junior player, never mind pro hockey . . ." Well, you get the picture.
Eventually, the editor-in-chief went on to become the Toronto Star's hockey columnist and ultimately a national broadcaster, the so-called Hockey Insider on TSN, yet through all the job description and title changes, the lesson of Pierre Dupuis was never really forgotten: "When reporting on teenage puck prodigies, tread carefully. Very carefully."
So, it was with some trepidation, on November 30, 2004, that the Hockey Insider introduced 14-year-old John Tavares to a national television audience for the first time:
In the hockey vernacular, J.T. is a late-1990 birthdate, having just turned 14 on September 20. For the purposes of the NHL draft, for example, he wouldn't be eligible until 2009. But he's already turning heads. Playing up a year for the Toronto Marlboros 1989s of the Greater Toronto Hockey League, Tavares is, on any given night, one of the very best players on the ice. He's not eligible for the OHL draft until the summer of 2006, but to give you an idea of where he fits in, he would be one of the elite picks if he were available this year...It's never a great idea to put unrealistic expectations on a kid who just turned 14, but J.T.'s exploits force you to take notice.
If you must know the truth, the Hockey Insider believed he might have gone with a harder sell on Tavares. He'd actually seen Tavares play both minor hockey and minor lacrosse and seemed reasonably certain that this was no Pierre Dupuis, that Tavares was an exceptional two-sport athlete. He knew there was already a buzz within the OHL about Tavares and the possibility of a new rule to allow a truly exceptional 15-year-old to play in the league.
But still, Tavares had only just turned 14. Fourteen. It's so young, isn't it? And if, for some unknown reason, this Tavares kid didn't turn out to be as good as advertised, if he wasn't as exceptional as his billing, who would have been responsible for putting him in the glare of a national spotlight, perhaps creating unrealistic expectations and additional pressures he never asked for?
• • •
No sooner had the OHL officially declared John Tavares "exceptional" -- the Oshawa Generals made him the first pick in the 2005 OHL Priority Selection, ahead of the talented, one-year-older prospect Logan Couture, who had expected to be taken first overall -- than OHL commissioner Dave Branch figured the league needed to get out of the exceptional-player business.
Sort of.
Branch didn't have any problem with the notion of a legitimately exceptional 15-year-old playing in the league, provided he went through a rigorous vetting process; he just envisioned some thorny issues if it were the OHL that had to tell a talented 15-year-old, "Sorry, we don't think you're that exceptional."
"There was lots of speculation at the time [Tavares] would open the floodgates and would invite many more applications for exceptional status," Branch said. "As a league who wants these players, be it at 15 or 16 or 17 or whatever, was it wise for us to be so closely associated with the process, even though we set it up as an independent, arm's-length committee? So I phoned [Hockey Canada president] Bob Nicholson and asked him if Hockey Canada would be interested in taking over the administration of the exceptional player program, and he said it would. I sent him our model, [Hockey Canada] took it, adopted it and [Hockey Canada] uses virtually the same standards and methodology as we did. It's now a fully independent process."
Sure enough, Hockey Canada's current mission statement on exceptional players reads as follows:
The purpose is to develop a map that would aid in discovering an exceptional player. A player that is uncommon, superior, distinguished, remarkable, exclusive. Such a player is deserving of reward to participate in Major Junior Hockey and whose development might be significantly impaired if not permitted to participate in Major Junior hockey. This is a map of values or a map of the way things should be to ensure a deserving journey.
Any player applying for exceptional status must do so by submitting an official application prior to February 15 in the year preceding the season for which exceptional status is being sought. It costs $1,000 to apply. Ultimately, the decision on whether exceptional status is granted rests in the hands of a three-person Hockey Canada National Evaluation Panel comprising Hockey Canada's chief scout, a designate of Hockey Canada's board of directors, and a member at large appointed by Hockey Canada.
It's designed to be a highly confidential process, with no public acknowledgement of which players have even applied so as to protect the identity of those who are unsuccessful. If an applicant is successful, there's a straightforward and simple announcement in late March or early April saying the player has been deemed exceptional and is therefore eligible to play Major Junior Hockey as a 15-year-old.
The three members of the Hockey Canada National Evaluation Panel must be unanimous in their support for a player to be granted exceptional status. In effect, the national panel subcontracts much of the detailed due diligence to a three-man regional committee: the local branch administrator, to oversee the process; a life-skill interviewer to make subjective evaluations of the player's maturity and support system; and a regional hockey scout who can assess the player's physical attributes and on-ice skills and ability
A plethora of questionnaires are required to be completed. The player and parents must fill out one, and the player must write an essay explaining why he should be granted exceptional status. Additional questionnaires must be filled out by a current teacher of the player, a coach of the player as well as a separate hockey evaluator, in addition to the report of the regional scout. Perhaps most important of all, the life-skill interviewer conducts at least one, and often more than one, in-depth interview with the player and his family, providing both written and verbal submissions to the national panel.
When all the forms have been filled out, all the questionnaires completed, all the interviews and research considered, only then does the National Evaluation Panel make its ruling. It's all or nothing; an exceptional player gets three of three votes, or he isn't exceptional. Oh, yeah, one other thing: If the applicant is successful, $500 of the initial $1,000 fee is returned to the player; if unsuccessful, no money is refunded.
• • •
Kids' hockey is supposed to fun and games, and for the most part it is, but as a player climbs up the minor hockey ladder -- especially if the player is a high-end performer who shows signs of elite ability -- it begins to change in minor bantam. That's when the players become teenagers, 13 years old, and if life in general becomes more complicated and serious in those teen years, the same is true of life and times in minor hockey.
It's as if minor bantam signals the start of a testosterone-fuelled three-year sprint -- minor bantam, major bantam and minor midget -- that gets progressively more serious each year. But it's a run that can open doors to the next level of junior or college hockey -- businesslike worlds that require teens to grow up even more quickly -- and ultimately the pro game.
By his minor bantam year, Connor McDavid had already made enough of a name for himself that Reebok Hockey (RBK), the sports equipment manufacturer that has endorsement deals with Sidney Crosby, Pavel Datsyuk and countless other NHL superstars, came calling. Connor had been identified by RBK as a "key influencer," which is the corporate euphemism for "rising star."
The equipment companies give these "key influencers" free equipment and sticks. They want these high-profile athletes wearing and exposing their brand, as well as developing brand loyalty at an early age. The parents of "key influencers" merely breathe a sigh of relief: they no longer have to pay for sticks and equipment, which is extremely costly in hockey. For the minor hockey player, what's not to like about getting the latest and best gear, and all of it for free?
But it does come with a price. Other players and families who aren't "key influencers" take notice. It can put a spotlight on a young player sooner than perhaps it should. And while the free equipment comes with no real strings attached -- it's low-risk, low-cost investment spending for the equipment company -- it can skew perspectives and expectations at a time when nothing goes unnoticed in the green-eyed world of minor hockey.
If getting free equipment didn't set Connor McDavid apart from the other kids, getting attention from player agents did. Like RBK, the agents recognized that McDavid was a precocious hockey talent. At the age of 12, the McDavids were being contacted by prominent player agencies that represented superstar NHL talent.
"We had agents knocking on the door, and while we were flattered by it, we never got too wound up about it," Brian McDavid said. "We just said, 'Connor is only 12 years old. There's nothing we need to do about this right now.'"
Change was the operative word for the McDavids in the 2009–10 season. Bearing in mind he was only 12 -- and not 13, like those he was playing with and against -- there was a lot to process, on and off the ice.
In his minor bantam year -- his Grade 7 year at school -- Connor not only left his hometown York-Simcoe Express of the residency-based Ontario Minor Hockey Association to play for the vaunted Toronto Marlboros of the Greater Toronto Hockey League -- which required a bureaucratic battle to get through Ontario Hockey Federation transfer regulations -- he also switched schools, leaving Clearmeadow Public School in Newmarket to attend PEAC School for Elite Athletes in Toronto. PEAC is a private school that combines academics and daily sport-specific training. So if, like Connor, you're a hockey player, then your curriculum includes being on the ice every day at school, and in the gym doing off-ice hockey training daily, while also attending your academic classes. All of this in addition to playing AAA hockey after school for the Marlies, who on average would have two games and three practices per week.
"I was on the ice five times a week with the Marlies, but those were games and practices," Connor said. "There's not a lot of time for skill development, so being on the ice every day at PEAC, that really helped me."
Because he was going to school and playing hockey in Toronto, not at home in Newmarket, there wasn't the same free time to set up Camp McDavid in the driveway.
"That had always been Connor's way of getting his skill development," Brian said, "so being on the ice at PEAC kind of replaced being on the driveway. He was still getting skill development, which was important to him."
There were many long days, though. Connor would leave his Newmarket home at 7:15 a.m. to go to school in Toronto. His grandparents would pick up Connor and some Marlie teammates who also attended PEAC and drop them off at the rink for their Marlie practice. Brian, who was helping out as an assistant coach on the Marlies, would meet Connor at practice and drive him home. From start to finish, it was often close to a 12-hour day for Connor. And then he would have to do his homework once he got home.
"PEAC was a really positive experience for Connor," his mother, Kelly, said.
But the same couldn't be always said for his first year playing hockey in the GTHL. Maybe, in part, it was to be expected. The experts on physiology will tell you the physical differences between kids the same age, at 12 or 13, are greater than at any other age. It's a time when some kids have gone through puberty and others haven't. Go to a peewee or minor bantam game, and the physical maturation gap between players of the same age is greater than at any other time in the development cycle. Sizewise, it often looks like men against boys.
"In the 1996 age group, people were aware of who [1997-born] Connor was, so when he went [to the GTHL], there were a lot of expectations," Brian said. "But Connor hadn't grown like other kids, so minor bantam was a very tough year."
"It was a horrible year," Kelly added. "At the time, I thought we made a mistake."
Connor had gone to the Marlies because he wanted to play with and against better competition. Brian wanted him to play on a team where his dad wasn't the head coach, although he was still there as an assistant. But it was such a difficult year, they had to ask themselves whether Connor was in the right spot, whether it was still prudent for him to be playing against kids a year older.
"Connor and I would always talk at the end of each year to discuss whether to carry on in the 1996 group," Brian said. "We relied on those conversations more than any feedback we were hearing from other people."
Still, the McDavids knew there were skeptics, but Connor was already demonstrating a trait that so many great hockey players employ: using the negativity and/or doubts of others as fuel to drive him. So, confident he would bounce back, Connor stayed the course; the 1997-born kid continued in major bantam and minor midget to thrive and excel and dominate against the 1996-born class.
Connor's speed and skill, as well his high hockey IQ and ability to process the game, were eye-popping, off the charts. He was becoming the talk of the hockey town in Toronto minor hockey circles.
In the summer of 2010, when Connor was 13, one of his hockey instructors at PEAC, Joe Quinn, was working a summer hockey camp. Quinn told player agent Darren Ferris about Connor McDavid and Connor was invited to skate at a mini-camp for clients of the Orr Hockey Group, an agency that, of course, is headed up by Hall of Fame defenceman Bobby Orr.
"I was in the stands, watching the kids skate -- they're doing drills -- and I'm looking at this kid, he's not nearly as big as some of the others," Orr recollected of his first time seeing McDavid on the ice. "I said to someone, 'What is that?' That's exactly what I said. 'What is that?' His hands, the way he skated, the way he could flip and handle the puck, he was incredible. . . . They said to me, 'Do you know how old he is?' He was 13."
Bobby Orr shook his head with a degree of amazement, which is funny if you think about it. Orr was only 14 years old when he left his home in Parry Sound, Ontario, to star for the Junior A Oshawa Generals. Fourteen. Exceptional and then some. And there was no panel of evaluators to bestow any official status on him.
"They found me by mistake in a playoff game I was playing in Gananoque," Orr said. "The Generals were there watching. No one would ever come to Parry Sound to scout. It's different today."
So different.
Connor McDavid's hockey IQ extends off the ice, too. He's finely tuned to who's done what on their path to get to the NHL. For the longest time, he envisioned himself going off to Shattuck-St. Mary's prep school in Minnesota at age 14 or 15, just like Sidney Crosby did. But after he saw John Tavares blaze the exceptional-player trail from the GTHL's Toronto Marlies to the OHL in 2005, he knew he wanted to do the same.
In the summer of 2011, when Connor was 14, he was invited back to the Orr Hockey Group summer camp. Not long after that, in time for the start of his minor midget season with the Marlies, Connor McDavid had himself an agent.
The McDavids went with the Orr Hockey Group. If anyone could understand the journey Connor was embarking on, it was Bobby Orr. There was also the familiarity of having been to two Orr Hockey Group summer camps. But Connor was set on getting exceptional player status and early admission to the OHL for the 2012–13 season, the same as defenceman Aaron Ekblad had just gotten for the 2011–12 season.

Connor and Aaron had been friends dating back to their time as teammates on a spring tournament team in peewee. McDavid wanted to follow in Ekblad's footsteps.
"That was important to us," Brian McDavid said. "[Orr Hockey] had been through it with Aaron Ekblad the year before, and that's what Connor wanted, too. We didn't really go through the whole interviewing process with all the other agents. Bobby was our guy."
Connor had an outstanding minor midget year. He was the best player on the best minor midget team in the province. He went through the same evaluation process as Tavares and Ekblad; he had Paul Dennis come out to the house to compile the psychological and sociological profile of him and his family, but there was never any doubt. Hockey Canada deemed him exceptional and he became the first-overall pick in the 2012 OHL draft, going to the struggling Otters franchise in Erie, Pennsylvania.
The summer before he started in the OHL, McDavid got to do something he'd never really done: play with and against kids his own age. The top 14-year-olds in the country are assembled annually each summer in Toronto for the Allstate All-Canadian Mentorship program, an event headed up by the NHL Players' Association. NHL superstars -- in 2012, it was John Tavares and Taylor Hall -- act as mentors to the gifted bantam-aged players who learn, train and compete in an intense five-day camp.
In addition to measuring himself against players his own age -- McDavid led Team Tavares to victory over Team Hall -- he got to spend time with Tavares, pick his brain on what it's like to go through the exceptional-player process and size up the challenges that lay ahead.
"He was great," Connor said. "It was good to speak to someone who had been through it. It made me realize there's a lot of hard work to be done."
A lot of hard work; many lofty goals to be realized.

"Connor has always been different that way," Brian McDavid said. "He's driven to reach goals he sets for himself. Originally, his goal was to leave home at 14 and play at Shattuck, the same as Sidney. Then it was to get exceptional status, be drafted No. 1 into the OHL and play as a 15-year-old. He wants to win a Memorial Cup. He wants to play for Team Canada at the World Junior Championship as a 16-year-old and win a [world junior] gold medal. He wants to be the first-overall pick in the NHL [in 2015], win a Stanley Cup and have a Hall of Fame career. He's had these goals for a long time. He's always known what he wants."
And getting exceptional status was the first leap on the 15-year-old's quest to turn those dreams and goals into reality.
• • •
It was November 8, 2012, the date of a Subway Super Series game in Guelph, Ontario, between OHL stars auditioning to play for Team Canada at the World Junior Championship and a team of Russian stars.
Fifteen-year-old first-year OHLer Connor McDavid was in the lineup against the Russians, and while he showed a couple of brilliant flashes in the game and there was no denying the phenomenal skill set and long-range potential, Hockey Canada wasn't taking a still physically immature 15-year-old to its national junior team camp in December. In a postgame interview on TSN, the Hockey Insider was asked about McDavid and said pretty much all of that, noting his time would come, that he would likely play in two or three WJCs and observing that he was the early favourite to be the first player taken in the 2015 NHL draft, although a lot could happen in two or three years.
It wasn't so much a throwaway line at the end as it was a recognition that NHL scouts love to extol the virtues of 15-, 16- and 17-year-olds in their non-draft years, but the longer they watch a player play junior, the more likely they are to pick apart his game in his draft year and fall in love with new flavours of the day who haven't been in the spotlight nearly as long. The Insider was thinking in particular of Tavares. By the time he got to his draft year, after four OHL seasons, the scouts were shredding Tavares's game, questioning whether he could skate well enough to be an "elite" or "franchise" player in the NHL. He still ended up going first overall, but Tavares's draft year was rife with negativity; it was as if the scales were being balanced after years of unbridled enthusiasm and accolades for his talents.
The Insider didn't think too much of his comment about McDavid as he made it, but he woke up the next day to see it had become something of an issue on Twitter:
Connor Crisp @TSNBobMcKenzie say lot can happen in 2 years about @cmcdavid97 implying he may not shine the future, best player in the #OHL at age 15. #FIO. 9:47am – 9 Nov 2012
Figure it out indeed. Crisp, who played with McDavid in Erie, was rallying to a teammate's defense on what was perceived as a slight. That prompted the following exchange between the Insider and Crisp:
Bob McKenzie @connorcrisp23 That wasn't implication at all. Connor is a special player but I'm not into burdening 15 year olds with absurd expectations. 10:39am – 9 Nov 2012
Connor Crisp @TSNBobMcKenzie I see his skills at practise, and the humility he has on and off the ice. I'm implying he is only getting better. 12:45pm – 9 Nov 2012
Fair enough, not much doubt about that. But it's also a given that others will burst onto the scene to mount challenges and make their cases. It was only 14 months after that Twitter exchange, at the 2014 WJC, that the performance of American-born centre Jack Eichel was so impressive that NHL scouts suggested he should be in the conversation as a potential No. 1 in the 2015 draft, that he could be a legitimate challenger to McDavid.
That didn't take long.
• • •
Two questions have arisen regarding Hockey Canada's exceptional-player process.
One, if players are granted exceptional status year after year after year, can it still be considered a truly exceptional process?
Two, is Ontario the only place to find an exceptional player?
If the "exceptional player" floodgates were supposed to open up after Tavares in 2005, they must have been on a time-release formula, because it wasn't until 2011 that Hockey Canada next granted exceptional status. And again in 2012. And then in 2013, too.
Defenceman Aaron Ekblad of Belle River, Ontario, was the first of the three, and by any objective measure, he met or exceeded expectations. He was the first player taken, by Barrie, in the OHL draft, and he excelled as an under-ager with the under-17, under-18 and World Junior Championship programs. Ekblad was chosen first overall by the Florida Panthers in the 2014 NHL draft.
McDavid was the second of the three in 2012. He, too, quickly demonstrated "exceptional ability," following the same path as Ekblad -- going first overall (to Erie) in the OHL draft, playing and excelling as an under-ager with the under-17, under-18 and World Junior Championship teams and being forecast as the No. 1 prospect in his NHL draft year (2015).
Defenceman Sean Day, a dual Canadian-American citizen who was living and playing minor hockey in Detroit, was the third exceptional player in three years. Unlike Ekblad and McDavid, Day did not go first overall in the OHL draft. He went fourth, to Mississauga, and while he was only just beginning his "exceptional" journey, some were questioning whether he was as blatantly exceptional as Tavares, Ekblad or McDavid.
Time will tell, but Day was subjected to the same rigorous screening process as Ekblad and McDavid and was unanimously approved by Hockey Canada's National Evaluation Panel.
The entire process is supposed to be conducted with the utmost secrecy and confidentiality, especially as it pertains to identifying or naming which players have applied for exceptional status.
Sheldon Lanchbery, a longtime member of the Hockey Canada board who was appointed a judge of Her Majesty's Court of Queen's Bench for Manitoba in the summer of 2007, was, as of 2014, the chairman of Hockey Canada's National Evaluation Panel, though it's all kept under such tight wraps that Lanchbery not only wouldn't talk about the process, but wouldn't even acknowledge he chaired the panel.
Kevin Prendergast, who was Hockey Canada's chief scout until 2013, was also on the panel that granted exceptional-player status to Ekblad, McDavid and Day. Ryan Jankowski was named Hockey Canada's chief scout in 2013, so for any future exceptional player applications, he would be on the panel with Lanchbery and one more Hockey Canada member-at-large appointee. And Paul Dennis, the sports psychologist who worked up the profile on Tavares for the OHL in 2005, is the regional life skills interviewer for Hockey Canada's Ontario branch who vetted Ekblad, McDavid and Day, too.
It's often said there are no secrets in hockey, and if that's true, it's even more pronounced in minor hockey in Canada, where everyone, it seems, knows everyone else's business.
For example, as confidential as the exceptional-player process tries to be, it's a well-known fact within the Canadian minor/junior hockey community that, as of 2014, only Tavares, Ekblad, McDavid, Day and one other player even applied for exceptional status, with the unnamed player being the sole applicant who didn't get the panel's approval. That happened in the time period after Tavares in 2005, but before Ekblad in 2011.
It's no secret, not really, who the sole unsuccessful applicant was. Anyone with a computer can figure it in two minutes, but the process is not supposed to be about highlighting failure, so that player's name and identity won't appear here. Suffice it to say the Hockey Canada evaluation panel got it right. While the player appeared to be at the elite level in minor hockey, he did not go on to dominate junior hockey. He was not a first-round pick in the NHL, he did not represent Canada at the World Junior Championship, and while he's playing professionally in what is a still relatively young career and still working towards being an NHL player, there were by no means any guarantees that would happen for him. In fact, he's already perceived as a long shot to be an NHL regular.
What's curious is that every applicant for exceptional status, from Tavares to Day, has been in the OHL. It's almost as if the exceptional-player process doesn't exist in the rest of Canada. Some, especially in western Canada, mock it as just another bit of evidence that people in Ontario or Toronto believe they're in the centre of the universe, in a rush to display a superiority complex. Is it actually possible that the only exceptional players in Canada in a nine-year stretch are from Ontario? That there are no exceptional players in western Canada, Quebec or the Maritimes?
"Sidney Crosby applied for exceptional status with us," Gilles Courteau, commissioner of the Quebec Major Junior Hockey League said, "but that was before 2005, when there was no program in place. We turned him down. Since 2005, we haven't had a player who has applied. I have no problem with the exceptional-player program. It's a good one, but we just have not had that player yet. One day we will, and if he's ruled as exceptional by Hockey Canada, we'll welcome him to our league. We would definitely embrace that."
Western Hockey League commissioner Ron Robison espouses the same view as Courteau: "We are fully in support of it, we just haven't had that player come along yet." Despite Robison's words, many are skeptical the WHL truly wants any part of it.
"Don't kid yourself," one player agent said, "the WHL owners and GMs don't want anything to do with the exceptional-player status. They discourage kids from going that route."
Robison did concede that two factors -- the WHL bantam draft and the expansive geography of a league that stretches from Manitoba in the east to the U.S. Pacific Northwest in the west -- may play a part in the practicality of not having had an exceptional player and why some players and/or parents maybe aren't as eager to apply as in Ontario.
In the WHL, players are drafted, or have their rights assigned, at age 15, after their major bantam year. In the OHL and QMJHL, players aren't drafted until they're 16, after their minor midget season. A 15-year-old drafted into the WHL is entitled to play only five games as a 15-year-old, but he knows where in the WHL he will play when he eventually gets there as a 16-year-old.
"There could be an issue related to schooling, where a 15-year-old would have to travel great distances to play, which is different than Ontario," Robison said. "And for many 15-year-olds in our league, they're satisfied to play the five games for the team that has drafted them -- that's enough for them."
Even the skeptics who believe the WHL has anti-exceptional sentiment concede there hasn't been an obvious slam dunk exceptional superstar like Tavares, Ekblad or McDavid in the west.
Some believe Ryan Nugent-Hopkins and Mathew Barzal, two British Columbia kids, were the best bet for exceptional status, but as highly skilled and talented both were as 15-year-olds, they were also quite physically immature at that age. There have been highly touted prospects since then -- Tyler Benson of Edmonton (first overall to Vancouver Giants in the 2013 bantam draft) is one who comes to mind, but he opted to go to the Pursuit of Excellence Hockey Academy in Kelowna, British Columbia, for his 15-year-old season rather than push the exceptional envelope.
"We've had some special kids, especially those taken in the 2013 draft, but I'm not sure you could say we have one who is as clearly exceptional as McDavid," Kelowna Rockets owner and general manager Bruce Hamilton said.
On the flip side, the exceptional player concept didn't exist in 2002, when Crosby was attending Shattuck-St. Mary's prep school in Minnesota, awaiting his chance to play in the QMJHL. As Courteau said, Crosby inquired and was denied by the Quebec league. Not getting exceptional status certainly didn't hurt his development.
"I think our results thus far speak for themselves," Branch said, citing the accomplishments of Tavares, Ekblad and McDavid. "I believe it's been a good process for the players involved and our league. It's working as it was intended to work when we introduced it. There hasn't been a rash of them. There haven't been abuses of it. It's a good process."
• • •
The old African proverb says "It takes a village to raise a child," and that most definitely rings true when the goal is to shepherd an exceptional and gifted young Canadian through the meat grinder that is elite-level hockey.
Connor McDavid's first line of defence will always be his dad, Brian, mom, Kelly, and older brother Cameron. There's no substitute for family. But if a phenom like McDavid is going to fulfil his potential and get to where he wants to be -- the summit, if you will -- he's going to need an extended family of sorts to help him climb that mountain. And like any talented young player in today's game -- even those not deemed "exceptional" per se -- McDavid's support team is in place.
There's Bobby Orr, of course, and the advisors and consultants who work with Orr. It was Darren Ferris who originally recruited McDavid to Orr Hockey, but Ferris left the company to start his own business. Former NHLer Jeff Jackson, a lawyer now, replaced Ferris and works closely with Connor and the McDavid clan to ensure the sailing is as smooth as it can be. Jackson's good friend, former NHLer Dave Gagner (father of Arizona Coyotes centre Sam Gagner) is the agency's director of player development. Gary Roberts, the former NHL player turned strength, conditioning and nutrition guru, oversees McDavid's training and conditioning program.
Collectively, between Connor's actual family and his extended family/support group, the mandate is twofold: one, give him the tools necessary to be successful; two, put up walls around him to protect him from any pitfalls or distractions that may prevent him from being successful.
"Kelly and I, we both spend a lot of time making sure he's good," Brian said. "We can't imagine the pressure he feels sometimes. Those pressures come from the outside and we try to insulate him. We just want him to be a kid and play. Connor has very high standards -- no one is going to be harder on Connor than Connor. He sometimes gets down on himself; it's how he motivates himself. It's a fine line."
In a sense, the process is almost counterintuitive. Connor has an insatiable desire to be special, to be noticed, to do things most kids his age couldn't even dream about. To be exceptional on the biggest stage possible. But doing so creates attention and a wave of pressure on so many levels, with all those around him doing everything they can to diffuse that pressure. If there's anyone who can identify with that, it's Orr. He knows what it is to be phenomenal, though phenomenal today is a far cry from what it was in the 1960s.
"All I was told when I was a young guy was, 'Be home by dark,'" Orr said. "We'd go out on the pond all day. That was it. Times change. The world is more organized now. There are more distractions. The Internet, Twitter, rankings and ratings, haters, coaches, friends . . . what kids go through today is incredible. I never had to worry about any of that in Parry Sound. TSN wasn't coming to Parry Sound. [He laughs.] Our job [as McDavid's representatives] is to just make sure he's able to play to his level, play at the level he's capable of playing consistently, play to his strengths. That's it."
It's easier said than done. Sometimes, the enemy lies within. Which is to suggest that a teenager's desire, even that of an exceptional one, to just be a teenager can be problematic. And that's something Orr can mostly certainly identify with.
"That part hasn't changed," Orr said. "I tell him, 'Connor, you have to get your sleep because the level you are expected to play at it is a great responsibility. If you're tired, you can't do that. I was in the same position as you. I know you want to be with the guys, have fun, go here or there, but between the bus trips, all the games and practices . . .' These kids, they want to be on the ice all the time. In the summer, they want to go to this camp or that camp or this event. . . . I never went to a summer hockey school until I turned pro, and I went as an instructor, not a student. There are just so many things that can make them physically or mentally tired, and if he's tired, he can't play to his level, and his level is high and so are the expectations."
It's a message that has been received loud and clear by Connor.
"If I'm talking to Bobby for five minutes, he will mention five times I have to get my rest," Connor said, laughing. "We talk a lot about sleep."
That's because talking about sleep habits is more productive than talking about, say, pressure that is ubiquitous and always will be. McDavid and Orr know it's always there; they don't dwell on it. But Orr knows if McDavid takes care of himself, his ability and passion will make the pressure manageable.
"He'll have a chance to be a very good player," Orr said. "He's not Sidney Crosby. Sidney Crosby is Sidney Crosby. Connor McDavid is Connor McDavid. He's 16 years old; give him time to put his own stamp on the game, whatever it is. Lots can happen. He's got a lot to learn, but that will come. He's so smart. Watch how he gets up on his skates. How he sees the ice, how he passes the puck, how he shoots it. He just loves to play. As long as he keeps that passion and never loses it, as long as he is able to play at his level, that's all he needs. Our job is to talk to him, keep his feet on the ground. I'm certainly not going to tell him how to play. The pressure is always going to be there -- it's everywhere he goes. I never had to deal with that. No one in my time did. So we'll all work together to protect him as best we can from that."
Of course, there's only so much anyone can do. He can't be put in the mental equivalent of bubble wrap. If a pressure-free existence were the goal, McDavid wouldn't have played hockey. Pressure has been a constant companion since he started playing. At times, he even welcomes it, uses it as fuel. Other times, though, he knows it can gnaw at him.
"Honestly, I felt pressure more when I was a lot younger," McDavid said. "I never played against my own age, and I was one of the best players. That's when I would get really nervous, maybe not sleep the night before a game. I still feel pressure -- I'm sure everyone who plays feels pressure -- but I don't feel as it as much now as when I was younger."
Still, he welcomes those rare moments, the so-called "quiet times," when he's hanging with teammates, grabbing a bite to eat, horsing around and thinking or talking about anything other than hockey.
Most of the time, though, Connor McDavid is constantly being figuratively weighed and measured. If you get exceptional status, if you get called a generational talent the likes of which hasn't been seen since Crosby burst onto the scene, every time you step on the ice is a test. Someone is seeing you for the first time; someone is making a judgment: What's all the fuss about?
Growing up exceptional is like a Canadian torture test. The bar is set high, perhaps unattainably so, on an endless series of challenges. Crosby never escapes the scrutiny. Regardless of what level McDavid finds for himself, that, too, will be his lot in life. Some days, he'll come out on the right side of the ledger; sometimes the wrong side.
He passed his first major test after getting exceptional status by playing well in his OHL rookie season. He scored 25 goals and 66 points in 63 games as a 15-year-old with the last-place Otters. Phenomenal numbers. He might have made it look a lot easier than it was.
"It was hard," McDavid said. "I was putting up numbers. I started a 15-game point streak in my second game of the [rookie] season. It was amazing, I loved it, but it wasn't easy at all. It was hard. The league was so fast. The physical demands were really tough. I wasn't that strong, and I was going up against Dougie Hamilton, Cody Ceci, Scott Harrington and Olli Maatta. I didn't do a very good job of taking care of my body. I let little injuries slip by."
And while his season totals were terrific, the 15-year-old suffered more than enough angst over the course of a tumultuous rookie season in Erie, as the Otters finished with only 47 points, second-fewest in the entire league. His dad can laugh now about Connor's first few days in Erie, coming out of the dressing room after three consecutive lopsided preseason losses.
"He comes out looking pale and distraught," Brian said. "He's saying, 'I can't take this, I can't take all this losing.' It was the preseason. I told him, 'It's early. It's going to get better.' He told me, 'It's gonna be a long year.'"
And it was. In late November, head coach Robbie Ftorek was fired by the Otters. Kris Knoblauch was hired as his replacement. There was more losing; it seemed like the team was spiralling downwards. Connor called home late one night. He was homesick, sick of losing, feeling like he was on a sinking ship where some of the players had checked out. In that regard, there was nothing exceptional about a homesick 15-year-old. His was a call that lots of parents get from their kids playing junior hockey. Brian McDavid drove to Erie that next day to make sure his son was okay, settle him down and help him work through his upset feelings.
At Christmas in that rookie OHL season, he played as an underager for Team Ontario at the World Under-17 Challenge. It was a disaster of sorts for what many thought was a stacked Ontario team that should compete for gold. They finished a disappointing sixth. McDavid led his team in scoring with six goals and nine points in five games, but he took it as a failed test.
"He was crushed," Brian McDavid said. "He took that all very personally."
By all accounts, the team was plagued by jealousy and infighting. McDavid was often the target. A couple of teammates reportedly rode him hard on the exceptional angle, and as the tourney wore on, Team Ontario more or less unravelled.
But there were many good times for a 15-year-old kid, occasions when the perks of being Connor McDavid paid big dividends. Like in February, when McDavid and a couple of Erie teammates got to go to a Pittsburgh Penguin game. And watch the game with Pens owner Mario Lemieux in a private suite. And meet Crosby after the game. And get a picture taken between Mario and Sid, a photo that was widely circulated in the media and on the Internet, dubbed by many as "The Past, Present and Future of Hockey."
"It was weird, it was wild," Connor said. "It was pretty cool."
It was, however, also an illustration of how a simple "cool thing" -- getting a picture taken with a couple of your hockey superheroes -- can amplify the pressure and expectations. As in the "Past, Present and Future" angle. Mario did his thing; Crosby's doing his; where's the new kid going to fit into that pantheon of greats? Is he worthy of being in their universe?
The truth is, there's no escaping it. The photo was, on one level, just McDavid being the same as any teenage kid getting to meet his hockey heroes. But McDavid isn't just any teenage kid, so there's always another layer to it.
The Crosby comparisons are inevitable. McDavid grew up idolizing Crosby; Crosby saw McDavid play once and immediately pronounced that he reminded Sid of himself. They have different body types -- McDavid is going to be taller and rangier than Crosby -- but their dynamic first-step acceleration, otherworldly hockey IQ and insane ability to score or make plays can't be ignored.
Oh, there's one other thing they share. Crosby is one of the most superstitious players in the NHL. McDavid will challenge him for that title.
"He's got his lucky underwear, and they could walk out of the arena," Brian said. "If we drove to the rink, we had to listen to the same songs and drive the same way because we won or he had a good game when he did it that way last time. We would have to park in the same spot. He packs the bag exactly the same way every time: left shin pad, right shin pad, he zips it, he unzips it -- he has his routines. When he gets dressed, it's always in the same order -- one side, and then the other."
"If Brian and Connor drove to the game together last time and they won," Kelly added, "Connor would tell me I'd have to sit in the backseat because he didn't want to change things up. Good luck with that. It's not happening."
The best part of that OHL rookie season, as fate would have it, was that the Otters were a non-playoff team. So Hockey Canada added McDavid to its roster for the 2013 World Under-18 Championships that April in Sochi, Russia.
McDavid turned the hockey world on its ear. A double under-ager, two years younger than everyone else in the tourney, he shredded the competition, leading Canada to a gold medal and being named tourney MVP, scoring eight goals and 14 points in his first five games before being shut out in his final two contests. A number of the games were televised nationally in Canada on TSN.
As well known as he already was, it was a huge coming-out party for him. NHL scouts returned from Sochi raving about his dynamic play, mentioning him as a challenger to inherit Crosby's "best player in the world" mantle one day. They declared him the prohibitive favourite to be the No. 1 pick in the 2015 NHL draft. It was all quite heady stuff, even by exceptional-player standards.
"It was such a good end to a season that was a lot more difficult for him than people realized," his father said. "When he came home, he was so tired. The first thing he said to me when he got back was, 'My legs are done.' He was gone for a month. He said it was the biggest grind he'd ever been through. It was so intense. But he loved it."
McDavid spent the summer of 2013 working hard with fitness guru Roberts. He took to heart Orr's pleas to take care of his body, to get rest, to eat properly, to train hard and get a lot stronger.
Again, a positive performance by McDavid presented new challenges. He was so dominant, so off-the-charts good at the Under-18 World Championship, it set the bar that much higher again.
The following October, early in McDavid's second OHL season, a Canadian sports magazine came out with a front cover sell line boldly stating: Better Than Crosby. It wasn't a question; it was a declaration. The story inside the magazine was a fine and reasonable account of McDavid's exploits at the U-18 tournament and how not even Crosby at the same age had done what McDavid did in Sochi, how McDavid was, in the eyes of some NHL scouts, perhaps tracking ahead of No. 87, who had been playing prep school hockey when he was 15.
Still, Brian and Kelly McDavid cringed when they saw the magazine cover.
The New York Times, USA Today and Sports Illustrated had all published McDavid stories and features in the spring of 2013. But that one magazine headline -- Better Than Crosby -- left a mark.
"We were really upset by it, Connor was upset by it," Brian said. "The story was fine, but it was referencing just one tournament where Connor did something Crosby didn't. That's all it was."
The McDavids went into protective mode. A scheduled interview for a feature story on CBC's The National was cancelled by the McDavids after that. So were a number of other interviews that had been arranged.
"We just felt we all needed to take a step back and give Connor some space," Brian added. "Connor's focus was trying to make Canada's team at the World Juniors, and we didn't need to be adding to the pressure. Connor can be a sensitive and introspective kid. He's very guarded about attention being on him. He doesn't crave to be the exceptional guy all the time."
There's no avoiding it, though.
It was demonstrably clear early in the 2013–14 OHL season that McDavid was so much bigger, faster and stronger than he had been in his rookie season. He struggled to score goals in the first half of his OHL sophomore season, but his improvements in speed and power were noticeable.
"It's weird looking back on that first year," McDavid said. "I felt like a little rat on the ice. I felt that way all season. It bothered me. This year, I can challenge people physically. I can hold off a defenceman and drive the net. Last year, I would have just got pushed outside. Last year, when we played three games in three nights, it was embarrassing. I might as well have not even played that third game. I had no legs."
Erie went from being one of the worst teams in the Canadian Hockey League in McDavid's rookie season to being ranked No. 1 in the CHL on and off in 2013–14. It wasn't all because of McDavid -- the Otters assembled a deep, talented lineup from top to bottom -- but McDavid was clearly the catalyst.
In his second OHL season, McDavid achieved one of his goals by becoming only the sixth 16-year-old to play for Team Canada at the World Junior Championship, joining the exclusive company of Crosby, Eric Lindros, Jason Spezza, Jay Bouwmeester and Wayne Gretzky. But it was a difficult tournament for Team Canada, who finished fourth and out of the medals for the second consecutive year. And it produced, at best, mixed results for McDavid.
The mere fact that he made it as a 16-year-old probably should have been enough to declare it a modest success. In the days leading up to the final selection camp, he was perhaps 50/50 in the eyes of the coaching staff to make the team. But when he was the best player on the ice in an evaluation camp game against university competition, it was clear he would make it. Still, only Gretzky dominated the tourney as a 16-year-old. Lindros played very well at it when he was 16; Crosby was more of a depth player (two goals and five points in six games); and Spezza and Bouwmeester played only sparingly.
McDavid played out of position, at left wing instead of centre, but started the tourney in a relatively prominent role on one of the top offensive lines. He had three assists in the first two games, showing flashes of brilliance, but took a pair of minor penalties in that second game, against the Czech Republic. Head coach Brent Sutter benched him for most of the third period and all of overtime, but took him off the bench for the game-deciding shootout. McDavid missed on his attempt, and the Czechs won the game. Canada lost a game it was supposed to have won, and the McDavid angle was front and centre. It was a tough night for the 16-year-old, and even though he bounced back to score a key goal in a 3–2 win over the Americans, as the tourney wore on, his role on the team steadily diminished. When it was over, Team Canada was branded a loser; McDavid was judged by many to be a non-factor, betrayed by his youth.
The first judgment was accurate. Canada hadn't gone without a medal at the WJC for 14 straight years, but now had done it in back-to-back tournaments. The second was perhaps somewhat true, though maybe unreasonable when weighed against expectations, given that Gretzky and Lindros were the only 16-year-olds to have ever made really strong contributions at the WJC.
It's all just part of the torture test the truly exceptional players go through. McDavid was hailed as a hero at the Under-18 World Championship, and then dismissed as a zero at the 2014 WJC. Build them up; tear them down. There hasn't been a young Canadian hockey superstar who hasn't experienced it. It's like a rite of passage.
The relentless judgments passed on a talented teen who is just trying to find his way in the world unquestionably builds up a tough outer layer of skin -- "if it doesn't kill you, it makes you stronger" seems to be the applicable catchphrase here -- but for both the player and his family, it's also about trying to maintain degrees of normalcy, to keep from becoming too cynical or bitter in the process.
The McDavids are really quite nice people. Brian is a hockey dad, no question about that. Kelly is the furthest thing you'll get from a hockey mom; if she had her druthers, when the kids were young, they would have skied instead of playing hockey. As competitive as they were when they were younger, older brother Cameron is supportive of his little brother. Connor is a warm, friendly kid, obviously intense and driven to be successful, but the whole family recognizes they're all being constantly measured and judged to ensure they don't violate the Canadian hockey culture's cardinal sin: displaying cockiness. Confidence is okay; cockiness, no way.
The McDavids are constantly striving to be normal in what is so clearly not a normal situation.
How many 16-year-olds, for example, have yet to get their driver's licence, but do have a family trust bank account with tens of thousands of dollars in it -- the by-product of a five-year endorsement deal with RBK Hockey signed when Connor was just 15 -- to say nothing of a deal with a trading card company and other paid business opportunities? Still two or three years away from actually playing professional hockey, Connor McDavid didn't have a six-figure annual income as a teen in junior hockey, but it was quite likely in the range of $50,000 to $100,000.
"My dad has the bank card and I don't have the password," Connor said with a smile. "But, yeah, I know there's money there if I need it."
"It's in a family trust," Brian added. "There's a separate business company for Connor's endorsements. We pay taxes on it. It's his money. He has access to the money, more access to much more money than kids his age."
Within the McDavid family, there is certainly an awareness of how Connor is perceived from the outside looking in. That, because he has more fame and talent and money than not only average teenagers, but many of those he plays with and against, there's an effort made to demonstrate he's a good guy, a good teammate, a good person. But he doesn't have to try too hard.
"Kind of, yeah, that's a really big fear of mine," Connor said of sometimes feeling like he should go the extra mile not to be perceived negatively. "One of my own biggest pet peeves is cocky people, people who think they're so much better than everyone else. I cannot stand that, I really can't. I certainly don't look at myself any differently than anyone else. It's not too hard at all for me [to project a positive image]. I don't feel like I have to go out of my way to do that, because it's who I am, it's what I believe in and it's what is right."
• • •
You may be wondering what ever became of Pierre Dupuis. His story was told as part of a book, Selling the Dream: How Hockey Parents and Their Kids Are Paying the Price for Our National Obsession, by Ken Campbell, with Jim Parcells, which was published in 2013.
Campbell wrote that, after Dupuis quit junior hockey, he took a job as a hydro lineman in northern Ontario, getting married and raising a family, but also struggling for a time with what might have been -- what never was -- for him in hockey. But he was able to let go of his resentment. One night, he packed his hockey bag, and off he went to the local arena.
Campbell wrote:
It wasn't long before Dupuis was once again leaving people amazed with his skills—on a much smaller stage. Playing against huffing and puffing recreational players whose best days had passed them by, Dupuis was once again filling the net and gaining legions of fans. People from town—and even from other small towns nearby—flocked to the arena to watch him play. Kids asked for autographs.
"Pierre became the little superstar all over again," [wife] Nicole Dupuis said. "He was doing what he loved to do and I saw that twinkle in his eye like it was when he was younger. Then Pierre was happy. He realized, 'You know what? I've got my kids coming to see me and the kids at school were talking about Pierre Dupuis.' It was fun because people would come from all over to watch him play. It came back to what it was."
• • •
The year 2014 was noteworthy on the exceptional-player calendar.
That's because there wasn't one. After Ekblad (2011), McDavid (2012) and Day (2013), no one applied to Hockey Canada for exceptional status in 2014. Therefore, no one crowned; no one rejected.
It's difficult, if not impossible, to predict when the next kid will willingly vault himself into the glare of the hockey world. Or from where in Canada he'll emerge. There was talk of a young Quebecois star who dazzled the prestigious 2014 Quebec International Peewee Tourney. Might it be him, three years later, in 2017?
The cub reporter turned Hockey Insider does the math. Pierre Dupuis was 12, the same age as the young star from Quebec who turned so many heads at the Peewee Tourney.
All in good time . . .
• • •
There are two questions often asked about an exceptional player. One doesn't have an answer, at least not a very good one. The other is a question you hope never comes into play.
Why are these exceptional players so, um, exceptional?
It's not hereditary. Not really. Brian McDavid played Junior A hockey with St. Mike's back in the day, and still loves to play whenever he can. He has a real passion for the game. He may have passed that along to Connor, but Brian was not a great player, never mind a star or superstar. Bobby Orr's dad, Doug, played some hockey, but he was, uh, no Bobby Orr.
"I'm not sure you can ever explain it," Orr said of why Wayne Gretzky is Wayne Gretzky or what makes Mario Lemieux Mario Lemieux. "There's something there. There has to be. I have no facts to back it up, but when you watch Gretzky or Lemieux or Sidney Crosby, go look at the video of them, and I think they just 'see' the game differently, they think so far ahead, they process things completely differently than everyone else. I don't know how you quantify that. Everything in our game happens so fast, but the special few can process it faster and better than everyone else. That, to me, is what separates them. They can take a really fast game and slow it down in their mind so they know where every player is on the ice."
What if?
What if these extraordinary teens don't turn out to be as great as their billing? Or, more important, what is it that could prevent them from getting to where they're expected or ordained to go?
"I can tell when a kid is having a great time, and my biggest fear is we take that love and passion out of the game," Orr said. "We have to be so careful with our kids who play now. My biggest fear is always that they'll stop enjoying it. When Connor plays, you can see he is having fun. We have to be really careful to protect that for all the kids who play. We screw up a lot of players with the pressures. Connor is going to feel pressure, it's everywhere he goes, and I never had that -- no one who played in my time did. I can't imagine what it's like now. If pressure is worry, I didn't feel any pressure until I couldn't skate anymore [because of knee injuries at the end of his career]. . . . My greatest fear with Connor is he's a young boy who won't get a break, and everyone is on him all the time. That's why we all have to work together to protect him and just let him play."
It's something Brian and Kelly McDavid have thought about, too. What is the job description of parent, after all, if not to be concerned or worried for their child's future well-being? We all want our kids' dreams to be realized, not crushed. Yet we also know there are so many variables, so many hurdles to overcome, so many holes they can fall into. There's nothing exceptional about that. That's life, as they say.
"I worry about injury sometimes. I do," Brian said. "But there's no control over that. I've known for a long time Connor has a shot to play [in the NHL]. His demeanour, his passion, I've always felt it he would have that chance. . . . The other thing that worries me a bit is that Connor can be really hard on himself. I worry that he sometimes doesn't give himself the luxury of making a mistake. I'm sure he feels the pressure -- that's his 'normal' -- but we talk to him a lot about that to make sure we don't let the negative things affect him. He's got lots of good support from a lot of people, and he's matured so much in the last couple of years. It's really heartwarming to us as parents to hear him say, 'I don't like cocky people,' because we've always tried to raise both our boys to be humble and sincere."
"I always worry," Kelly McDavid said. "I'm his mother. That's what mothers do. I just want him to be a normal kid. If he's going to shoot pucks for two hours, I want him to not feel like he has to do it. He's so focused on hockey all the time, I didn't want him feeling like he missed out on being a kid. That was always my big worry with Connor. But I've learned over time this is what he wants, this is what makes him happy. If he's happy, I'm happy."
The formative years -- from Connor McDavid's emergence into the hockey world's consciousness at age 14 to when he'll turn 18, eligible to be taken six months later in the 2015 NHL draft -- are quite likely the most difficult and challenging he'll ever face. The mercurial world of being a teenage prodigy will steel him and test him. If he's able to successfully navigate the choppy waters as a boy, like John Tavares, you would have to think he'll be ready for whatever awaits him as a young man. That isn't to say there aren't a plethora of pressures in store for a potential first overall pick in the NHL, but just getting there without cracking under the enormous weight of expectation is a tremendous accomplishment in its own right.
Then again, maybe it's not so different for Connor McDavid than when he was six years old, crossing stairs off the diagram his mom had made for him as he eagerly anticipated ascending from house league to AAA rep hockey. Single-minded, focused and driven; intent on getting to that next level, but one step at a time.
"It all seems so far away," Connor McDavid said in November 2013 of his NHL draft in June 2015, "but at the same time, it's hard to believe I'm already in my second year in the OHL. It's weird. The years seem to be flying by, but the NHL draft, that still seems so far away. And it is far away. There's still a lot of hard work to be done."
Special thanks to Harper Collins for permitting this chapter of Hockey Confidential to be re-published here. If you would like to get Hockey Confidential: Inside Stories From People Inside The Game, you can get it here.
If you would like to get my first book, Hockey Dad: True Confessions of a (Crazy?) Hockey Parent, you can get it here.