Habs making a smart bet on Hemsky
Veteran winger's tiny contract could prove to be one of the best bargain buys of the summer, Travis Yost writes.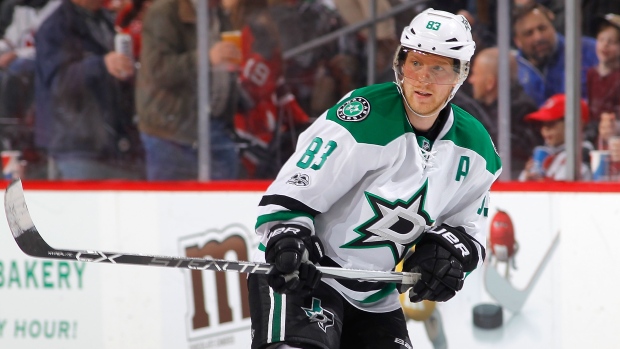 It flew a bit under the radar, but the Montreal Canadiens' one-year signing of Ales Hemsky still seems like one of the better bets made by any NHL general manager this off-season.
Hemsky isn't the same player he was five years ago, but his contract reflects that and then some. Hemsky's deal is for one year and $1 million – essentially the NHL's version of the veteran minimum.
How did Montreal get Hemsky on such a cheap contract? The concerns about degradation in performance due to age surely exist, but I suspect there are also questions about his injury history. I think it's unfair to suggest Hemsky's injury prone – especially after putting in three consecutive 75+ games played seasons – but last year's torn labrum and six-month hiatus probably forced some league executives to look elsewhere.
But Marc Bergevin didn't shy away. Why would he? On such a tiny contract, Hemsky's about as low risk as it gets. In the worst-case scenario, Hemsky's hurt or entirely ineffective, and Montreal's out on one roster spot and about 1.3 per cent of the salary cap.
There's an awful lot of evidence that suggests Hemsky's still a reasonably productive player, and almost certainly worth the low financial risk that the Canadiens are incurring here.
To illustrate this, let's look at how Hemsky's Dallas tenure (all age 30+ seasons, it's worth noting) went. The below graph shows Hemsky's performance against all other forwards across the league using 10 key performance indicators. Reading it is simple – if Hemsky is 100 per cent in a given category, he's better than all other forwards league-wide. If he's 0 per cent, he's been worse.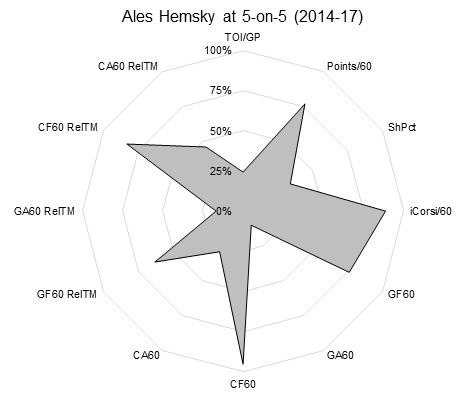 There's certainly a good and bad side to the Hemsky story. On the positive side of the ledger, there's a pretty convincing argument that he's a very productive player in the offensive zone. His scoring rates, individual shot generation rates, and on-ice shot and goal generation rates are all 75th percentile or better. When you're consistently getting the better of three of every four forwards across the league, you're going to see significant time inside of the top-six. And if you can find a top-six forward on a $1 million contract, you make that move every single time.
There's a catch here though, and that's the defensive side of Hemsky's game. Dallas bled scoring chances and goals against when Hemsky was on the ice. It's what made his frequent pairing with centre Jason Spezza so exciting over the last few years – they created a lot of offence for Dallas, and then conceded a large piece of it back to the opposition.
To me, it's reasonably clear what Hemsky is at this stage of his career. The question for Montreal is who you put around him – or which centre you play him with – to optimize his value. This is an area where I think Dallas may have struggled at times. The Stars couldn't play him on the Tyler Seguin line, but didn't always have the forward depth to create quality opportunities for Hemsky on the second or third line. Head coach Lindy Ruff ended up trying a wide assortment of linemate combinations to mixed results: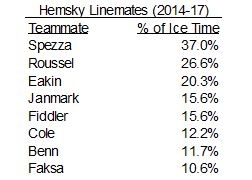 If you look at that list, you basically see one game-breaking forward in Spezza and a bunch of checking-line or developmental types – at least until you get to Jamie Benn. To me, that's another encouraging sign for Montreal. Hemsky was productive across a wide variety of teammates and situational deployment.
The Habs have an interesting lineup in the sense that they aren't nearly as top-heavy as Dallas once was. Guys like Max Pacioretty, Brendan Gallagher, Alex Galchenyuk, Jonathan Drouin, and Paul Byron will be spread across multiple lines, and there will likely be real opportunity for Hemsky to get considerable minutes with at least one of these names (if not multiple).
If I'm Montreal, I'm looking to get Hemsky out in a situation where a centre can pick him up in the defensive zone and utilize his creativeness to generate goal-scoring opportunities in the offensive zone.
Maybe that's Galchenyuk. Maybe that's Plekanec. Whatever the case, the Canadiens have options. With such little financial risk (and such a need to improve last year's mediocre offence), the Hemsky signing looks like it could end up as one of the best bargain buys of the summer.