Hadwin has room to improve after breakout campaign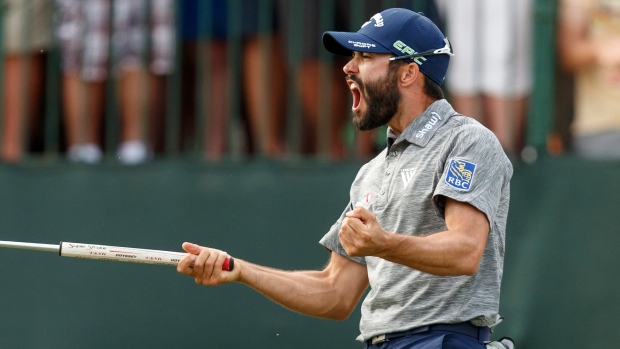 At long last, Adam Hadwin got to go on his honeymoon. After a breakout year in which he became the eighth player on the PGA Tour to shoot 59, won his first tour tournament, played for the International side in the Presidents Cup and made it to the Tour Championship, it was a well deserved break for him and his wife Jessica.
Of course the reason for the long delay in the post-wedding getaway was due to his on-course success: the original date conflicted with Hadwin's appearance at the Masters, a tournament he wasn't planning on playing when the 2016-17 season started. But the Abbotsford, B.C., product not only earned a spot in the field at Augusta National but enjoyed a breakout season, arguably one of the best any Canadian has enjoyed on the PGA Tour. Financially, the $3.455 million (US) he won made it the second most successful year by any golfer from this country.
"Everything kind of came together and I played the best golf of my career," he stated just before heading out to French Polynesia. "It kind of proved to me that if I keep working on the right things and keep doing what I'm doing that I'm going to be able to compete with the best players in the world at the best events on the best golf courses. It's a spot where I'd like to be for the rest of my career."
Hadwin's 2017 was in many ways a tale of two seasons. From the Fall series through the end of April, he recorded eight top-25 finishes including his maiden win at the Valspar Championship. He managed just two more of those through the end of the year.
That stat wasn't lost on the 30-year-old, who admitted to some frustration in the second part of his campaign.
"The year didn't end the way I would have wanted," he said. "Certainly the last half of the year was a bit of a struggle. I had a few bright spots at a few events but overall it wasn't the play that was happening in the first half of the year."
Some of the fall-off could be attributed to the extra attention from outside influences as well as the high expectations Hadwin put on himself. The first part is something new. While he's been in the limelight in Canada for a few years, his round of 59 and tournament win pushed him onto a bigger stage, requiring more of his time and forcing him to get better at managing his days.
Playing in this atmosphere and at a high level is something Hadwin has sought since he turned professional. He's consistently improved during his time playing in Canada, the Web.com Tour and his early days on the PGA Tour, although some times that improvement has been slow. It's often been one step back, two steps forward but he's always carried a strong belief in his ability that some have misread as cockiness. Confidence would be a better description although he continues to learn and improve, and not always just on shot-making.
Playing in majors and World Golf Championship events opened his eyes to just what's required to be at the top level in the game. He saw what the world's best players must deal with on a regular basis.
"It's incredible," he said. "The stamina you have to have to play at that level week-in and week-out. I was experiencing a little bit of the media attention once I started to play a little bit better, especially those two events at Valspar and Bay Hill. They're going through that every week.
"Time management has to be spot on. I've been able to get away with maybe being a little bit lax in that department at times but the professionalism that they have to bring in order to be the top players is extremely amazing and it's an underrated ability to get there and be able to maintain it."
Hadwin will get more opportunities to test his game against the top-ranked players in golf in 2018. He's qualified for three of the four majors and getting in the fourth, the PGA Championship, should be a mere formality. He also has spots in the fields at the WGC-Mexico Championship, the WGC-Bridgestone and the Players Championship. Knowing where and when he's going to play next year is something that Hadwin is already relishing. Along with having his wedding and honeymoon behind him, he's looking at more stability in his calendar rather than what he went through last year, which he described as "flying by the seat of his pants." He's earned the ability to pick a schedule and stick with it.
On the field, there's no secret as to where his focus of improvement will be. While he is one of the game's best putters, around the green is where he's lacking. It's the only one of his major Strokes Gained statistical categories that's in the negative, meaning he's losing shots to the field. Overall, he's ranked 121st from 100 yards and in.
But there is hope and it comes in the form of a Canadian golf legend. While playing for the International team at the Presidents Cup, Hadwin hung out a great deal with Mike Weir, who was serving as an assistant to captain Nick Price.
"We talked at the Presidents Cup about the possibility of spending some time together at some point and talk about the short game, because he's kind of that guy," said Hadwin, who called Weir Canada's greatest golfer. "He's world renowned for his wedges and how good he was and how good they were and to this day still are. So for a guy who struggles with his wedges, I couldn't get a better guy to learn from."
At the moment, Hadwin has replaced Weir as the pre-eminent Canadian on the PGA Tour. He gets the attention, the demands on his time and the bulk of requests for selfies and autographs. There's not a week on the PGA Tour when he isn't cheered by Canadians, no matter where he's playing.
If 2018 goes his way, those cheers should grow even louder. Hadwin believes he can get better and improve on what was a strong 2017. He won't have long to wait – the new year begins in Hawaii on January 4.