Hadwin set for season finale at Tour Championship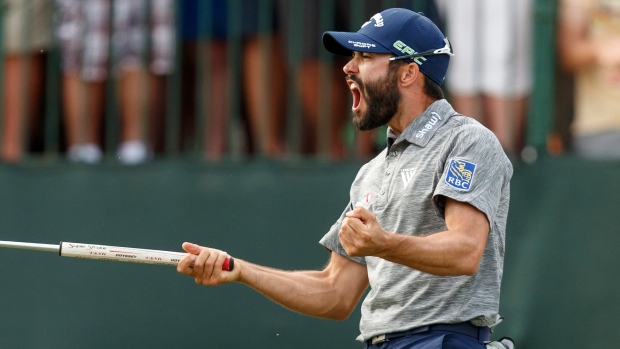 Adam Hadwin tees off at 12:20 EDT Thursday in the PGA Tour's season finale, the FedEx Cup and with it a chance to cap off what has been a remarkable season.
The 29-year-old from Abbotsford, B.C., has an outside shot at winning the overall title and the $10 million bonus that goes with it. For that to happen, though, players ahead of him would need to finish well down the leaderboard, including No. 1 Jordan Spieth ending up no better than 13th.
While he might have a better shot at grabbing a win in Lotto 6/49, just being among the last 30 golfers standing at the end of the year is a significant accomplishment for Hadwin. For making it this far, he earns starts in the first three majors of 2018 as well as all four World Golf Championship events.
Maybe more importantly, though, he earns recognition. He's now Canada's top male golfer and his year will be the second-best financially of any player ever to carry the Maple Leaf on his bag. Further, he's proven himself to be among the best in the game at the moment. That will gain even more traction next week when he suits up for the International side in the Presidents Cup.
Interestingly, Hadwin told Golf Channel's Todd Lewis on Thursday that he was more focused on the Presidents Cup than the Tour Championship. He'll be just the third Canadian to play in the team event which starts next Thursday in New Jersey.
Hadwin's season thus far has had its share of highlights. First was his round of 59 at the CareerBuilder Challenge in January. That was followed by a win at the Valspar Championship in March. He played in all four major championships, making the cut in the Masters and U.S. Open.
But he also suffered through a tough mid-summer slump, missing the cut in five of six starts including the RBC Canadian Open. As good as he was early in the year, it's that stretch that may have toughened him up as a PGA Tour player.
As he said at the time, it would have been easy to press and try to force a return to form. But that rarely happens. It's a mistake he may have made earlier in his career.
Rather than panic, Hadwin went to work with his coach Ralph Bauer, correcting, fine-tuning and improving on the game that he had earlier in the year. That's a sign of maturity and a realization that there will be ups and downs over the course of a year and a career.
In the last few weeks, his game has returned, if not necessarily to the point where he's shooting 59. Still, Hadwin has given himself a chance to put an exclamation point on his season. Even if he doesn't win the FedEx Cup, it will be a year to remember for the B.C. golfer and quite possibly there's more to come.