Hall of Fame not the end for Weir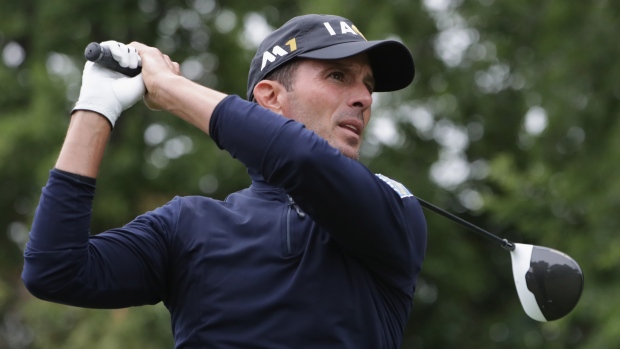 Mike Weir finds himself in an interesting spot in his career.
He's accepting jobs and reaping rewards that would indicate things are winding down. Yet he's still hoping to be competitive, to tee it up and play among his peers.
On Thursday evening in Toronto, Weir will be honoured with induction into the Canada's Sports Hall of Fame. He'll join the likes of speed skater Cindy Klassen, hockey star Lanny McDonald and Simon Whitfield, the gold-medal winning triathlete, as new members.
"It's a thrill to be going into the hall with these other amazing athletes and builders," said Weir. "It's a pretty impressive list."
It's another laurel for Weir who is already in the Ontario and Canadian golf halls of fame, and is a member of the Order of Canada. He has a park named after him in his hometown of Bright's Grove, Ont., and a street bearing his name in Draper, Utah, where he makes his home.
He joins 16 other golfers who were inducted into the Canadian hall previously including Moe Norman, George Knudson, Sandra Post and Marlene Streit. And it's another opportunity for the left-hander to acknowledge those who helped him reach his goals.
"It's nice to share the evening with those that have been there for me along the way," said Weir who will attend the event in Toronto with his family. "I think everyone of us going in can look back at all the help we got. That's why it means a lot, to show my parents and family just how I wouldn't be here without them."
But unlike the others going in, Weir is hoping his final chapter has yet to be written. He is continuing to try and resurrect the game that led him to the hall of fame but has been derailed by injuries and surgeries. He's been working hard at his home in Utah, attempting to find the groove that led him to eight PGA Tour victories.
Later this month, Weir will head Down Under to play the Australian Open and the Australian PGA Championship. And after that, he'll fly to South Africa to play that country's national open. He'll also tee it up on the Web.com Tour throughout the summer.
While he knows it's a long road back and recent results haven't showed much promise, he wants to keep playing for many reasons, not the least of which it's what he's done all his life.
And, of course, he'd love to get a shot at the Champions Tour when he turns 50 in 2020.
Weir's most recent highlight on the course didn't come as a player, but rather a captain's assistant for the International Team at the Presidents Cup. Weir supported Nick Price and his squad, and relished the opportunity to play a part in the biennial event.
He also lauded the performance of his fellow Canadian Adam Hadwin, who impressed him both on and off the course.
"He goes about things a lot like I did," said Weir, who took the first-time Presidents Cup player under his wing. "He prepares well and he thinks through his shots a lot like I did. I think you're going to see him in the Presidents Cup for a long time."
Weir is also hoping his work with the squad will continue and perhaps lead to a captaincy one day. It's expected that Ernie Els will get the nod to be the next captain for 2019 and Weir could follow down the line.
Like Price, Weir is hoping for some changes to the Presidents Cup to allow it to be more competitive. He had a debrief session with the PGA Tour on a myriad of things including the overall format. But, he said, there are many other small changes that could help.
"One thing that seemed odd was that as an assistant captain, I wasn't allowed to relay any information to my players on the course," Weir stated. "Only Nick could do that. I was really just a cheerleader out there."
He provided the example of the 10th hole at Liberty National, a par-3 that was buffeted by the winds coming in off the Hudson River. Despite being just over 100 yards, the hole proved troublesome for the golfers. Weir said he wasn't allowed to share any details such as club selection or target line from previous International players who had gone through the hole.
"That seems strange," he said. "The captain can't be everywhere so we should be able to do the same thing and help our players."
Those changes are for the future, however. For the moment, Weir is ready to bask in his past achievements as he enters the Canada's Sports Hall of Fame, a worthy honour for a guy who is arguably this country's greatest golfer.