A peek under the mask of steely-eyed Hellebuyck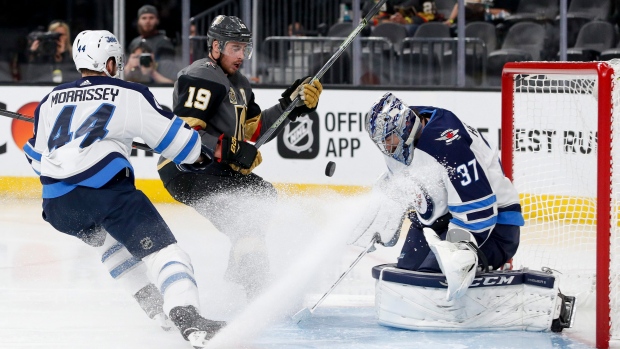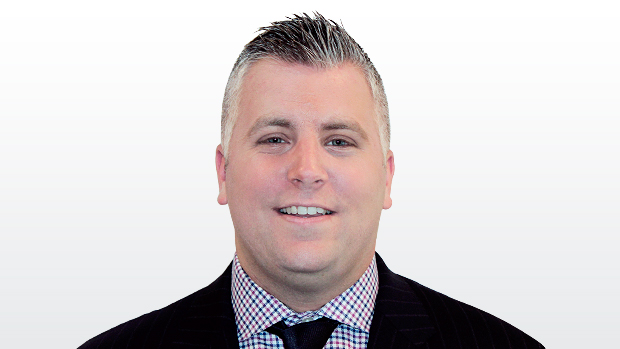 LAS VEGAS — ​They were six words, small words, but words that may help define Winnipeg Jets goaltender Connor Hellebuyck.
On a night when counterpart Marc-Andre Fleury shined brighter, out-duelling Mark Scheifele to swing the Western Conference final in Vegas' favour, Hellebuyck said he liked his own game more.
"I don't want to respond to his game," Hellebuyck said. "He's obviously a big part of their team and playing very well.
"But I like my game; I like it a lot more."
Hellebuyck's superior self-confidence after Game 3 added yet another wrinkle to one of the most contrasting goaltending battles in recent memory: the steely-eyed Hellebuyck versus the happy-go-lucky Fleury.
It's more spectacular than the second-round meeting of Vezina Trophy finalists between Hellebuyck and Nashville's Pekka Rinne.
Fleury's sense of humour and gamesmanship were on full display at T-Mobile Arena on Wednesday night when the three-time Stanley Cup winner took his glove off and tickled the ear of a helmetless Blake Wheeler during a scrum.
"I did that? I didn't think," Fleury said. "I was just sitting there, he was sitting there. People were fighting and I thought I'd have a little smile by myself."
"That's Fleury," Vegas coach Gerard Gallant said.
So, who is Hellebuyck under the mask?
What the world sees is an in-the-zone goaltender who stares down the camera every time it's in the dressing room pre-game.
The first time Hellebuyck pierced the lens with his glare, Jets defenceman Ben Chiarot asked him about it.
"He told me, 'That's my thing,'" Chiarot explained. "He said 'If they're going to stare at me, I'm going to stare at them right back.'"
Chiarot shrugged.
"He's a goaltender first, so you know what that means," he said. "He's not that weird. His routine that he uses to get ready for his game, that's a little different. He's got all these eye warmups, reaction tests, weird stuff that he does. Whatever works for him. I'm glad he's my goaltender and none someone else's."
That's how all of the Jets feel. Wednesday marked just the first time Hellebuyck lost back-to-back games in nine weeks, since March 12. His save percentage following a loss these playoffs was .949 entering Game 3.
His confidence is what drives a lot of that.
"It was last year. He was a young goalie. We were losing. One of the quotes he had [after giving up six goals] was that he felt his game was good enough to win a Vezina," captain Blake Wheeler recalled last month. "We were like, 'What the hell are you talking about?' Now, the joke is on us."
Hellebuyck, who turns 25 on Saturday, stops his serious bit once his equipment comes off. First and foremost, Hellebuyck is a son of Commerce, Mich., where he learned to love fishing on the many nearby lakes.
This season, he bought teammate Dustin Byfuglien's old boat. He went ice fishing for the first time with Byfuglien this season and said he caught a huge walleye.
"It's great. You sit there, if it's not too cold, relax around the hole and work the line," Hellebuyck said in April. "It's pretty relaxing."
He is a four handicap on the golf course and likes to visit the dog park. More than that, he is a pretty typical 24-year-old.
"He likes his video games," backup Steve Mason said. "He's one of the handful of guys that plays Fortnite [on Xbox] day and night here."
Fortnite clearly hasn't given Hellebuyck any carpal tunnel like Boston Red Sox pitcher David Price. Hellebuyck's glove hand remains strong. He's part of Winnipeg's crew of notorious gamers with Patrik Laine, Nikolaj Ehlers, Kyle Connor, Adam Lowry and Jack Roslovic. Their average age is 22.
"He's pretty good," Connor said. "I'd say he's in the top tier on the team."
Maybe the video games have enabled Hellebuyck to stay loose on what is the biggest stage of his young career. Hellebuyck jumped around when he won a rock-paper-scissors battle in front of reporters on Tuesday to see who would speak to the media next. There is no sense the stage is getting to him.
Only three starters in the NHL are younger than Hellebuyck: Andrei Vasilevskiy (Tampa Bay), Matt Murray (Pittsburgh) and John Gibson (Anaheim).
Murray, who is nearly a year younger, guided the Penguins to two straight Stanley Cups with Fleury backing him. He, too, always seemed serious in front of the camera, but there was never any hint that Murray was vastly different away from the rink.
That isn't the case with Hellebuyck.
"It's all for show," Mason said. "He's playing it up for the camera, having fun with it."
But then he flips the switch.
"He's just so relaxed," Chiarot explained. "If a bad goal goes in, he's like, 'Ah, that'll happen.' I think that's a great way for a goalie to be. That's what makes him so good."