How a coaching system impacts team defence
Travis Yost explains why the transition from Ken Hitchcock to Mike Yeo in St. Louis next season should be seamless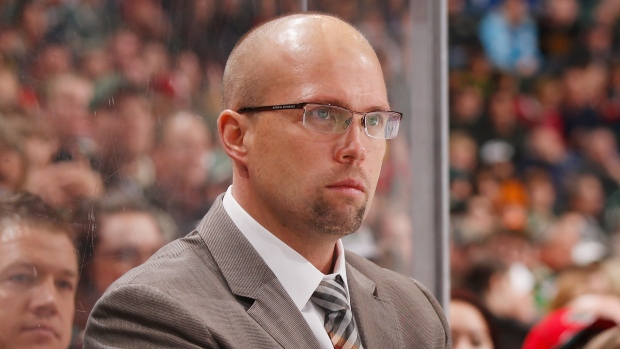 When Ken Hitchcock was brought in as head coach for the St. Louis Blues during the 2011-12 season, he brought with him a reputation for brutally effective defence.
Hitchcock teams, as the stories generally go, play boring hockey. They don't take many risks, which pays dividends in the defensive zone where their five-man group can push attacking units to the perimeter and away from dangerous scoring areas. By extension, he's earned a reputation as something of a goaltender whisperer – a coach who may be able to extract just an ounce or two more from his netminders than most around the league, perhaps due to his tight-knit defensive systems.
One of the things I found curious about the Blues this off-season is that they didn't really waste any time finding a coach-in-waiting for Hitchcock, who is expected to retire after the 2016-17 season. The team grabbed former Minnesota Wild head coach Mike Yeo – a reasonably effective bench boss in his previous stint – to work as both assistant and successor for a very competitive Blues team.
Like many coaches around the league, there are certain to be criticisms of Yeo and what he can bring to the table. But if you paid much attention to the Wild over the last few years, one of the things you'll recall is, like most Hitchcock teams, there wasn't much room to operate against them in the defensive third. From my point of view, Yeo's teams were average or above average in each of these three areas: (1) Effectively attacking puck carriers at the point of entry near their own blueline; (2) Maintaining structure during opposition cycles; and (3) Strategically clearing the zone, looking for exit passes above pure chip-the-puck-to-nowhere strategies that have pervaded other organizations around the league.
And, like Hitchcock, the data confirms what most people see – Yeo's teams offered very little in the way of legitimate scoring opportunities for their competition.
Let's say we wanted to look at average scoring chances conceded (per 60 minutes, data from 2007-2016 via Corsica) by head coach. Our assumption would be that both Yeo and Hitchcock sit near the top of the list, and our assumption would be correct.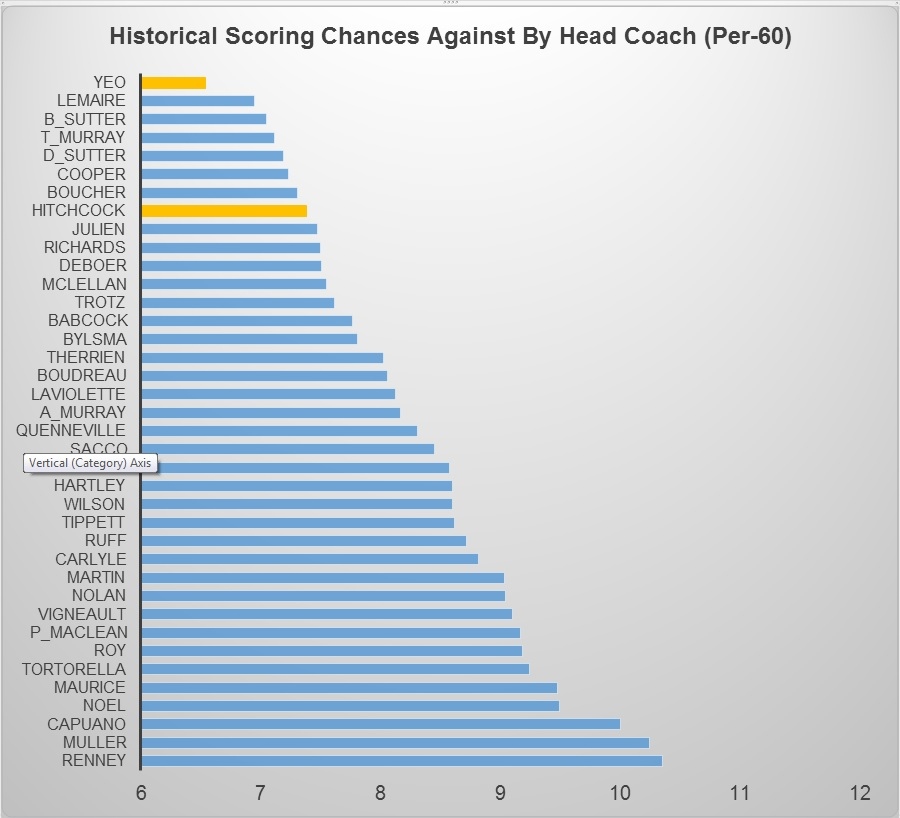 You'll notice that I'm purposely grouping together the recent head coaches who have a ton of experience – and in some cases, multiple operating environments. Yeo's only been in one spot, but he's worked hundreds of hockey games.
I don't know that Yeo has a more significant impact on his team's defence than a guy like Jacques Lemaire or Darryl Sutter. But I think we can reasonably conclude that Yeo is definitely having a positive impact on this front – he's more than two standard deviations from the league average for coaches in this timespan, and on a per-year basis, his teams have always graded well in the scoring chance department.
I do think there are a number of other fascinating pieces here. Bruce Boudreau, who's earned a reputation as a purely offensive-minded coach, has limited scoring chances better in his career than John Tortorella – a defensive-minded coach who grades quite poorly against his peers. A second interesting piece would be New York Islanders head coach Jack Capuano. Remember, Capuano is one of the longest-tenured coaches in the league, and his teams have generally been good in recent years. I think we can start to say that his system is probably paying dividends in the offensive zone, because defensively, the impact seems shaky. And a third: Ottawa, who has been dying for a defensively minded coach for years, seems to have one in Guy Boucher.
Bringing this back to the Blues: I think it's safe to say that the transition between Hitchcock and Yeo will be seamless. The larger question is where Yeo's team makes the incremental gains and if he can turn a quality playoff team into a Stanley Cup winner. Hitchcock's gotten the Blues on the precipice, but they are still in need of one final push.