How big is talent gap between Reimer, Bernier?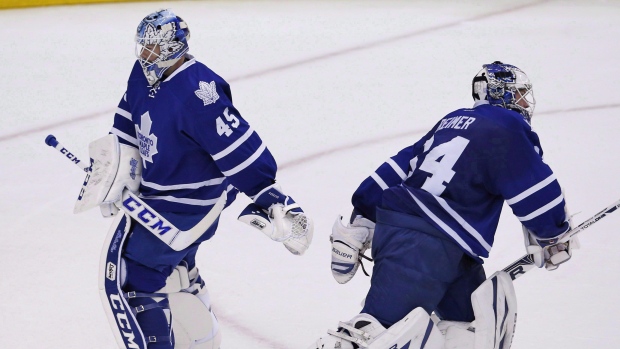 If there's one thing the Toronto Maple Leafs can hang their hat on this season, it's that they have experienced a considerable rebound in goaltending performance.
Consider this: in the eight seasons prior to Mike Babcock's arrival, Toronto ranked 27th in the NHL in team 5-on-5 save percentage (91.6 per cent), a hair above bottom-of-the-barrel units in Edmonton and New York (Islanders).
Now? The James Reimer-Jonathan Bernier combination have posted a 93.1 per cent 5-on-5 save percentage, 12th best in the league and mere decimal points away from teams like the New Jersey Devils and New York Rangers, both of whom feature elite, top-of-the-line puck stoppers.
Now, calling it the James Reimer and Jonathan Bernier combination is a bit kind to the latter. Reimer has turned in a season for the ages, a statistical leader in a number of core categories. His outstanding production couldn't come at a better time – his contract is set to expire at the end of the season, and be it the Leafs or another organization, he's likely going to be paid a premium for recent production.
Bernier has really struggled this season. It's become a source of concern for the team, particularly since his performance has almost inexplicably fallen off of a cliff from where it was a season or two ago; and because he's under contract for one more year. Babcock is not a man who wants to rebuild forever, so I'd imagine that there's a fair bit of frustration with where Bernier's game is these days.
Much like Reimer, Bernier is in a position where recent performance may impact his next deal. Bernier hasn't been the same goaltender since settling his arbitration matter with a two-year, $8.3-million contract, which is set to expire at the end of the 2016-17 season. If his play continues to depreciate with time, it's more than possible he could be taking a pay cut a year or so from now.
Assuming their current performance holds, Reimer is going to be paid a fair amount of money in his next deal versus Bernier in his next deal. This isn't altogether fair – Reimer, especially of late, has been the better of two players.
But, are we absolutely sure that Reimer is the more talented goaltender? I think this is a fascinating question, and considering the state of goaltender analysis, not a very easy one to answer.
I bring this up because as early as a season or two ago, there were plenty who thought Bernier was the better goaltender of the two. The old regime regularly identified Bernier as the number one goalie on the depth chart.
Why did they think Bernier was the better option at the time? Well, there were plenty of intervals where Bernier outplayed Reimer.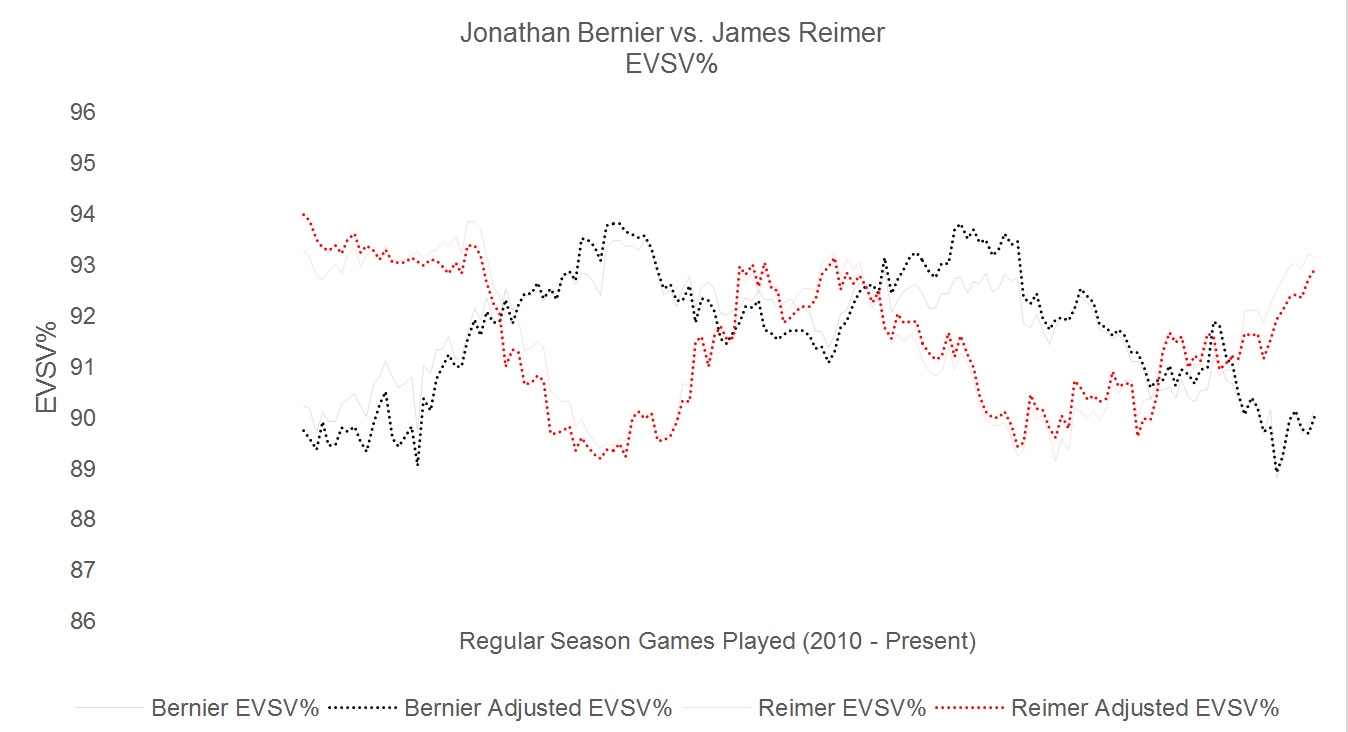 Everyone's understandably focused on this little area on the far right – the area in 2015 where Reimer has been an absolute world-beater, and where Bernier's game has been in the gutter.
Maybe Reimer has improved. Maybe Bernier really has a full-fledged confidence problem, and is destined to develop into a long-term quality backup option for the next number of years.
But, doesn't this graph speak to the great unknown of goaltenders? We observed this same exact gap when Bernier and Reimer were fledgling goaltenders. Then, their numbers reversed as they put more games under their belt, with Bernier pretty consistently outplaying Reimer. Only recently has that trend flipped, albeit in a pretty big way.
Over the entire period, Reimer has been the better goaltender between the two. By 15 saves over a 4000+ shot sample. And yes, the gap is that small.

We might be able to argue that Reimer is a better goaltender than Bernier after this large sample, but how confident in that assessment are we? I'd argue not very. Maybe you think Bernier has a 35 per cent chance of outplaying Reimer going forward. Maybe it's 40 per cent. Maybe it's 50 per cent. But, there's still a pretty big uncertainty here, especially since the talent gap appears very small.
To me, this is a pretty important takeaway for the contractual reasons mentioned above. Reimer's game appears to be trending in the right direction. Bernier's in the wrong direction. I have full confidence in recency bias (the tendency to think that what's been happening lately will keep happening) playing a big role in how these contracts look, by both dollar and term, which bodes well for Reimer.
But, the impact of recency bias is precisely why the Leafs need to be meticulous and thorough here. There's very little daylight separating these goaltenders. If Reimer's agent comes to the negotiating table with a big premium or surcharge tied to his 2015-16 season, the Leafs might want to turn around and start putting feelers out to Bernier's camp. (Of course, it's altogether possible that Toronto keeps both goaltenders around – particularly since I suspect Bernier's next deal is going to be a reasonably small one at this point.)
The same can be said for other teams around the league. Unless there is a theory that something has materially changed in Bernier's game to the point where his very recent numbers tell the only meaningful part of the story, there's great opportunity for a team to slide in next season and snag a respectable goaltender at a cheaper cost.
The Takeaway
Reimer has massively outplayed Bernier this year, and there's good reason to believe he's going to parlay it into a big payday in the coming months. However, a cautionary word of advice: the true talent gap between Bernier and Reimer is likely much smaller than all of us think, and if the pay gap starts between the two ventures into the millions, it's more than possible that Bernier actually becomes the better option in a hard cap league.