Hughes inspired being back at site of first win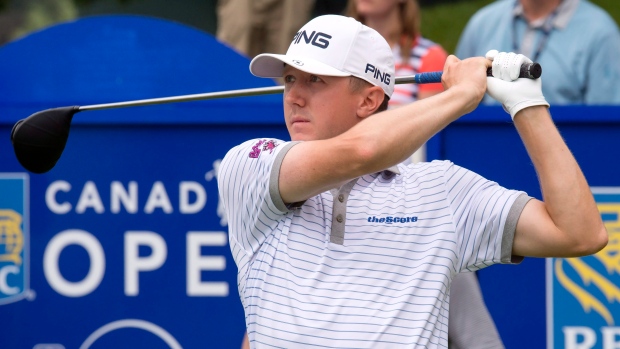 What a year it's been for Mac Hughes.
Made it to the PGA Tour. Won his first event. Got married. Had a baby.
Heck, he even changed his name!
Mac (no longer Mackenzie, please) Hughes is back at the RSM Classic this week, the site of his first PGA Tour win. It was a victory, he says, that altered the course of his existence.
"It was a life-changing day," Hughes said at his pre-tournament press conference. "I still look back on it and sometimes wonder, 'Wow, how did I manage to pull that off?'"
It was quite the stunning achievement. It's not that Hughes wasn't a talented golfer with a resume filled with successes, but this was just his ninth start on the PGA Tour. Nobody expected him to do quite so well quite so quickly.
The Dundas, Ont., product went wire-to-wire for the win, holding off four other golfers in a playoff that had to be carried over to Monday after darkness fell over the Seaside course at Sea Island, Ga. On a cool morning, Hughes drained a par putt from the fringe and watched as the remaining golfers failed to match it.
"The whole week, I don't know what it was about it but I was calm," recounted Hughes, who has decided to go by Mac, the name his friends and family have called him most of his life. "I had rituals every night that I did and they calmed me down."
Those rituals weren't exactly deep meditation with a local shaman. Rather it was an episode or two of Friends and a glass of wine with his wife Jenna.
Whatever works, right?
Winning on tour wasn't the only world-altering moment for Hughes last year. He and Jenna also welcomed their first child, a son, Kenton Robert.
That's helped Hughes put a few things in his life in order and also gave him a well-intentioned and probably much-needed break from golf and into diaper-changing.
Hughes played 31 times last season, a heavy schedule for any golfer. However, he would have liked one more start, that being the Tour Championship. He just missed the season finale, losing a spot in the 30-player field on the last day of the previous playoff event, the BMW Championship, something that didn't sit well with the ultra-competitive Kent State grad, although he kept things in perspective.
"Not making East Lake was tough but there are not a lot of rookies who can say they had a chance to get there or to even get there. That stung for a little bit."
What many forget is that last year was the maiden voyage for Hughes. His win came so early in his rookie year, and he played in big events such as the Masters and PGA Championship, that the expectations on him were unfairly high. He only posted one other top-10 finish, that a T10 at Pebble Beach, and he went through a season of ups and downs, something every rookie has to learn to accept.
After missing the Tour Championship, Hughes came back a few weeks later and played the first stop on the 2017-18 schedule in Napa, Calif., but admitted that he was probably still carrying a bit of a disappointment hangover and the effects of a long season. He shot two rounds of 74 and missed the cut.
Coming back to the RSM has re-charged his juices and seeing his picture on the signage and program, stoked his desire to get back to playing great golf as he showed a year ago.
"I just want to have more chances to win," he said of his goals for the new season. "That's kind of what fuels me going out here. I want to have a chance to win and compete on the back nine on Sunday."
If this year is anything like last year, those chances should come.