Humboldt 'Believes' until the last Bronco comes home
A refrain from former head coach and general manager Darcy Haugan has come to mean so much more to those in the community who are still recovering, Frank Seravalli writes.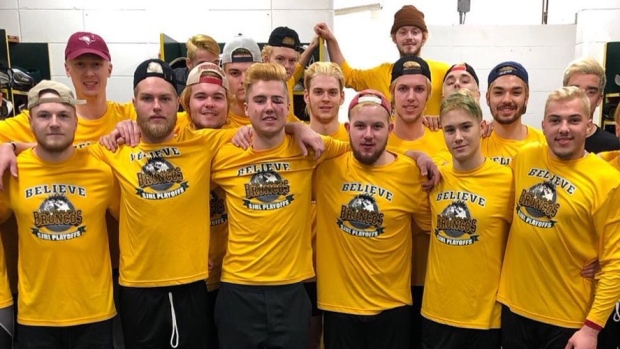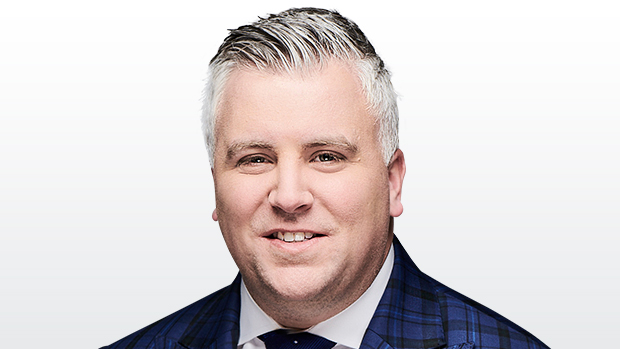 HUMBOLDT, Sask. — Chris Beaudry will forever hear Broncos head coach and general manager Darcy Haugan's refrain from last season.
Whether it was November or January, the message was the same: Believe.
"He would just tell the guys all year, 'We're not a fifth-place team. You guys have gotta believe,'" Beaudry, the Broncos' assistant coach last season, said Tuesday. "He told them, 'Once you start believing, that's when we'll turn it around.'"
The message took hold on Jan. 13, just after the Saskatchewan Junior Hockey League's trade deadline. Haugan's Broncos lost to the Notre Dame Hounds the night before.
"My message to the guys was we need to start believing. Why not us? Why can't we do this?" Haugan said on March 24. "'Somebody please give me an answer, a reason, why we can't do this. We need to start believing."
Haugan found an older, yellow piece of rink kickplate laying in the bowels of Elgar Petersen Arena. He took it to his office and wrote "BELIEVE" across it. Every member of the Broncos signed it, almost a contract of sorts, to stick together and buy-in completely.
Haugan bolted the kickplate to the wall above the Broncos' dressing room door, that covenant being their last vision on the way out to the ice. The Broncos won 13 of their next 16 games and Haugan had special shirts made with "BELIEVE" printed on the front for the start of the SJHL playoffs.
"It was just engrained in our minds," said Brayden Camrud, one of two bus crash survivors who will lead the 2018-19 Broncos forward. "I think one of the reasons our team was so tight last year was we believed in one another. Anything that we believed, it would happen either way."

Believe. It's one small word that has taken on an entirely different meaning in the wake of an unthinkable April 6 tragedy that claimed the life of Haugan and 15 others on the Broncos' bus.
Two days after the accident, Beaudry was mulling around the Broncos' dressing room trying to gather his thoughts when he looked up and saw it.
The assistant coach who was somehow spared so he could help pick up the pieces, ripped the signed piece of kickplate off the wall.
"I have to take this to the hospital," Beaudry thought. "That's where this belongs.
"I said, 'It's staying here until the last boy comes home.'"
That is where the kickplate has remained, in Saskatoon at the hospital, being passed from room to room helping the Broncos recover.
Believe has become the rallying cry, the daily motto, for two Broncos who are still fighting. Layne Matechuk and Morgan Gobeil remain in Saskatoon City Hospital recovering from traumatic brain injuries. They are unable to attend Wednesday night's season opener.
"#believe is the word we are holding onto these days," the Matechuk family said in a statement this summer. "We #believe in the strength and determination that brought Layne success on the ice will bring him success in the months and years ahead. We ask that you continue to send your prayers and support to him - and think of him. And most of all, we ask that you #believe with him and us."
Both families recently provided medical updates in a statement, but requested privacy from the media.
"(Morgan) is now focused on rehabilitation where he participates in physio, occupational and speech therapies and does all this with a good demeanour," the Gobeil family wrote. "Although he knows he was in a bus accident on the way to his game in Nipawin, he does not know the extent of what has happened. And because Morgan does not yet know the gravity of the accident, he is unaware of the overwhelming support that has poured in from across the world. However, we want everyone to know that we, his family, are. We are so grateful for that."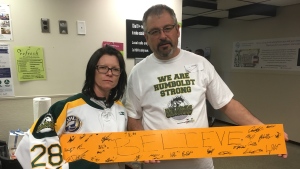 The Matechuks also indicated that their son is "still not fully aware of all that has happened with the accident but is getting closer to being able to deal with it."
Matechuk, 18, has received an occasional day pass from City Hospital in Saskatoon to spend time with his family at home. He will remain in hospital "on his journey to recovery," the statement said.
Gobeil's family said Morgan "has a long way to go and will still be in the hospital for a few more months."
The road to recovery is complex, the Gobeil family said, "but at the same time, it has been remarkable to watch his progress."
"We believe he gets better every day," the Gobeils said. "We have said that from day one."
The Broncos believe. Some have spelled it "BEL13VE" to honour the 13 survivors who all have their own battles – some seen and some unseen. They will say it, together, with Haugan's words echoing forever.
"It was just a sense of, 'Be strong.' It was easy to put that on our shirt and represent ourselves because we believed that we could win," Camrud said. "We believed that we would be the best in the league. We believed in each other until the final buzzer."
Contact Frank Seravalli on Twitter: @frank_seravalli