Humboldt celebrates Broncos in emotional first game since tragedy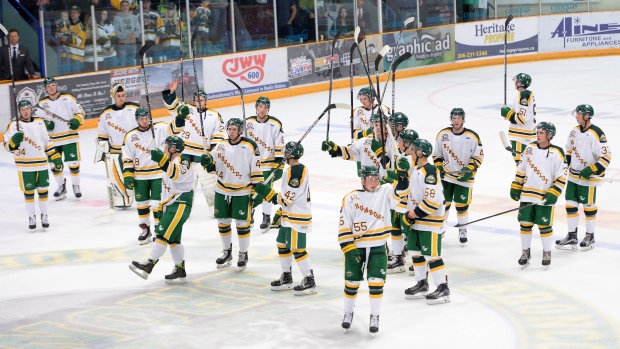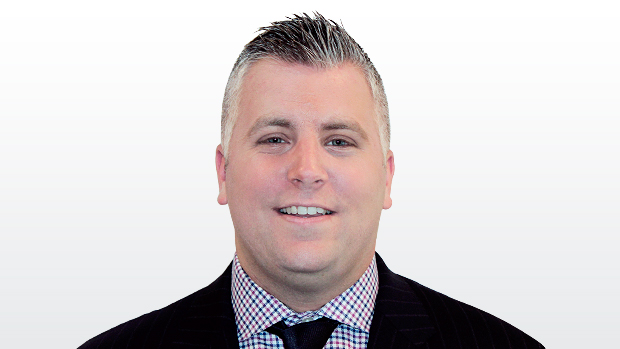 HUMBOLDT, Sask. — In any normal circumstance, it would be a hockey parent's dream - to stand near centre ice in a packed barn to watch your son's number be retired for his Junior "A" team.
Except, this night was the worst kind of nightmare, the on-ice ceremony no parent wants to attend.
Somehow, in the middle of his awful dream, Scott Thomas stepped forward. Minutes after a gold banner with his son's name - Evan Thomas - was unfurled to honour him as one of the 16 dead in April 6's horrific bus crash, he approached the microphone.
He said addressing the crowd on behalf of the Humboldt Broncos' parents was one of the easiest decisions he'd ever made.
Thomas choked back his tears because the Broncos' families wanted to say thank you.
His words embodied the spirit of Humboldt and Saskatchewan: Simple. Respectful. Honest.
Thomas corralled every sentiment and gesture expressed over the last five months to highlight that the absolute best of Canada and the hockey world came from the worst accident imaginable.
"If you left a stick out, wrote a song, made a card, or signed a banner at school; if you created clothing; if you sat and prayed, or if you simply sat with us and cried, we say thank you," Thomas said. "If you gave to the GoFundMe, or a scholarship fund, or if you sewed a quilt, sent a picture or a message, cooked a meal, signed a donor card, or were one of the brave souls helping our boys and Dayna at the accident site, we say thank you."
After all, that desire to say thank you was ultimately the reason why the rest of the hockey world was invited to watch.
There was no shortage of controversy about whether the Broncos and their families would want such an emotional and painful night to be broadcast across the continent. They decided yes in part because they wanted the opportunity to say thank you - to those who raised money, donated time and talent, cared for the Broncos as billets, first responders and fans.
The Humboldt Broncos tragedy gripped the world. But Humboldt didn't owe the world anything in return. It would have been perfectly natural to want to grieve in peace.
Yet, in the Broncos' two darkest moments - during April's vigil and Wednesday night's return to the ice - Humboldt bared its soul for all.
What we saw was not just Humboldt Strong, but Humboldt Proud.
It centred around a hockey game because, well, that is what we do.
"Life is just a place where we spend time between games," Thomas said, quoting Hockey Hall of Fame coach Fred Shero. "Hockey is where we live."
Hockey gave Humboldt something to cheer for again. No one will remember that the Broncos were nipped, 2-1, by the defending SJHL champion Nipawin Hawks.
Instead, no one will be able to forget the sights and sounds from a night that sent shivers down the spine of Canada.
Elgar Petersen Arena roared as Brayden Camrud and Derek Patter stepped onto the ice to write the next chapter for the Broncos, as they admirably shouldered the weight of the 27 others on the bus that fateful Friday afternoon.
We watched teammates pick up and console survivor Tyler Smith, who dropped to his knees when he was overcome with emotion while standing on the goal line during the national anthem.
We saw netminder Dane Dow's mask shimmer with the names of the 16 fallen, including goaltending brethren Parker Tobin. He allowed just two goals as co-SJHL rookie of the year Jacob Wassermann watched on from his wheelchair, still adjusting to his life-changing injury from the accident.
We saw a young boy and girl circle centre ice with Broncos flags wearing the jerseys of Layne Matechuk and Morgan Gobeil, the two crash victims who remain in hospital with traumatic brain injuries.
We heard the inconsolable crying and wiped away the tears as 29 banners were unveiled in a postgame ceremony unlike any other.
The closing rendition of "Amazing Grace" left nary a dry eye in the building. It was a near perfect program to show respect, honour the victims, say thank you and celebrate the players who will carry on the Broncos crest with pride. But it was impossible to put a neat and tidy bow on it all.
For most of the community, this was a chance to move forward, a way to wade into the new normal. But for 16 families, there is no healing those wounds. For them, the first game was a painful night they chose to endure together, to honour their loved ones and respect the future Broncos. It also marked the end of the very public part of the grieving process.
Cameras will roll out of town on Thursday, some to return next for the one-year anniversary of the crash, if at all. Hockey will be played. But Humboldt will never be able to go back to the Humboldt from April 5, when it was just another dot on the prairie landscape.
The truth is, Humboldt has a permanent scar, forever known to most as the place where the unthinkable happened. It's a scar Humboldt didn't want and didn't choose, either.
But it's a scar they were tough enough to wear for all to see, as a beacon amid darkness, because they are Humboldt Strong.
Contact Frank Seravalli on Twitter: @frank_seravalli