Impact set for home opener versus Red Bulls
Saturday afternoon at Montreal's Olympic Stadium, Jesse Marsch will walk a familiar path as he treads his way across the pitch pre-game for yet another Impact home opener.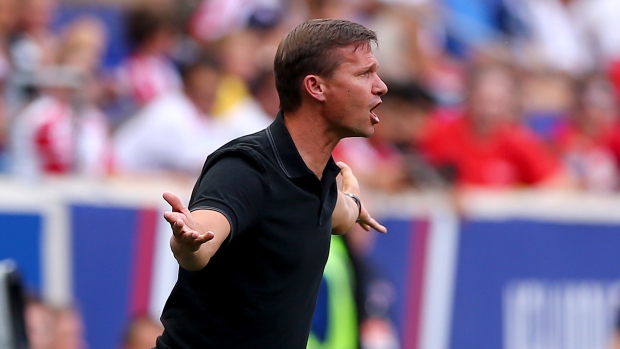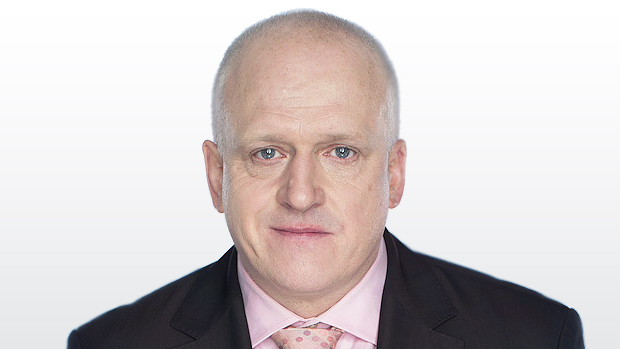 Saturday afternoon at Montreal's Olympic Stadium, Jesse Marsch will walk a familiar path as he treads his way across the pitch pre-game for yet another Impact home opener. Last season's Eastern Conference champions didn't get the defence of their crown off to the best of starts last Sunday at their home opener in Harrison, N.J.
Simply put, the Red Bulls had their bell well and truly rung by a Giovinco-inspired Toronto FC.
The former U.S. national men's team assistant coach will take his place on the Olympic Stadium bench near the goal where the MTL 1642 Impact supporters group will be congregated. Canadian national women's team star Josée Belanger will be lying in wait. Belanger's brief Saturday is a simple one: ring that now infamous Stade Saputo North Star Bell each time the Impact bang one in against Marsch's side. If Saturday afternoon's encounter is anything like what happened at BC Place just under a week ago, Belanger is sure to have tired hands come the 90-minue mark. Marsch, meanwhile, likely dizzy with a headache.
Marsch last strode those sidelines for an Impact home opener back on St. Patrick's Day, 2012. On that most memorable day, as the Impact's original MLS coach, he proudly led his team out onto the pitch in front of a frenzied crowd of 58,912. Such was the regal occasion for a first ever Major League Soccer match in Montreal, Expos founder Charles Bronfman was amongst them.
The Chicago Fire was the Impact's opponent that day, the MLS franchise owned and operated by Bronfman's son-in-law Andrew Hauptman.
Thanks to Davy Arnaud scoring the first ever Impact goal, the home side shared the spoils with their opponent that March day. Dominic Oduro netted the Fire's equalizer late in the match. Sitting alongside Marsch on the Impact bench that day was his erstwhile assistant, Mauro Biello. Knowing what we know now of the ultra-football studious Biello, he likely marked Oduro's card that day.
Last Sunday Oduro was magnificent in leading the Impact attack, alone and very much from the front. He scored Montreal's second goal and assisted on the third, sending a well-threaded through ball placed right into Ignacio Piatti's wheelhouse. To me, it was Oduro's finest 90-minute performance since coming over to the Impact during the 2015 off-season.
Biello will have been delighted that with Oduro getting the chance to lead the line in Didier Drogba's absence. The 30-year old Ghanaian not only made the most of it, he comes with the added value of offering an entirely different option to the Ivorian icon.
With Piatti purring like a panther as he prowled and hugged the left touchline, the very capable Lucas Ontivero assumed duties on the opposite flank. Although the 21-year old Argentine was substituted off at halftime with cramps in the season opener, he will be available for selection to Biello Saturday afternoon.
With Marco Donadel a game-time decision, Biello could well name an unchanged starting eleven — a lineup that delivered the very best road display in the franchise's short MLS history last Sunday against the Whitecaps.
Not only did the Impact look a legitimate threat each time they got a sniff on the Vancouver goal, without the ball and defensively they offered their opponents very little opportunity from open play. Both goals the Impact conceded were from set pieces, but there is little Biello can do in terms of addressing what most often this season will be glaringly obvious. The team has a height disadvantage, one which will only be mitigated when Drogba returns.
You'd have to think Drogba's presence defending set pieces can only be of immense benefit, and will likely have the effect of each Impact player appearing to grow a few inches taller. The players should also take much inspiration for the way the current MLS defender of the year, Laurent Ciman, commands himself as he seems to cover every blade of grass.
Apart from the bright enterprising football, with free-flowing, quick-thinking passages and rapid interchanges at the root and heart of it, another significant indicator we got that this is Biello's team was their much improved discipline. Certainly an Achilles heel throughout the Frank Klopas tenure, any more of what we witnessed in Vancouver and the Impact will be a walk off candidate for the MLS Fair Play Award. This a club that had the most carded players in the entire league last season in Ciman and Donadel.
With Harry Shipp putting in a fine shift for his Impact debut and midfielder Eric Alexander finally getting to showcase his New York Red Bull self to both his teammates and Impact supporters last Sunday, one person who won't be crowing but will feel his body of work is certainly contributing to the common good is technical director Adam Braz.
Not only does Braz handle his media duties — as witnessed during last week's Drogba announcement — with the kind of dexterity he rarely showed in an Impact jersey as a rugged and uncompromising defender, the 34-year-old club executive continues to defy those who questioned his appointment to the role back in December 2014.
Player personnel choices and decisions have largely gone his way since dipping his toes in the front-office ranks. Braz, more than anyone, knows there is still much to learn and do. He will be fully aware he is not there to receive the plaudits, only to be measured by his latest acquisition or trade.
With Biello's coaching staff almost exclusively made up of Quebeckers — plus the fact that Braz and Nick De Santis, the club's vice-president of international relations and technical development, are Montrealers first and foremost — the Impact truly are Montreal's soccer team. Then add into the mix their club captain, Brossard native Patrice Bernier.
Bernier, who disclosed to TSN 690 during the preseason that he plans playing at least one more season at the expiration of his current deal, will be purely focused on a successful return to action after picking up a hamstring injury that renders him unavailable to Biello on Saturday afternoon.
The Impact are expecting a crowd Saturday to top the 30,000 mark, placing them on the podium for one of the three best crowds in the MLS for 2016 home openers. The warm temperatures expected through Saturday combined with the Impact's exhilarating opening-weekend performance means the famous Montreal walk-up crowd is sure to make its presence felt.
Drogba will also make his presence felt at Olympic Stadium, all the way from his Sacramento training base. The 37-year-old striker continues his off-season conditioning with the expectation he will be available for Dallas on March 19.
Well before that though is the matter of facing the Eastern Conference champions and the opportunity for a 2-0 start to the season.
Montreal Impact vs. New York Red Bulls Saturday, March 12 – live on TSN 690. Kick Off 4 p.m. ET/ 1 p.m. PT
@TheSoccerNoel