'Interesting' week has taken a toll on Senators' dressing room
Ottawa veterans Craig Anderson and Mark Borowiecki opened up on Friday about some of the issues that have torpedoed the team's season from within, Ian Mendes writes.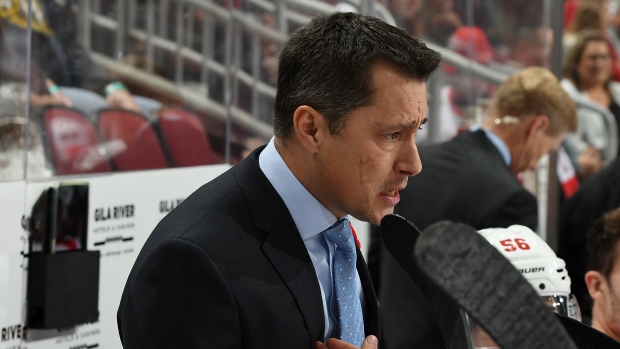 Only two Ottawa Senators players were waiting inside the club's dressing room on Friday morning when the doors opened to the throng of media that had hurriedly assembled at Canadian Tire Centre in the wake of Guy Boucher's sudden firing.
In a way, it was fitting that Craig Anderson and Mark Borowiecki were left to speak with reporters. The remaining Senators veterans are feeling deserted and stranded by a series of seismic moves that sent shockwaves through the fan base.
Within the past week, the club has traded three core players in Matt Duchene, Ryan Dzingel and Mark Stone – a trio that accounted for 41 per cent of the club's goal scoring this season. On Wednesday, it was announced that the club's vision for a new downtown arena at LeBreton Flats was officially dead. And then on Friday – seemingly without warning – the team announced it had parted ways with Boucher as its head coach.
The past seven days have sucked the life out of Ottawa Senators fans and it's also taken its toll inside the dressing room.
"It's been emotionally draining for sure. It's been hard," admitted Borowiecki, who spoke without his trademark smile and upbeat nature. "I was mentally tired after that trade deadline. It's tough to lose close friends and teammates. It's definitely been an interesting [week]."
The players arrived to Canadian Tire Centre for a 10:30 a.m. practice, only to be informed that Boucher had been relieved of his duties and would be replaced by associate coach Marc Crawford on an interim basis.
General manager Pierre Dorion addressed the team before they hit the practice ice, as the players certainly had questions about the timing of this move with only about a month to go in the regular season.
"The question is why and why now?" Anderson wondered aloud about the timing of Boucher's dismissal. "There are 18 games left. Where's everyone's head here going forward?"
In truth, the Senators probably did Boucher a favour by severing ties with him now. It had become abundantly clear within the last six weeks that he had inherited the label of a lame-duck coach whose contract was set to expire at the end of the season.
While the players were certainly surprised by the timing of the announcement, it didn't sound like they necessarily disagreed with the move from a philosophical standpoint. In his first season, Boucher was lauded for his system and structure, which helped propel the Senators to Game 7 of the Eastern Conference Final.
But that same rigidity and firmness became his downfall as the players started to quietly moan about a lack of flexibility from the head coach. On Friday, they were a little more forthcoming about some of the issues that were torpedoing the team from within.
"Video and systems-wise you have to adapt. If something doesn't work, you have to quickly adapt. I thought we had success that [first] year, but over time the system gets exposed and then you have to adapt your system," explained Anderson. "As the years went on, I think we just kind of stuck with that and were stuck in a rut and we never tried to adapt."
For his part Borowiecki felt like Boucher's magic from year one disappeared into thin air over the course of his three years behind the bench.
"Maybe the novelty wore off a little bit. A little less buy-in and it just seemed to kind of snowball," said Borowiecki. "When you're playing a certain way and you're not getting results, I think guys start to question things a little bit, whether it's right or wrong."
For Boucher, this script is eerily similar to his downfall in Tampa Bay, which saw him take a plucky Lightning squad to Game 7 of the Eastern Conference Final in 2011 in his first year behind the bench – only to be fired partway through his third campaign.
When asked about how his system could have precipitated so much success in the first season, Anderson pointed out some external factors that helped galvanize the team.
Anderson's wife Nicholle had a public battle with cancer during the 2016-17 season that seemed to rally the group. Then Clarke MacArthur and Erik Karlsson had dramatic returns from injuries down the stretch, which seemed to breathe new life into the team, regardless of the systems being executed on the ice.
"We had a lot of emotional ties that year where guys did come together a certain way because of what everyone was kind of going through," Anderson said.
This season saw the Senators plummet to the bottom of the league – in both the standings and in virtually every defensive metric. Anderson would routinely face 35 shots or more per night, with a high number of quality scoring chances against him.
"We were status quo all year and we didn't really improve. That's one of the things that is frustrating from a goalie's standpoint. We make the same mistake over and over again and there's no improvement," added Anderson. "We didn't try to change. It was like just trying to put the same square peg into a round hole. We kept trying and trying."
Anderson said that younger players on the team didn't feel comfortable stepping outside the tight restrictions placed on them by Boucher, which seemed to stamp out any of their creativity or ability to freelance.
"You want to try something else and it's a double-edged sword. You want to try it, it might work. But if it doesn't work, you get yelled at for not doing what you're supposed to do," Anderson said. "But when you do what you're supposed to do, it doesn't work. You just go around chasing your tail."
Anderson and Borowiecki are two of only six players who remain from Boucher's first season on the job – joining Cody Ceci, Bobby Ryan, Zack Smith and Ben Harpur. But it seems as though the words spoken by Borowiecki and Anderson would be endorsed by all of the veterans inside the room, who felt like a change was necessary.
"It's a long season and a grind. There needs to be some novelty in that respect that guys are engaged. When things get monotonous, that's when you lose guys a little bit," added Borowiecki. "Unfortunately, in situations like this, the message does get stale and changes get made."