Is Jon Rahm for real?
Spaniard notched his first win on the PGA Tour in dramatic fashion, dropping a 60-foot eagle putt on the final hole of the Farmers Insurance Open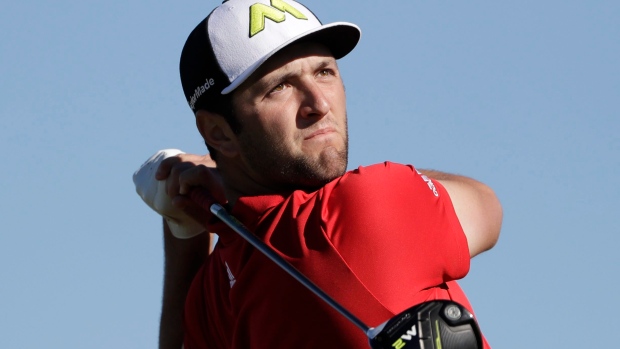 Jon Rahm notched his first win on the PGA Tour in dramatic fashion, dropping a 60-foot eagle putt on the final hole of the Farmers Insurance Open. The Spaniard broke through a logjam of players (at one point there was a 10-way tie for the lead) to earn the title.
In the wake of that victory, observers now wonder just how good Rahm can become. Certainly his resume is strong. As an amateur, he was ranked No. 1 in the world for 60 weeks. In his brief professional career, he finished second at last year's RBC Canadian Open and third at the Quicken Loans. His play was good enough for him to advance from college directly to the PGA Tour, joining the select few – names like Tiger Woods, Phil Mickelson and Jordan Spieth – who took a similar path.
After his win at Torrey Pines, he was given high praise by Phil Mickelson, who said Rahm was already one of the best players in the world, adding that Rahm has beaten him soundly in their games back at their home course in Arizona. (Of course it should be pointed that Rahm's agent is Mickelson's brother, Tim).
The 22-year-old Rahm, who graduated from Arizona State University last year and said he learned English by listening to rap music, has a well-rounded game as indicated by his statistics from his win. He led the tournament in Strokes Gained: Total thanks to long accurate drives and solid putting.
He also has an infectious personality that bubbles over on the course, in the interview room and with fans. His response when asked about his final putt is a good indication of the youthful excitement he exudes.
"Once we got a good aiming spot, I just aimed and hit it," he told reporters after his win. "And once it went in, I truly don't know what happened, honestly. I saw on TV what I did, but I can't believe it went in. It was one of those putts, one of those 'what if it goes in? What if this is to win the golf tournament?' I never thought it was going to be for eagle from 60 feet, especially at Torrey Pines 18th, but the fact that it went in is just incredible. The emotion just overwhelmed and I just expressed it out. But man, that was a satisfying feeling."
It's interesting to note that the last player to eagle the 72nd hole to win the Farmers Insurance Open was Tiger Woods, who did it in 1999.
Can Rahm continue to play this well? Can he become a serious contender for the European Ryder Cup team in two years? The indications are that his game will carry him a long way.
***
Tiger Woods' return to action was pretty flat by most measurements. On the positive side, he looked healthy and fit, never showing any signs of pain in his reconstructed back. His short game was decent if not spectacular, saving him shots on numerous occasions.
But he missed the cut, looking dull and rusty on a course where he's won eight times, including his last major title, the 2008 U.S. Open. His wayward driver was the primary issue, hitting just four or 14 fairways the first round while improving to 10 of 14 on the second day. With the thick rough at Torrey Pines that was a result of the wet winter, he paid the price for a lack of accuracy.
But Woods remained positive, already looking ahead to this week when he'll play in Dubai. Following that, he has a week off, and then he'll play the Genesis Open and the Honda Classic.
He'll need to show some improvement over that stretch if he hopes to have any hopes of contending at the year's first major. However Vegas apparently thinks he has a shot a the year's first major, with odds on him winning at 25 to 1.
Off the course, Woods made news last week off the course with the announcement that he signed a multi-year endorsement deal with TaylorMade. He'll play its driver, woods, irons and wedges but he won't have the company's logo on his clothing or bag.
Last week, Woods carried a TaylorMade M2 driver and three- and five-wood. The company will work to develop an iron for the 14-time major championship, built to his specifications.