Is there another level for Stroman after hitting 200-inning mark again?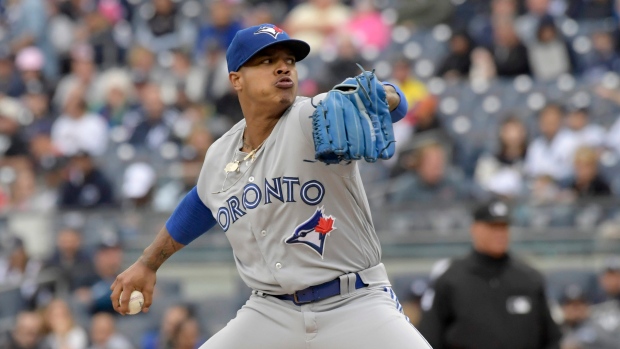 You can count on one hand the positives that can be taken from the last six months of Toronto Blue Jays baseball.
Justin Smoak is one.
Josh Donaldson's second half is another.
A handful of bullpen performances can be argued.
But in a consistently inconsistent season, Marcus Stroman's steadiness has stood out every fifth day.
In an era where pitch counts and innings limits reign supreme, Stroman became just the 11th pitcher in baseball to hit the 200-inning mark Saturday, going four innings in his final start of the season at Yankee Stadium.
"It's big," Jays manager John Gibbons said, adding he lifted Stroman early simply because it's been a long season for the 5-foot-8 righty. "It used to be 300, now it's 200. Eventually, it'll probably be 100, I don't know. It kind of puts you in the elite level because that's what the good ones do, they chalk up innings for you because they stay in the game because they're competitive. I think everyone wants to get to that level and that's his second year in a row doing it. I would expect he'd do it for a few straight years, he's got that ability."
But not only has Stroman been taking the ball all season long, he's pitched to a career year when doing so.
Stroman hasn't just been eating innings. He's provided 201 quality innings, finishing the season with a career-best 3.09 ERA and 13 wins in 33 starts.
"It's been a huge point of emphasis of mine," Stroman said of the 200-inning mark. "I know there was big questions from critics, analysts saying I could never be a durable guy because of my height so going out there and pitching 200 innings each and every year is kind of the goal of mine and to be able to get to that is extremely gratifying."
One year after his peripherals suggested he was a tad unlucky, Stroman was handed some good fortune by the baseball gods in 2017, out-pitching his 3.85 FIP (Fielding Independent Pitching) coming into his final start of the season.
After winning his arbitration case in the first year he was eligible — Stroman was handed $3.4 million, while the Blue Jays argued he was worth $3.1 — the 26-year-old righty will be due for another raise this winter.
Stroman became a millionaire after a 2016 season that saw him hit the 200-inning mark for the first time, but his 9-10 record and 4.37 ERA left something to be desired.
Not this time around.
The numbers are completely in his favour, and it's going to cost the Blue Jays some coin because of it.
But Stroman is worth whatever he'll make in 2018 — his salary should land in the $5 million range — and then some.
Stroman has gone seven or more innings on 11 occasions this season, holding opponents to one earned run or less in 14 of 33 starts.
"The kid's been through a lot," Gibbons said. "He got his 200 innings in and it's pretty amazing he's been going a few months with a tender finger, too, with that blister issue. He did a hell of a job."
While there are many ways to define what an ace is, Stroman has undoubtedly been the Jays' No. 1 this season, and when you're dreaming up ways this team gets back into contention next summer, it begins and ends with him and a healthy Aaron Sanchez atop the rotation.
Is there another level for Stroman?
The answer to that question could hinge on the development of a changeup that he started using more in the second half of the season.
"I think one day he was like, 'I made a little adjustment on my changeup and I want to try it out,' and it worked well from that point on so we just kept using it," Jays catcher Russell Martin explained.
"It's a pitch that can keep hitters off balance a little bit and he doesn't have to be as precise with his fastball. It gives a little bit of room for error sometimes. And he's got the devastating slider and the plus sinker that he has. You mix a really good third pitch in there and it's going to be good for him."
If the change turns into a plus pitch, Stroman would have a third pitch to complement his worm-burning sinker/slider combo that has him leading the league in double play balls this season with 34.
A deeper arsenal is something Stroman believes is a certainty.
"My changeup's going to be a weapon next year, for sure," Stroman said. "I'm starting to get a really good feel for it. I'm starting to be able to kill 10 to 12 to 14 miles per hour off the ball speed so I'm seeing how it's playing now and it's definitely going to be a weapon next year and I'm excited for it.
"I think that will bring me to the next level if I can develop that plus changeup, for sure."
There's no questioning Stroman's competitive fire, and he believes his fourth big league season was just the beginning.
"My goal is to go 220 next year," Stroman said. "I honestly feel like I'm just getting started. I feel like I'm only going to get better from this point on and I'm truly starting to learn about my craft and I expect a better year out of myself next year."​