Isles' Snow gives Capuano vote of confidence
New York general manager not about to fire coach despite team sitting last in the Eastern Conference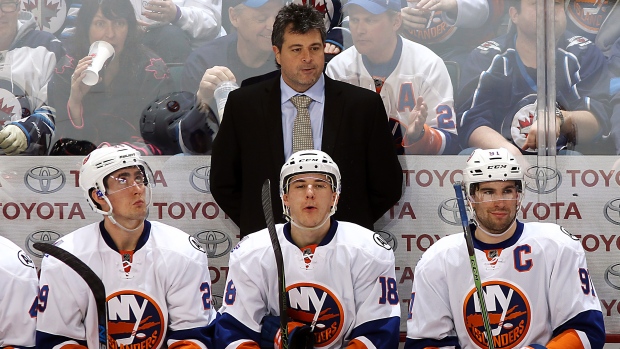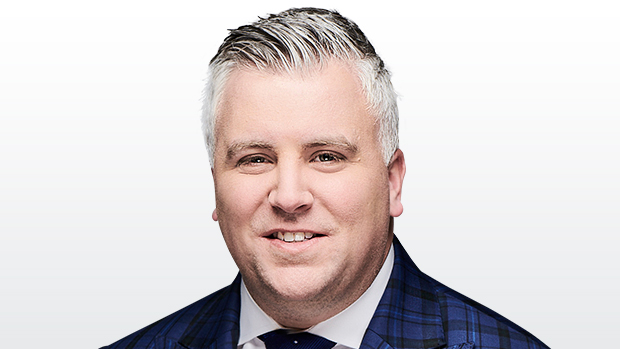 TORONTO — Like you, Garth Snow has heard the derisive chants to fire coach Jack Capuano raining down inside Barclays Center this month.
The New York Islanders' general manager isn't flinching.
"Well, I think it happens everywhere," Snow said Tuesday. "When you go to work, aren't they saying, 'Fire Seravalli'?"
(Twitter can be evil, but no, that is normally not a nightly interaction.)
"Hey, it's part of the business," Snow said. "We're in it to win. And when the team isn't successful, I think any team in the league that happens."
When asked pointedly whether that meant that Capuano, the fourth longest-tenured coach in the NHL, would continue to have a long leash, Snow did not give an affirmative but his answer seemed to provide a solid vote of confidence.
"Jack is an excellent coach," Snow said. "We have good players. I love our coaching staff. In fact, last time I checked, he coached in the World Cup and there were some pretty good coaching staffs."
Undoubtedly, the seat is growing warmer daily for both Capuano and Snow.
The Islanders (5-8-3) are dead last in the 16-team Eastern Conference. They can ill afford to take another step backwards, not after winning a Stanley Cup playoff round last spring for the first time since 1993.
A step back is what the Islanders took under Capuano in 2013-14 after qualifying for the playoffs for the first time in five years in 2013. That is what they appear to be taking through the first 20 per cent of this season.
It is still early, but the Islanders will need to close at a clip in the neighbourhood of 37-23-6 to hit the 93-point threshold that has historically been the minimum to qualify for the playoffs in the East. Last year, 96 points was the minimum.
Capuano is 215-183-59 (.535 points percentage) since being hired on Nov. 15, 2010. He has been sharply criticized for his line combinations, which most recently included captain John Tavares on a line with Cal Clutterbuck and Josh Bailey. Clutterbuck has topped 30 points just once in his 10-year NHL career; Bailey has netted over 40 once as well.
"Where I have to be better, I have not found the combinations to give us some offence with this hockey club," Capuano told reporters on Monday. "That's on me."
The Islanders have been outscored, 27-13, over their last seven games (1-3-3). They've also blown leads, including a 2-0 edge in the third period last week to a Florida Panthers team which has also scuffled at times.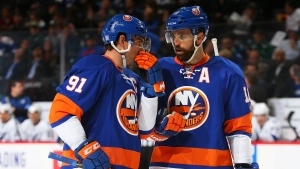 While Capuano has taken the brunt of criticism from fans, vitriol has also been directed at Snow, who is the fifth longest-tenured GM in the NHL. After the team's most successful season in 23 years, Snow let homegrown unrestricted free agent forwards Kyle Okposo and Frans Nielsen walk on July 1. Okposo not only had significant chemistry with Tavares, but would be tied for the team lead in goals at this point.
Snow replaced them with older forwards Andrew Ladd and Jason Chimera, who have not met expectations so far.
In addition, the Islanders' goaltenders have been outspoken about a three-man rotation that has limited practice time. Snow responded by sending a memo to all 29 other GMs to let them know Halak was available to be traded.
Defenceman Travis Harmonic, originally slated to miss three-to-four weeks, returned after missing just three games with a broken thumb. He has understandably not been himself.
It has all made for a trying dynamic in the still-young season.
"I see some guys just lacking in confidence," Snow said. "I have a lot of confidence in our players. We have a good team. I have a lot of confidence in our coaching staff. We're coming off two 100-point seasons. I think that speaks for itself for how good of a staff we have. It's an 82-game marathon, not a sprint. We'll keep trying to get better every day."
Snow seemingly won't be swayed by the doubters, no matter how loud the chants grow.
"It's a passionate fan base. I get it," Snow said. "They want results. We want results. We'll do our best to give it to them."
Contact Frank Seravalli on Twitter: @frank_seravalli