Jansen's emergence headlines Blue Jays' suddenly-stocked backstop pipeline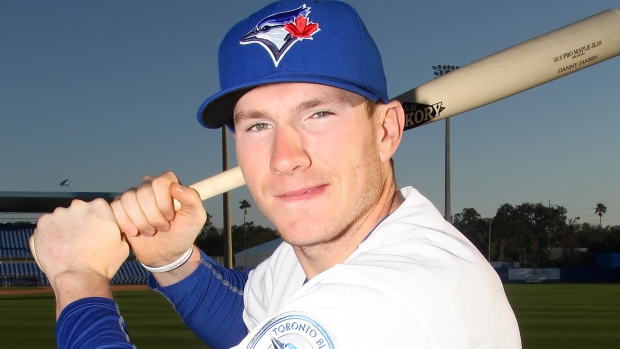 One player you're not going to see on the Toronto Blue Jays' roster this September is Danny Jansen.
But he can see you, and that's been one of the keys to the 22-year-old catcher's breakout season.
Sporting glasses for the first time in his life, improved vision has been a big part of Jansen's emergence in a whirlwind year that has seen him promoted from High-A Dunedin to Double-A New Hampshire in May, and then again to Triple-A Buffalo in August.
"It's been a crazy ride and I'm just trying to ride the wave as long as possible," Jansen said with a grin as the Bisons' season came to a close.
All told, Jansen slashed an eye-popping .323/.400/.484 with 10 home runs and 48 RBI in 424 plate appearances, while, most importantly, showing off MLB-calibre defensive skills behind the plate.
Being diagnosed with astigmatism and getting his eyes fixed wasn't the only change for Jansen.
For the first time in his five-year minor-league career, Jansen has been healthy, which was his only goal heading into the season.
"I've had a rough go at staying healthy," said Jansen, who, along with Vladimir Guerrero Jr. and Bo Bichette, was named to Baseball America's minor league all-star team Friday. "I haven't played more than 50-something games, so I came in from the off-season and said, 'I just want to be healthy and play 100 games, the whole year and stay on the field.' "
In August 2014, Jansen stepped awkwardly on home plate and, in his words, "kind of blew out my knee a little bit."
The end result was a torn meniscus and a partially torn ACL in his left knee, an injury that quickly ended his season and caused him to miss the start of 2015, as well.
For the past two seasons, it's been hand injuries.
Jansen first broke a bone in his left hand when he was hit by a backswing, and then last year he broke his hamate bone in the same hand while swinging a bat himself.
All of that had limited the 2013 16th-round pick to just 435 plate appearances over two full seasons, and left him as a bit of an afterthought on the organization's catching depth chart.
Afterthought no more.
Jansen's 2017 season has made him a big part of the plans, potentially as soon as next spring.
With Russell Martin signed for two more seasons at a total of $40 million, Jansen could be ticketed for Triple-A to start 2018.
Even with a scorching spring that could be the case, simply because the backup catcher job doesn't offer a whole lot of at-bats and room for further development.
"He's certainly in the conversation," Blue Jays GM Ross Atkins said. "For someone with his track record, you're always weighing what that means in terms of reps. He still has development and there's still a learning curve of what it means to be an everyday major league catcher. If you make him a backup, it's harder for him to realize that because of the reps."
Jansen's success this season has earned him the catcher-of-the-future title, but there are still aspects that need work.
Other than staying healthy, Jansen's focus this year has been on the nuances of the position, something Martin has mastered over the years at the major league level.
"My biggest priority this year was to come in and really try to learn this chess game behind the plate," Jansen said. "The game calling, reading swings, that's my No. 1 priority, and I'm still learning and getting better. The only way you learn is by making mistakes."
Despite only having him for 21 games, Buffalo Bisons manager Bobby Meacham was impressed with Jansen's well-rounded skillset, but cautioned there's still development needed.
"I learned a long time ago when I first came up and Yogi Berra was raving about me, he said, 'Yeah, but remember Joe Charboneau?' " Meacham smiled. "Only a couple people remember Joe Charboneau, right?
"As you start zooming up the ladder, you don't think about things. But there are limitations. He's got to work on his arm strength. He's got to work on his footwork, to transfer as he's making his throws. He's got to consistently block well. I've seen him block great and I've seen him block OK. The tendency is to look at all the bright spots when things are going great, but also when stuff starts going bad — which it will, I mean, I don't care who you are — how do you deal with that? That's what I always brace for."
More seasoning in Triple-A isn't going to come as a disappointment for Jansen, especially after his quick rise through the system this summer.
In just 78 plate appearances with the Bisons, Jansen posted a .975 OPS and walked more than he struck out with an 11:7 ratio.
"You can't play GM and all that stuff, you've just got to play," Jansen said. "Now that I'm up here on the cusp of the big leagues, it really proves that point even more. You've just got to play and let everything else take care of itself."
With 22-year-old Reese McGuire, acquired in the Francisco Liriano trade with the Pittsburgh Pirates last year, finishing out his season with a .278/.366/.496 slash line and six homers at Double-A — noted for his defensive chops, McGuire had hit just four home runs in four previous minor league seasons — and Max Pentecost showing the organization encouraging signs that he can maybe stay healthy and maybe stay behind the plate, Atkins is suddenly very pleased with the catching depth climbing the ladder.
All three need to be added to the 40-man roster this off-season or they'll have to be exposed in the Rule 5 Draft.
"Having three young guys, this game – we can't say it enough – is about depth," Atkins said. "The fact that we have three is a good problem to have and tough choices ahead of us."