Jays could boast best rotation in AL East if things break right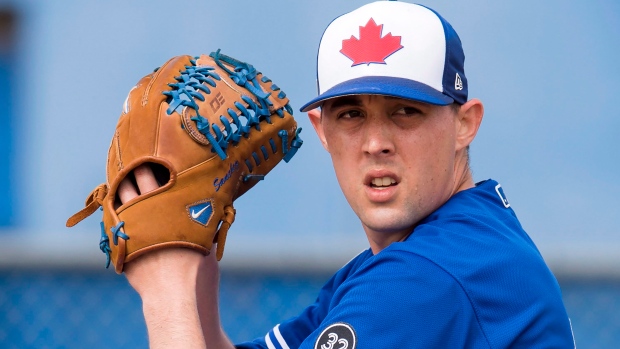 DUNEDIN, Fla. — Without above average starting pitching, contending isn't an option.
The Blue Jays' past two seasons are evidence.
In 2016, the rotation stayed healthy using just seven starters all season, and even as the offence sagged late in the season, they pitched their way to 89 wins and another appearance in the ALCS.
Last year, it all fell apart.
Aaron Sanchez threw a measly 36 innings, Marco Estrada had an 8.87 ERA for a 10-start stretch, and J.A. Happ and Francisco Liriano alternated between hurt and not very good.
It helps explain 13 less wins.
Since the lineup isn't going to be what it was in 2015 — a deep, vaunted attack that can mask pitching issues on occasion — the onus is on the pitching staff.
"You look at our rotation now and it's basically what 2016 was, and we were one of the best rotations," said Estrada, whose ERA jumped from 3.48 in 2016 to 4.98 last season. "If we all stay healthy and, I guess, do what we're supposed to do, I like our chances."
The Jays have to find a way to score more runs this season in order to compete, but the rotation has to be the backbone from day one.
"Good pitching trumps good hitting, right?" Estrada said. "We're hoping we're on every day and we trump lineups like that, which we can. We've done it before, we've shown that we can. I like where we're at. Now, we have two lefties in our rotation, so you split those guys up with the sinker-ballers and then you've got the guy who throws really slow."
Asked where he thinks his rotation sits in the AL East pecking order, manager John Gibbons wasn't ready to declare his the on-paper winner, but he thinks they're close.
"You look back on the last three years, a couple of those years we were really, really good, and then the injury bug got us in the rotation last year and, I think, that hurt, but I'd stack us up with anybody," Gibbons said.
Overall, the Blue Jays' rotation had an ERA of 4.57 last season to sit seventh in the AL. Not bad considering injuries forced them to use 14 different starters. If that revolving door appears again, there's no way the Jays are in the conversation, and pitching coach Pete Walker only needed one word to describe what the key is for the rotation this season: Health.
If they have that, he's more than confident in the arms.
"They have the stuff to win in the American League East, there's no question," Walker said. "Good pitching trumps good hitting, so we've got guys who can go out there and do the job and if they stay healthy and perform up to their abilities, I think, we should be in good shape."
The starting fives each of the three contenders in the AL East are currently expected to trot out to the mound are eerily similar.
There's a strong top two (with a health question mark) in each city, a solid middle rotation group made up of proven veteran arms, and capable fifth starters.
Here's how each of the three solid rotations stack up in the American League East — sorry, Tampa Bay and Baltimore, but you're not in the conversation — and look at the glass half-full and glass half-empty scenarios.

Toronto Blue Jays
Total Wins Above Replacement last season: 12.1 WAR
RHP/LHP
PITCHER
ERA
WAR
RHP

Marcus Stroman

3.09
3.4
RHP

Aaron Sanchez

4.25
0.0
LHP

J.A. Happ

3.53
2.9
RHP

Marco Estrada

4.98
2.6
LHP

Jaime Garcia

4.41
2.1
RHP

Joe Biagini

*
5.73
1.1
*top depth option
Cost in 2018: $43,735,000

Why they might be the best rotation in the division
This group compiled the least WAR last season of the three, but that is mostly derived from Sanchez's goose egg.
He's clearly the key.
A healthy, 200-inning Sanchez and career-norm results from the others would make it one of the better rotations in not just the division but all of baseball.
The upside may not wow you after the top two, but it's solid and deep.

Why they might not be
Again, it's all about Sanchez.
If he either continues to deal with blister issues or can't quite get back to what he was in 2016, the rotation might be just good rather than great.
Estrada eased concerns over his ugly two-month stretch with a solid finish, but he's been out-pitching the advanced metrics for years … until 2017.

Boston Red Sox
Total Wins Above Replacement last season: 15.5 WAR
RHP/LHP
PITCHER
ERA
WAR
LHP

Chris Sale

2.90
7.7
LHP

David Price

3.82
1.1
RHP

Rick Porcello

4.65
2.0
LHP

Drew Pomeranz

3.32
3.1
LHP

Eduardo Rodriguez

4.22
2.1
RHP

Steven Wright

*
8.25
-0.5
Cost in 2018: $75,600,000

Why they might be the best rotation in the division
Luis Severino is well on his way to the distinction, but Sale is the only true ace in this conversation.
That sets them apart.
Traded to Boston as damaged goods in 2016, Pomeranz proved his breakout was real, striking out more than a batter per inning and registering a 3.32 ERA in a career high 173.2 innings.
Price is the key here, and not just because he's making $30 million this season.
If he's over his left elbow problems and back to his old self — Price pitched out of the bullpen in the playoffs, so he's currently healthy — the Sox could boast co-aces.

Why they might not be
Like Sanchez, the health of their No. 2 starter could make or break the season.
Price was able to avoid the knife last year, but he could be one pitch away from a DL stint.
Rodriguez has sneaky upside, but he, along with Wright, are unlikely to be ready for opening day due to knee injuries, so the depth is severely depleted already.

New York Yankees
Total Wins Above Replacement last season: 13.5 WAR
| RHP/LHP | PITCHER | ERA | WAR |
| --- | --- | --- | --- |
| RHP | Luis Severino | 2.98 | 5.7 |
| RHP | Masahiro Tanaka | 4.74 | 2.7 |
| RHP | Sonny Gray | 3.72 | 0.6 |
| LHP | CC Sabathia | 3.69 | 1.9 |
| LHP | Jordan Montgomery | 3.88 | 2.7 |
| RHP | Luis Cessa* | 5.82 | -0.1 |
Cost in 2018: $39,554,025

Why they might be the best rotation in the division
Severino emerged to strike out 230 hitters in 193.1 innings, showing elite stuff and getting elite results (2.98 ERA).
Tanaka continues the trend of the No. 2 starter having health questions — he was diagnosed with a partial UCL tear way back in 2014 but hasn't needed Tommy John — but it's a strong 1-2 punch.
After checking in on a number of high-profile free-agent and trade targets this winter, expect another big-time arm to be added to this mix, which has to be factored in.

Why they might not be
Severino has only done it for one year.
All of the metics point to it being sustainable, but baseball is baseball and you just never know.
In addition to the Tanaka elbow issue, Gray has a spotty track record of health over the past two seasons, including shoulder problems on occasion.