Jays fans offer up heartfelt goodbye for Bautista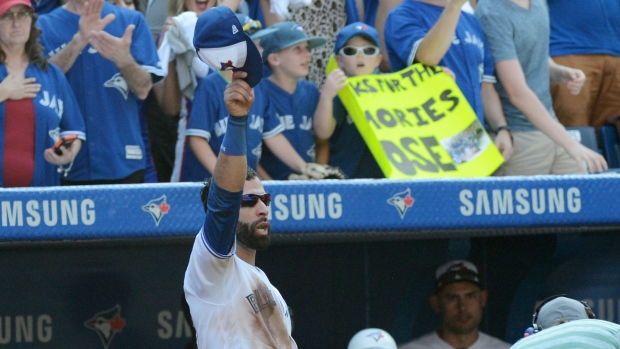 Game No. 156 marked the end of baseball in Toronto for another year.
But on Sunday, it was Game No. 1,229 that mattered because it was likely Jose Bautista's last in front of the Rogers Centre faithful.
With any hope of a third straight post-season appearance for the Blue Jays forgotten long ago, this day was about Bautista and the 10 seasons and over 1,200 games of memories.
It began with Bautista ally Marcus Stroman going through his warmup routine in a throwback black Bautista No. 19 jersey, a sign of things to come on what was clearly the 36-year-old veteran's spotlight from start to finish.
Then when the Blue Jays took the field in the top of the first inning, Bautista ran out solo to a standing ovation with his teammates taking a moment to soak in it from the dugout.
Bautista, who has declined most of the many interview requests this week, saying he does not want to reflect, seemed to finally relish the awkward spotlight of his eventual parting, slapping his glove in appreciation.
The unofficial officialness of it all has been a delicate situation.
Bautista isn't retiring, leaving the Blue Jays front office and manager John Gibbons to toe the line between not putting a nail in the coffin of the longtime franchise icon's career in Toronto and saying nice things about what's he's meant around here since arriving in August of 2008 as a spare part.
Even GM Ross Atkins has been careful to say all the right things, even mentioning the possibility of a return once Bautista's $17-million mutual option is declined and that contract is severed with a $500,000 buyout.
For a team that is desperate to start getting younger and more athletic, not to mention more productive in the corner outfield spots, it's impossible to envision that taking place, even if Bautista were to play for free in 2018.
"Who knows what happens next year, but I know one thing: He's been a great player for this organization and the face of the franchise for a number of years and has done a lot of great things for me on a personal level," Gibbons said.
"He's Mr. Consistency. He's been one of the top home run hitters in all of baseball and he did it here. This is really where he got his first opportunity and made his name."
On this day, however, Bautista's average, one that's been hovering around the .200 mark this month, his missing power, and his increasing swing and miss were all forgotten.
This day, Sept. 24, 2017, was about what Bautista did for a decade.
Statistically, there's 287 home runs in a Blue Jays uniform to prove his worth.
Anecdotally, Bautista gave swagger to a sagging franchise and eventually helped them break a playoff drought that lasted for over two decades.
And the drama. Oh, the drama.
The bat flip in the 2015 division series to tear the heart out of the Texas Rangers is not only one of the most memorable moments in Blue Jays history, it has to be considered one of the most memorable nights in Canadian sports, non-hockey category, for sure.
It leads Gibbons' list of unforgettable moments.
"It's definitely right at the top," Gibbons said. "It was an elimination game against Texas and we were down, a couple innings left, and he gets the big hit … It was a huge moment in Blue Jays history and, really, all of baseball."
The staredowns with relievers.
The showdowns with umpires.
The unmistakable beard.
The attitude.
It was all part of the persona that Bautista cultivated in a calculated way, and endeared him to the fans in Toronto.
Where Bautista wasn't endearing, he was hated.
But not here.
In his first at-bat, with fans still standing after welcoming him to the plate, Bautista wasted no time, slicing a first pitch fastball from Yanks lefty Jaime Garcia to right field to break an 0-for-18 slump that had sunk his average to .201.
Signs were numerous and wide ranging.
From "we're not ready for you to leave" to "see you on the Level of Excellence," those who have witnessed Bautista's rise from No Name to The Name were out to say thank you.
A four-pitch walk followed in Bautista's second trip to batter's box, the spot from where he crushed a total of 97 home runs, including the only 50-homer season in franchise history, across the 2010-11 seasons, the peak of his dominance.
The weather on Sunday was as hot as Bautista's bat during his heyday, providing a mid-summer-like backdrop for Bautista's Rogers Centre swansong.
Temperates peaked around the time Bautista came to the plate with the bases loaded in the bottom of the fourth and fans clamouring for one last signature moment.
Instead of torquing one into the left field seats, as he's done so many times, Bautista calmly punched an RBI single into right field to reach base for the third straight time and continue to put together one of his most productive games in a long time.
As chants of "Jose, Jose, Jose" rang throughout Rogers Centre in the bottom of the sixth with 47,394 as witnesses, Bautista, who set a new franchise record for strikeouts in a season when he K'd for the 160th time earlier in the homestand, flew out to right field.
Bautista popped out to the catcher in foul ground in his final at-bat in the eighth to finish the day 2-for-4, but he was given one last moment to soak it in when he was pulled from the game with one out in the ninth inning, leaving to another standing ovation as he jogged off the field and down the dugout steps.
One final time.​