Jays' Rowley jumps from active duty to the majors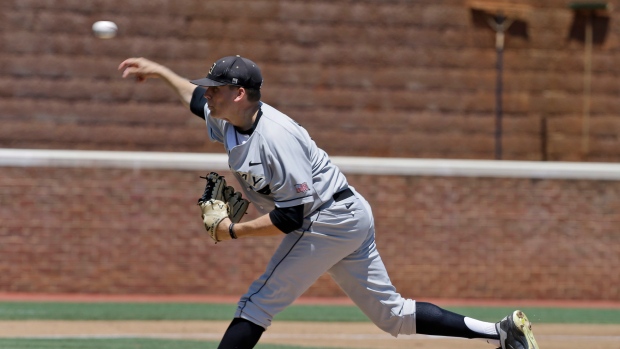 Active duty in the U.S. Army took Chris Rowley to Bulgaria as a part of Operation Atlantic Resolve.
Now, on the verge of becoming the first Army West Point alum to appear in the major leagues, Rowley is a part of Operation Rotation Problem Solve.
When the 26-year-old takes the mound Saturday for the Blue Jays against the Pittsburgh Pirates, Rowley will be the 12th different starter manager John Gibbons has used this season.
That comes on the heels of an 89-win 2016 season that featured just seven different Blue Jays starters.
Many things have gone wrong for the Jays in 2017, but the rotation and its collective 4.67 ERA has been by far the biggest problem.
From Casey Lawrence to Mat Latos to Mike Bolsinger to Cesar Valdez to Nick Tepesch and just about everywhere in between, when the Jays have needed to dig into its organizational depth for a starter, the results haven't been pretty.
Rowley, who holds a 2.39 ERA in six starts at Triple-A Buffalo this season, is the latest, called into Bisons manager Bobby Meacham's office Thursday night to receive the good news.
In addition to the news he'd made the majors, the undrafted right-hander will also be the first Black Knights player to do so.
"It's something I'm trying to digest a little bit right now," said the Georgia native, who was deployed for nearly 30 months of active duty in 2014 and 2015. "It's something I don't think I understand the magnitude of. It's something I'm trying to appreciate. At the same time, I have a job to do and I have to go out and do that."
After serving as a First Lieutenant for Bravo Company of the 2-7 Infantry, 1st Brigade, 3rd Infantry Division, it took Rowley "six or seven months" to get his release from active duty.
These days, he's still in the Individual Ready Reserve.
"I had to brief my battalion and my brigade commander on the situation, which they already knew about it because it was part of the plan ever since I signed," Rowley said Friday, about three hours after landing in Toronto for the first time. "Those are the two that I had to brief in person and then once I got their blessing, that carried a little bit more weight once it went up the ladder."
Asked what he knew about Rowley, who spent time in big-league camp during spring training, Gibbons didn't know much about the repertoire, but he definitely knew the patriotic back story.
"He's an outstanding young American, I can tell you that," Gibbons said.
From the stress of keeping the peace to dealing with major league hitters, Rowley isn't sure what to expect.
"I would say they're probably different," Rowley said. "Maybe comparable in terms of stress level, but it's definitely going to be a different type of stress."
Rowley isn't going to overpower anyone on the mound.
With a sinker, slider, cutter and changeup in his arsenal, he's styled himself after an all-time great he grew up watching back home in the Peach State.
"I like to mix," Rowley said. "I'm not somebody that's really going to blow people away — I don't throw very hard. I've designed my game after Greg Maddux, who I think is one of the greatest pitchers of all time. I'm from Georgia and grew up watching him all throughout my childhood."
For each and every spot starter the Blue Jays call upon, it's an opportunity to make a lasting impression.
Considering the Jays' severe lack of depth in the upper minors, one good start can become two, two can become three, and careers can be born.
"This is what we play for," said Rowley, who'll be wearing the initials of his late best friend on his hat. "You don't sign up to play pro baseball to not make it. I try to live in that moment and it's my job to go out there and compete (Saturday) and see where the cards fall.
"To some extent, every person when they get called up, it's a tryout. I think throughout your career, every outing's a tryout."