Jays trying to figure out how Hernandez fits into plans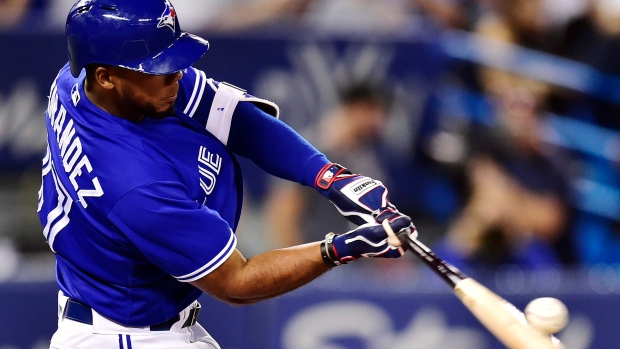 Not even yet a month into his Toronto tenure, and we're all desperately trying to figure out what Teoscar Hernandez is.
Truthfully, not even the Blue Jays fully understand what the wiry, powerful 6-foot-2, 180-pounder is capable of down the road.
Asked if he felt Hernandez was ready to be an everyday player next year, manager John Gibbons admits he has seen signs but wasn't ready to commit.
"I'll tell you what, I know I like what I see," Gibbons said. "He's got some big time power. He's got a short, compact stroke. He can hit a ball as far as anybody. We'll see. He's doing a nice job and showing everybody in the organization he can do a lot of things."
A couple weeks away from this 25th birthday, Hernandez has been showing off that power, crushing five home runs in his past five games, including a pair Tuesday night in Boston.
One of them came off Cy Young candidate Chris Sale, and Hernandez's seven homers this month are the most ever hit by a Blue Jays rookie in September.
Now 22 games and 78 plate appearances into an important audition for a starting outfield job heading into spring training, we're starting to see some of the strengths and weaknesses attached to Hernandez's game.
There are two reasons the Blue Jays were able to extract him from the Houston Astros organization in exchange for a spare part and a free-agent-to-be in Francisco Liriano.
One is that the Astros are overflowing with young outfielders. The other is that Hernandez has never been a premium prospect, and clearly isn't perfect.
The power is legit, evidenced by this recent surge as well as a .454 career slugging percentage in the minors and 25 total home runs this year alone.
There's also some speed, as 167 stolen bases in seven minor-league seasons will attest to.
His success rate in the minors on steals was 75 per cent, but he's been caught all three times he's tried to swipe a base in the majors, and he may never be a huge threat in that regard.
The pop and overall athleticism, however, are welcomed ingredients to a potential 2018 Jays lineup, especially as the power in Troy Tulowitzki and Russell Martin's bats is starting to wane.
But there are red flags in the statistical profile.
Hernandez has struck out in 33.1 per cent of his at-bats this month, while walking just 5.1 per cent of the time.
That's 26 strikeouts and only four free passes.
Those numbers are completely fine when you're slugging .644 with a .952 OPS, but expecting Hernandez to keep up that sort of prodigious power pace isn't even close to realistic.
If you include his 41-game stint with the Astros last season, Hernandez has struck out in 28.4 per cent of his plate appearances, offsetting that figure by producing an impressive .266 isolated power mark.
It's clear that when Hernandez gets his pitch and connects he can do a whole lot of damage.
New York Yankees starter Sonny Gray found that out when Hernandez pounded a ball that left his bat at 111.4 mph and travelled 458 feet to centre field at Rogers Centre on Saturday.
But there are swing-and-miss and contact issues lingering that Hernandez will have to clean up in order to max out and become a reliable everyday outfielder on a contender, rather than a role player capable of a handful of hot streaks.
The off-season strategy to fix the corner outfield production will tell the story of how confident the Blue Jays front office is in the former happening quickly.
Either way, the trade deadline deal engineered by GM Ross Atkins is looking like one that's added a useful piece to the outfield mix for 2018 and beyond.