Jets fans getting excited about Connor, Roslovic
If Winnipeg Jets forwards Kyle Connor and Jack Roslovic take another developmental step forward in 2018-19, the Jets are going to be flush with young talent going forward, Travis Yost writes.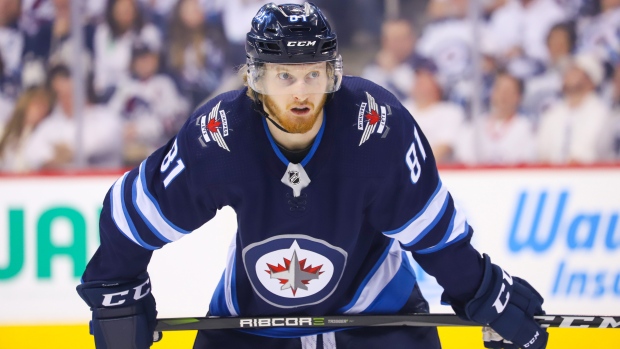 The Winnipeg Jets finished with the NHL's second-best record last year, and followed up that regular season run with a Western Conference Final appearance. Naturally, expectations are sky-high heading into 2018-19.
The biggest victory for the Winnipeg front office? They were able to preserve almost all of last year's core – the same core that turned Winnipeg into an indomitable force one season ago. The only notable casualty to the active roster was Paul Stastny – a trade deadline acquisition that added tremendous depth to their forward ranks. Winnipeg had hoped to re-sign Stastny, but he moved south to Las Vegas in the off-season.
Winnipeg was quiet in terms of summer off-season additions, but that was mostly expected. A number of soon-to-be expiring skaters – headlined by star wingers Blake Wheeler and Patrik Laine, and defenceman Jacob Trouba – are expected to eat significantly into the 2019-20 salary cap if they are retained. And, of course, it's worth mentioning that defenceman Josh Morrissey is in immediate need of a new contract.
So the Jets are largely just trying to run it back next year. But that doesn't mean they can't take another step forward.
One of the biggest reasons for excitement in Winnipeg this year concerns a pair of 21-year olds forwards in Kyle Connor and Jack Roslovic (who, ironically, were both selected in the first round of the 2015 NHL Entry Draft). Connor became a household name during his rookie season, amassing 57 points in 76 games and finishing fourth in the Calder Trophy race. Roslovic was called up mid-season after averaging over a point-per-game for the AHL's Manitoba Moose, and amassed 14 points in 31 games with the big league club.
After their respective rookie years, it would be very reasonable to conclude Connor is further along in his development than Roslovic. But one thing I have found quite interesting is that Roslovic – albeit in limited minutes – compares reasonably well after their rookie campaigns.
The below graph shows how Connor and Roslovic graded out against their forward peers around the league during the 2017-18 season and, of course, how they measured against one another. Here, the 100th percentile would indicate no forward around the league was better by way of that statistical measure; 0th percentile would indicate the opposite.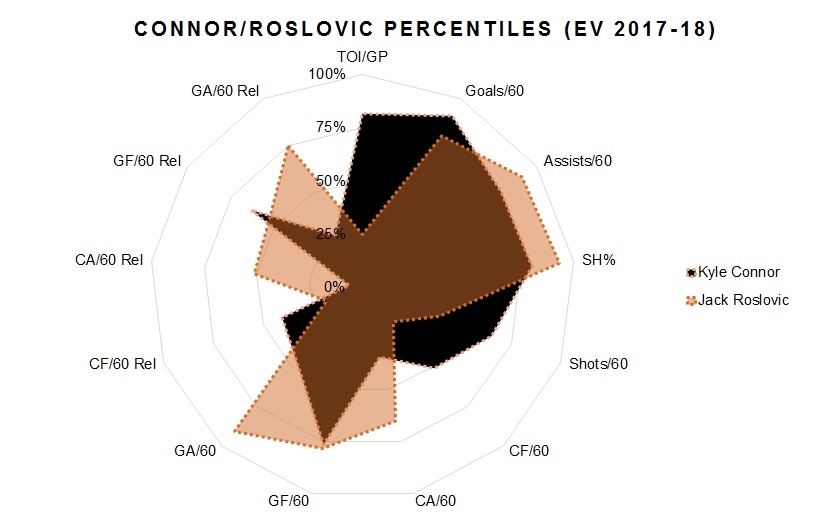 Connor, who played primarily with Mark Scheifele and Blake Wheeler, immediately evolved into a terrifying individual scorer. Surely there are benefits to playing with two incredibly gifted playmakers but Connor never looked out of his comfort zone in those top-six minutes. Obviously, Connor's highest grades come on the individual scoring front – on a rate basis, his goals per-60 minutes and assists per-60 minutes were easily first-line calibre, and his individual shot generation rates were just about there. On the other hand, it is noteworthy to see that Winnipeg at the team level didn't get decisive shot or goal advantages with him on the ice. Some of this is because the Jets' depth last year was so strong, but Winnipeg was more than three points better in terms of possession and two points better in terms of goals when Connor's line was off the ice.
That brings us to the other 21-year old in Roslovic. He tended to play further down the lineup against a bit weaker competition, his most common linemates including Bryan Little and Mathieu Perreault. But on a rate basis, he was just as reliable a scorer. In fact, Roslovic was the highest rate scorer on the entire Jets roster, amassing 2.3 points per-60 minutes (Connor was second at 2.2). And although the individual goal-scoring – and usage, more generally – wasn't there for Roslovic like it was for Connor, it's interesting to see that Winnipeg as a team did tend to get better results with him on the ice. The Jets saw 61 per cent of the goals with Roslovic on the ice, also the highest number for any qualified Jets skater. Again, context matters here – Roslovic was insulated quite a bit more than Connor and didn't carry nearly the same expectations by season's end. But that shouldn't minimize his rookie debut, either.
Out of curiosity, I wanted to see which players around the league Connor and Roslovic most likened to during their rookie season. Similarity Scores show a number of talented comparables; for Connor, it's almost exclusively first-liners, and for Roslovic, it's a strong mix of top-six attackers. (A 1.0 measure here indicates a relationship where two players were perfectly comparable; a -1.0 indicate a relationship where two players were polar opposites.)

This only serves to reemphasize the point that I think Jets fans realized earlier than most. Connor looks like he's already an impact player, and Roslovic proved after his call-up that he's ready to have a similar type of impact. If both of these players take another developmental step forward in 2018-19, the Jets are going to be flush with talent going forward.
Heck, they already are.