Jones loss has a silver lining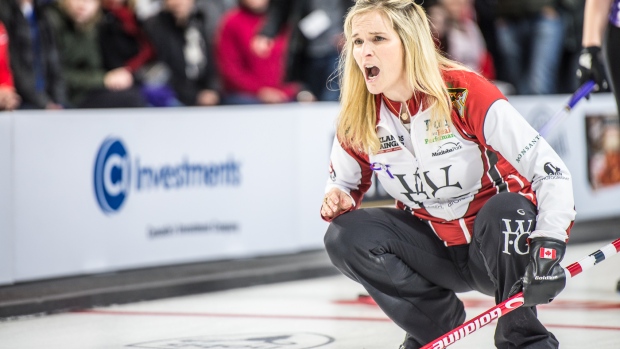 Sometimes it takes a child to put things in perspective. Such was the case for Jennifer Jones, whose top-seeded rink was upset in the Manitoba curling finals over the weekend.
"It's okay mommy," said Jones' three-year-old daughter, Isabella, embracing her mother in a hug. "You've won so many games."
Jones and her team of Kaitlyn Lawes, Jill Officer and Dawn McEwen were defeated in the semi-finals of the provincial championship by Darcy Robertson. Michelle Englot later beat Robertson for the title and will wear Manitoba colours at the Scotties Tournament of Hearts in St. Catharines, Ont., starting Feb. 18.
For just the second time since 2005, the Jones rink won't be competing at the national championship; the only other occasion the five-time national champions missed the Scotties was in 2014 when it was busy with the Sochi Olympics.
"It's going to be really weird, I'm not going to lie," said Jones from the airport where she was heading off to Banff, Alta., to compete in the TSN All-Star Skins Game. "It's disappointing because we obviously love playing at that event. It's one of our favourite events to play in."
The stunning loss has given rise to discussion in some quarters about whether this team is starting to reach its end. But that seems almost silly considering the achievements the squad has earned this season.
It won the Canada Cup, perhaps the most competitive event in curling, and it continues to lead the World Curling Tour's money list with $83,897.
The Jones foursome has also locked up a spot in the next Olympic trials as it looks for the chance to defend its gold medal won in 2014.
The defeat is also softened by the fact that the Scotties, while still a major event, is no longer the only game in town.
"That's the great thing about where the game has gone," Jones stated. "We play in so many big events during the year that this is just one event for us. It's not season-ending. We've had a lot of big events throughout the year already and we still have a couple more to come. It's not like it was 10 years ago, where if you didn't make the Scotties, your season was over."
Jones has remained at the top of her game while managing fulltime motherhood, with a second daughter, Skyla, joining the family last August. It's meant a busy schedule. But rather than make things more difficult, it's helped the skip keep a balanced life.
"You have moments when you don't want to miss out on what your kids are doing," Jones admitted, "but at the same time, I believe when I'm on the curling ice it's our time. It's our time to focus on what we love to do and it's what I want to teach my kids, to chase their dreams and do what they love to do. So we don't feel guilty about it. I actually think having kids has made me a better player."
If there is a silver lining in the loss at the provincial final, it's gaining an unexpected week off. Jones and her husband Brent Laing, who will be playing at the Tim Hortons Brier in March as part of Team Canada, were considering a family vacation, something that rarely happens during the curling season.
"At the end of the day I always think a loss makes you stronger than a win ever does," said Jones, "and I know we're going to learn from this."