Kadri ready to renew Ristolainen rivalry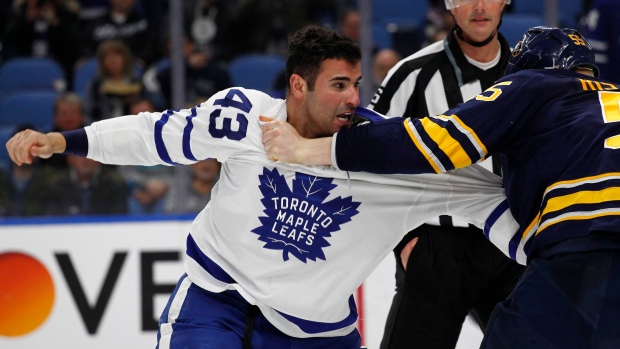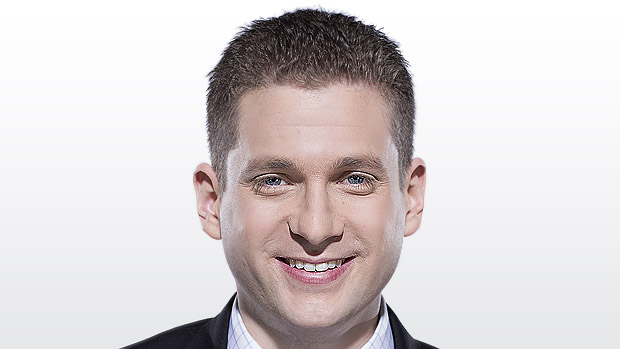 TSN Toronto reporter Mark Masters checks in daily with news and notes from Maple Leafs practices and game-day skates. The team had a team meeting at the KeyBank Center in Buffalo on Thursday morning. The Sabres held a regular skate.
Is Nazem Kadri expecting to mix it up with Rasmus Ristolainen again tonight?
"Yeah, of course," he said nonchalantly.
The Leafs centre and Sabres defenceman have had a feud brewing for a few games now, but Kadri isn't about to let it get personal.
"He competes hard so that's something I can appreciate and I can respect," he said. "I certainly know what that's like. You want to be hard to play against. He plays important minutes and he's a big body and he wants to make it as hard as possible, especially when guys are coming into your city and your building."
Ristolainen​ has quickly emerged as a key character in the QEW rivalry, dropping the gloves with James van Riemsdyk last season before going after Auston Matthews and Mitch Marner later in the same game.
"It's fun playing against him," Marner said. "He's a hard competitor. He goes out every shift and plays the same way every time. You got to make sure you're ready when you play him. I think he's always ready for those Toronto-Buffalo games."
In the final game between the teams last season, Kadri chirped Ristolainen after scoring a goal, setting off a brouhaha. And then last week Ristolainen levelled Kadri behind the net with a big hit. Kadri felt it was late and initiated a fight.
Sabres players say this is nothing new for Ristolainen who is public enemy No. 1 for a lot of their opponents.
"He brings that intensity and that's something all the guys feed off of," said centre Ryan O'Reilly, who has just one minor penalty this season. "He's hard to play against. He gets in their heads and that's huge, that gives us an advantage."
"They're both hard competitors," said Marner. "Nazzy's a guy that if something happens to him that he doesn't like, he's going to let you know about it and is going to want payback for it."​
After the fight last week, Kadri and Ristolainen continued to trade verbal blows in the penalty box. Ristolainen told Kadri the teams would be playing four more times and Kadri seemed to correct him, noting there are only three more battles between the clubs this season.
Marner was sitting beside Kadri in the box as the conversation unfolded.
"It was hilarious," said Marner. "I mean, I was laughing. It was pretty funny to be part of that."
"Whenever Naz gets into it with guys, I think the majority of the room enjoys it," said Tyler Bozak. "We get to see it quite a bit. Yeah, I'm sure they'll have their battles for the rest of the year and everyone will be happy about that."
Ristolainen received some good-natured ribbing from teammates for losing the numbers game.
"Yeah, we gave it to him a little bit," O'Reilly said laughing. "That was pretty funny. That's for sure."
"I thought it was pretty funny," said a laughing Sam Reinhart, "so we'll have to see what happens tonight."
The Leafs will also play the Sabres in Toronto on March 26 and April 3.
----
Last night, Mike Babcock downplayed concerns regarding Frederik Andersen's injury. Again today Babcock seemed to indicate the concern level wasn't high when it comes to the NHL's leader in minutes played.
"Yeah, I don't really have much," he said when asked for an update on Andersen. "I don't think there's much going on there, to be honest with you. He wasn't playing today anyways so we didn't bring him. Sparky will back-up and Mac will start."
McElhinney won in relief last night and has excelled this season posting a career-high .929 save percentage.
"I feel very comfortable out there right now," he said last night. "Obviously, we've gotten the goal support which certainly goes a long way so, so far things have gone pretty well, can't complain."
What's he most proud of this season?
"Probably just picking up wins (8-4-1 record), that's the biggest thing," the 34-year-old noted. "And just those solid performances, especially in the back-to-back games."
Garret Sparks was called up on an emergency basis and will dress as the backup tonight. He's been outstanding in the AHL this season posting a 24-8-2 record and .936 save percentage to lead the league.
----
Auston Matthews made the trip to Buffalo and skated with the other scratches. He was still wearing a red non-contact sweater and will miss an eighth straight game tonight.
Nikita Zaitsev will miss a third straight game due to illness and has not been spotted on the ice since last Friday's practice. Babcock hopes to have a more definitive diagnosis for the defenceman by Saturday.
"We need all hands on deck," Babcock said, "and we need to get as healthy as we possibly can. But we're finding ways with whoever's in the lineup and that's what we expect to do tonight."
----
The Leafs power play has converted on five straight opportunities in the last three games. What's working so well right now?
Quarterback Morgan Rielly, who has 19 power-play points on the season, believes the break-out plays following clearances have clicked of late allowing the Leafs to get set up in the offensive zone quicker. He also points out that JvR, the net-front presence, and Marner, the half-wall distributor, are playing at an extremely high level.
Marner leads the team with 22 power-play points. Kadri and van Riemsdyk are tied for the lead in power-play goals with nine.
Prior to this hot streak, the Leafs had clicked on only five of 31 man-advantage chances over the previous 12 games.
"We got too deliberate and too slow and didn't work," said Babcock. "We're way quicker again and we're moving the puck well and have good net presence and a good scheme."
---
Projected lineup for tonight's game:
Hyman-Nylander-Marner
Marleau-Kadri-Komarov
van Riemsdyk-Bozak-Brown
Martin-Plekanec-Kapanen
Rielly-Hainsey
Gardiner-Polak
Dermott-Carrick
McElhinney starts
Sparks
Injured: Matthews
Illness: Zaitsev
Healthy scratch: Moore, Johnsson, Leivo