Kadri returns as Leafs face Lightning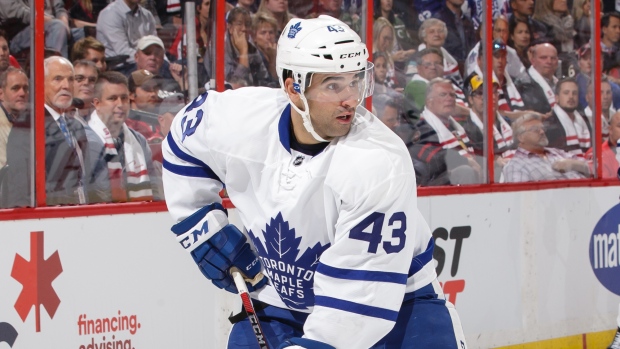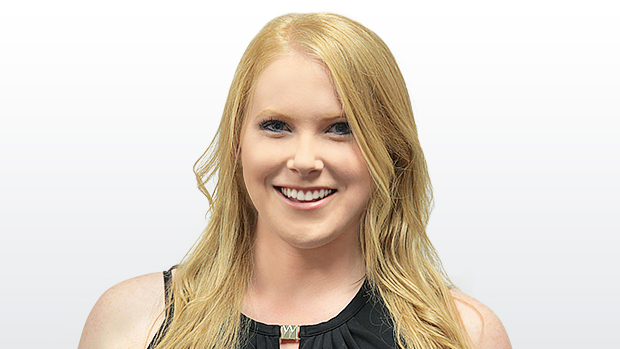 TSN reporter Kristen Shilton checks in daily with news and notes from Maple Leafs practices and game-day skates. The team held a morning skate at Air Canada Centre on Tuesday.
Winning hasn't come easy for the Maple Leafs without Nazem Kadri.
The team's shutdown centre left last Thursday's game against the Arizona Coyotes with neck soreness after five shifts. Toronto hung on to win that game, but lost their next two contests.
When they welcome the league-leading Tampa Bay Lightning to town on Tuesday, the Leafs will get Kadri back in the lineup, a break they sorely needed.
"I feel good. Ready to rock," Kadri said. "I hate missing games. Always want to feel a part of the team."
In the opening minutes against Arizona, Kadri took an elbow to the head from forward Lawson Crouse that left him feeling a little off. The Leafs' medical staff removed him from the game and held him out until the symptoms cleared.
"I kind of had some whiplash there with some neck soreness and upper-body soreness and that was pretty much it," Kadri said. "The next couple of shifts I just didn't feel my best. The medical staff thought they'd pull me and go through the protocol and everything is great right now."
Denying he had any concussion symptoms, Kadri said he did everything possible to get back on the ice as fast as possible.
"[The issue] all came from neck soreness and it put a little pressure on my head from my neck being sore and not having that full rotation," he said. "Didn't quite feel 100 per cent, but now I'm ready to go."
Kadri has done a solid job in his matchup role for the Leafs all season, and trying to get along without him was a struggle for Toronto. Against Colorado the night after Kadri was injured, Nathan MacKinnon's line dominated the Leafs offensively in a 4-3 overtime win. On New Year's Eve the Vegas Golden Knights embarrassed Toronto by a 6-3 score in a game that produced Vegas' first hat-trick in franchise history (scored by William Karlsson).
Putting that debacle behind them now, the Leafs are focused on shutting down the most potent offence in the NHL. While Kadri is eager to help, he may need a couple shifts to get acclimated again.
"You have to remember now, he had Christmas break, and then he played I think [five] shifts [in Arizona]," said coach Mike Babcock, "so we've got to watch him closely. He'll have to have those feet going."
----
If the Leafs' failed their last test of 2017 in Las Vegas, they're exceedingly motivated to ace the first one of 2018.
No team has been as consistent as the Lightning this season. For the first few weeks of the season, Toronto was actually outpacing them in scoring, but while the Leafs' production has dipped, the Lightning have stayed at the top of the NHL in nearly every important category.
Going into Tuesday's game, Tampa Bay leads the league in points (56), goals for per game (3.74) and on the power play (25.7 per cent), while allowing the second-fewest goals against (2.42). Winger Nikita Kucherov leads all skaters with 56 points, playing on a line with Steven Stamkos, who sits tied for third with 49 points, and Vladislav Namestnikov, making up what is inarguably one of the most dangerous trios in the game.
On top of that, Andrei Vasilevskiy has the most wins (25) of any netminder, as well as the best save percentage (.935) among regular starters this season.
If the Maple Leafs were looking for a measuring stick, they've found it.
"This is a team that is within our division that we haven't played and they're obviously having a great start to the season," said defenceman Morgan Rielly. "It's a good challenge for us and a good test. We want to show up and prove that we can be just as good as them. I think that will be the challenge tonight."
Prior to Sunday's loss in Vegas, Babcock talked about how expectations have changed internally for the Leafs, and how that makes the ups and downs of a season harder to weather. And being as non-competitive as they were against the Golden Knights was especially disappointing for the Leafs.
For a club that had terrific luck with injuries last season, losing Auston Matthews, Nikita Zaitsev and Kadri at times this season has started taking a toll.
"I like playing the good teams. I like to think we're a good team," said Babcock. "I think early we thought we were a good team, I think we can be a good team. There's no question we're not deep enough to sustain a bunch of injuries. I think we've said that in the past and it has affected us. We have to get a lot better if we're going to keep playing. That's just the way it is."
----
The Leafs had a plan for Frederik Gauthier. But that plan changed in an instant last May.
Gauthier's left hamstring was decimated by a hit from Syracuse Crunch defenceman (and Lighting prospect) Jake Dotchin in a Toronto Marlies game. The surgery and rehab that followed delayed Gauthier's return to the ice – and prevented the Leafs from making him their fourth-line centre to start the season.
Toronto went out and signed free agent Dominic Moore as insurance until Gauthier was ready to go. So far, Gauthier has amassed just five goals and three assists in 25 games for the Marlies where he's utilized in mainly a top-six role. The 22-year-old was recalled earlier this season by Toronto without appearing in a game, but he will slot onto the fourth line for Moore against Tampa Bay.
"I've liked Freddy better in the NHL than I've liked him in the American League the whole times he's been here," said Babcock. "He's played good for us when he's been here. We had to do things in the summer because he got injured; we always planned on ideally him having an opportunity to play on this team. It's real simple for him – he's got to play well defensively, he's got to penalty kill, he's got to win faceoffs and he's got to be abusive. If he can do all those things, he can play every day here."
Another player who'd like to play for the Leafs nightly again is Connor Carrick. The blueliner has been in and out of the lineup all season, first with an injury and then from being replaced by Roman Polak in late November. When Zaitsev went down, Carrick briefly took his spot until losing his position again to Martin Marincin.
Carrick has two goals and two assists in 21 games this season, with a plus-7 rating.
"Got to play quicker, got to play harder, got to be more assertive. You've got to be better defensively," Babcock said of where Carrick must improve. "These are things he and I talk about on a regular basis."
----
The last time Stamkos met with media in Toronto, it was early last spring during the Lightning's last trip to town of the season. He wasn't playing that night, but a return to his hometown elicited a brief media session after morning skate.
Stamkos played just 17 games for Tampa Bay all year, thanks to a knee injury that he couldn't fully recover from in time to help the Lightning secure a playoff berth. On Tuesday, he faced a similar swath of reporters fresh from the ice. Even after a decade in the league, Stamkos couldn't help but just feel happy to be there.
"I'm just enjoying being out there and playing every night to be honest," he said. "The worst thing as an athlete it when you can't help your team win and I've just been enjoying it so far."
Stamkos had resumed skating well before the end of last season, but never got clearance to return. The knee ailment was one in a string of injuries Stamkos has dealt with over the last couple seasons.
"It's a lot of hard work, a lot of tough days," Stamkos said of his recovery. "I didn't know what to expect coming into this year to be honest, coming off of that injury last year and the accumulation of some tough luck injuries I've had to deal with. It puts a toll on your body for sure, and your mind, but you fall back on the preparation that you put into it."
Head coach Jon Cooper watched injuries like Stamkos' derail his team's shot at the postseason a year ago. Just getting the team's captain back healthy was a victory, but Cooper had no way to know how long it would take for Stamkos to be the player he was prior to getting hurt.
"[I wondered] when was he going to get his timing back, when was all that going to happen, and I think the one thing for me was it happened so fast," said Cooper. "Because in the end, you don't take the competitor out of the kid, and you're probably more driven because of all the setbacks he's had with his leg, his knee, his shoulder and all those things. But when was he going to get his timing back? And I was really surprised that it happened so fast and it's a tribute to him."
Still, if there's one area Cooper would like to see his star players improve, it's in being just a little more selfish.
"That's the problem with hockey players, they're too nice. It's a trait," he said. "You should never teach anyone to be selfish in their life, but sometimes in hockey you have to be selfish and shoot pucks. I don't know what it was like back in the day, but it's almost like guys are more happy getting assists than a goal. But someone has to shoot it in the net, and when you've got the Stamkoses and the Kucherovs – guys that can shoot it in the net – you have to make sure you are, and when we're at our best, it's because they are."