Karlsson finally has a signature playoff moment
Ottawa Senators captain Erik Karlsson, playing through separate foot injuries, delivered a defining performance in Game 2 as he rallied his team back from a bad goal to eventual overtime win, Ian Mendes writes.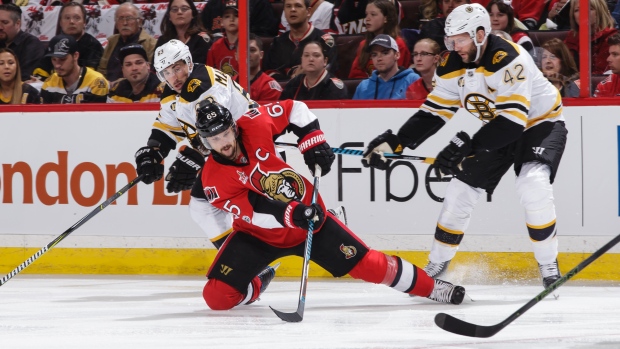 It's strange to think that heading into Saturday's Game 2 against the Boston Bruins, Erik Karlsson never really had a signature game or moment in the Stanley Cup playoffs.
The Senators all-world defenceman had produced plenty of highlight reel goals in the regular season, but nothing from his playoff résumé really stood out.
But all of that changed on Saturday afternoon at Canadian Tire Centre.
What we witnessed in Game 2 against the Boston Bruins was a defining moment in a career that is already trending towards the Hall of Fame. Erik Karlsson – hobbled feet and all – grabbed his team by the collective jersey collar and refused to let a heartbreaking goal define their season.
It started with a catastrophic misplay of the puck from Craig Anderson, who came out of his crease during a power play to help facilitate a breakout. Instead, the Sens netminder gave the puck away
to Dominic Moore, who found his teammate Tim Schaller in the slot to score the go-ahead goal. Less than two minutes earlier, Clarke MacArthur scored his first goal in almost two years and the resulting celebration from the crowd was deafening.
But after the Bruins scored, you could almost hear a pin drop inside Canadian Tire Centre. Nobody was saying a word; that is except for the captain.
Karlsson – who was the intended recipient of that errant Anderson pass – was livid on the bench. And he directed all of his anger towards Derick Brassard, who was also an option for Anderson on that play. Television replays caught Karlsson in what appeared to be an expletive-laced tirade at Brassard, as the Senators defenceman was clearly unhappy with how things unfolded.
Karlsson's icy stare down the bench at Brassard is an image that will be seared into the brains of Senators fans for a long time. After the game, however, Karlsson claimed that he was trying to send a message to the entire team and he was not singling out Brassard.
"I don't think it was particularly aimed at him per se. It was more to everybody, we need to realize we need to wake up here," Karlsson said. "We gave that one away. We just scored a huge goal on the power play and then to give it right back to them, that's not acceptable."
Karlsson later used the word "soft" to describe the sequence of events that led to the Bruins go-ahead goal. The captain – who is playing with at least one injured foot (possibly two) that has him performing at less than 100 per cent – now clearly has the platform to call out performances which he deems to be lazy. He didn't have this stage two years ago; not even after winning his second Norris Trophy.
But this is Karlsson 2.0 – a player who has seized the captaincy and complete control of this franchise. When you fly to Detroit a couple of hours before a game because you want to play through an injury – as Karlsson did two weeks ago for a critical game – it grants you the right to hold other players accountable.
And while Karlsson claimed that he was trying to motivate the entire group, Brassard knows he was in fact the target of Karlsson's verbal tirade and icy staredown.
"It's like brothers getting in fights. I don't mind it. He's a guy who really cares about winning and competes hard. So for me, I just take it and move on," Brassard said, noting that if he and Karlsson sat down and watched the replay together, perhaps they would have a more "friendly" conversation.

But Brassard didn't just move on from the confrontation with his captain; he tied up the game in the third period with a highlight reel assist from Karlsson.
For a precious few seconds, it seemed as though Karlsson's injured feet were no longer an issue, as he skated the width of the blue line with the puck. Showing the explosiveness that we're accustomed to seeing, Karlsson made a dash towards the Bruins net and drew multiple Boston defenders towards him.
Poised to shoot, Karlsson had Tuukka Rask committed to the right post. But he spotted Brassard wide open at the left faceoff dot and threaded a perfect pass across the ice. Brassard – who earned the nickname Big Game Brass for his playoff heroics in New York – slammed the one timer into a half-open net to tie the hockey game.
As Brassard circled the net in celebration, he found himself skating at full speed towards Karlsson – who less than an hour earlier had given him a tongue-lashing at the bench. The two embraced in an emphatic hug that sent both players crashing to the ice. And with that exuberant exchange, all of the earlier tension and frostiness between the two players disappeared into the thunderous applause from a sold-out crowd.
"We looked at each other after the goal and we said 'Are we good now, we good?'", laughed Brassard. "Everything was fine and we're moving on."
Karlsson seemed appreciative of the way Brassard handled himself after their exchange earlier in the game.
"He came back, the way he responded – he stepped up. He took control of his own game to start and kind of let everybody know that we're not here to mess around," explained Karlsson. "He scored the tying goal, which I think is the biggest goal of the series so far. And that's what we're going to need. And not every second shift – but every shift."
Brassard also had a chuckle about his over-the-top celebration, which put Karlsson at the bottom of a pile of players.
"I almost injured him in the corner. I'm going to be careful next time because we don't want him to be out," said Brassard.
The emotional swings within a Stanley Cup playoff game are hard to describe, but the ups and downs between Karlsson and Brassard in Game 2 almost illustrated it perfectly. But more importantly, Game 2 captured something completely different for Senators fans when it comes to their captain.
For the first time, it doesn't seem sacrilegious to mention Karlsson's captaincy in the same breath as Daniel Alfredsson in these parts. After all, when you look at Karlsson's Game 2 résumé against Boston, you could have sworn it was an Alfredsson-esque performance.
A Swedish captain, playing through pain in the playoffs, challenging his teammates and then delivering an unbelievable offensive play to help win the game.
Sure, we've seen that script around here before – but it's the first time that Erik Karlsson was the lead actor.